The Newest Piece Of Trump Gear Is Yet Another Insult To Immigrants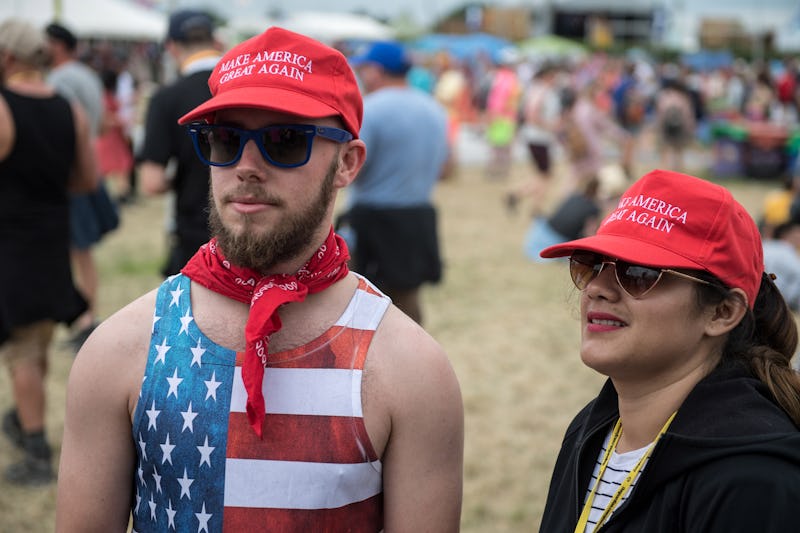 Chris J Ratcliffe/Getty Images News/Getty Images
The president's fundraising website has launched a brand new item: a blue "American Dreamer" Trump hat that references his comments about DACA (the Deferred Action for Childhood Arrivals policy), from his State of the Union address last month. DACA beneficiaries are known as Dreamers; Trump's site calls the cap a reminder that "we all want to live the American dream."
It's a reference to what was perhaps Trump's most infamous line during his State of the Union speech: "Americans are dreamers, too." Implying that the priorities of an immigration program like DACA are opposed to his "America First" agenda, Trump said:
The United States is a compassionate nation. ... But as president of the United States, my highest loyalty, my greatest compassion, and my constant concern is for America's children, America's struggling workers, and America's forgotten communities.
The "Americans are dreamers, too" line received massive backlash from the left and praise from the right, including from notorious white supremacist figures. Former Ku Klux Klan leader David Duke thanked Trump for the remark on Twitter; meanwhile, liberals described the comment as "intentionally divisive" for insinuating that helping Dreamers will take resources away from citizens. Comparing it to "All Lives Matter," they suggested that it falsely equated the problems faced by immigrants with the problems faced by legal Americans.
Trump's new "American Dreamer" hat is one of 28 caps sold on his website. It features an American flag and a "#MAGA" insignia on the back. The hat's description reads:
We all want to live the American dream and our 45th President is helping to make that dream a reality for each and every American. With our American Dreamer Hat you can show that you believe we can Make America Great Again.
Proceeds from these hats, like everything on the site, will go to the Trump Make America Great Again Committee (TMAGAC). While addressing shipping, the website notes that "all transactions made on shop.donaldjtrump.com are considered a donation" to the group. TMAGAC is a joint fundraising committee made up of the Republican National Committee (RNC) and Donald J. Trump for President, Inc., meaning that donations will be split between the RNC's operating account and Trump's reelection campaign.
Trump filed his reelection papers the day of his inauguration and reaffirmed his commitment to run on Tuesday. According to Federal Election Commission data, TMAGAC had raised over $24 million for the 2018 cycle by the date of its last filing, of which Trump received nearly $18 million.
The "American Dreamer" hat costs $50, making it more expensive than the collection's staples, the $25 and $30 "Make America Great Again" hats and $40 red and white "USA" caps. Trump is often seen wearing these.
Some commentators have wondered whether Trump's decision to sport this paraphernalia on federally funded trips, including a visit to the site of Hurricane Harvey in August (above), violates ethics rules or norms. Politicians are not supposed to use public money to campaign for themselves.
Trump's hats have been criticized, not just for their messaging, but also for stylistic reasons. Graphic designer Michael Bierut told British publication Dezeen that Trump's logos combine "the design sensibility of the Home Shopping Network with the tone of a Nigerian scam email."
Trump ended the DACA program in September, saying that President Obama had overstepped his executive authority to enact it. The White House has said that it would support a legislative solution to help Dreamers, yet it has put obstacles in the way of that outcome by insisting that extremely conservative policies be part of a plan offering Dreamers a path to citizenship. Congress has struggled to create a bipartisan DACA solution that would have enough support to pass both houses and secure the president's signature.
Four states and one university president have jointly sued the Trump administration for rolling back DACA. The case is currently being reviewed by the U.S. Court of Appeals for the Ninth Circuit. On Monday, the Supreme Court declined to speed up the process and take the case before that appeals court had finished. Until the case is closed, multiple nationwide injunctions are allowing DACA recipients to keep their protections and renew their status.