The Trump Jr. & Aubrey O'Day Story Is Getting Thornier And Thornier By The Day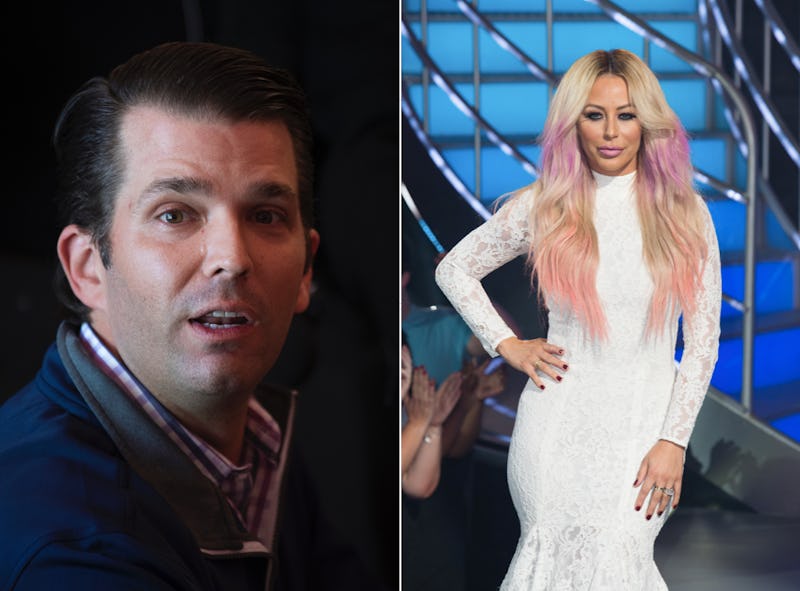 Drew Angerer/Getty Images News; Jeff Spicer/Getty Images Entertainment/Getty Images
Ever since news broke that Vanessa Trump had filed for divorce from Donald Trump Jr., her husband of more than a decade, reports have swirled about martial infidelity on his part. Specifically, multiple outlets have reported that Don Jr. engaged in a sexual affair with Aubrey O'Day, formerly a member of girl band Danity Kane. And now, a new story in Us Weekly is making some further claims ― namely, that Don Jr. and O'Day reportedly wanted to have a baby together during their reported affair. Bustle has reached out to the Trump Organization for comment, and O'Day's publicist Jack Ketsoyan has declined to comment.
The magazine cites an "insider source" who claims Don Jr., the eldest son of President Donald Trump, considered starting a family with O'Day, despite the fact that he was still married to his wife Vanessa. The affair reportedly occurred between late 2011 and March 2012, after O'Day's appearance on the fifth season of Celebrity Apprentice, the reality TV show hosted by Don Jr.'s famous father. Neither O'Day nor Don Jr. have commented publicly on the reported affair.
Vanessa and Don Jr. have five children together. Their first child, their daughter Kai Trump, was born in 2007, and their first son, Donald Trump III, was born in 2009. Their second son, Tristan Trump, was born in late 2011. Their third son, Spencer Trump, was born in 2012. They would have one more child, a daughter named Chloe Trump, in 2014.
According to the Us Weekly report, the "insider source" claimed that Don Jr. told O'Day he wanted to start a family with her. "Don told Aubrey he wanted to have a baby with her," the source reportedly said. "They were trying for one."
The pair never had a child together, and the reported affair ended after Vanessa discovered emails between Don Jr. and O'Day that confirmed the nature of their relationship, reports claim.
Last week, US Weekly reported that a source close to O'Day said the relationship got serious "all of a sudden," and that O'Day was very smitten with the Trump family scion, believing they were headed for a lasting relationship.
"When it started, they were very serious all of a sudden," the source reportedly said. "He told her it was over with his wife, that they were separated and he didn't love her — all of that stuff … Aubrey fell for him hard. She thought they were going to be together for real."
O'Day, who rose to prominence through the formation of Danity Kane in 2005 ― via the MTV reality show Making The Band ― has not offered any public comment on the story, and recent reports have suggested that she does not intend to do so. The recent media scrutiny has also stirred up speculation that one of her songs, "DJT," was actually about Don Jr. and the reported affair. The song was released in 2013, about one year after the affair is reported to have taken place.
Don Jr. has also not publicly commented on the reports, and has been tight-lipped about his personal life since news of the divorce broke. In a statement to People following the news, both he and Vanessa expressed respect for each other and their families, and said their children would be a top priority.
After 12 years of marriage, we have decided to go our separate ways. We will always have tremendous respect for each other and our families. We have five beautiful children together and they remain our top priority. We ask for your privacy during this time.
Vanessa and Don Jr. were married in 2005, about two years after first meeting at a New York City fashion show, having been introduced by Don Jr.'s father, now the president of the United States. It remains to be seen whether any more awkward or uncomfortable reported details about the relationship will come to light, but there's already been plenty of that in past few weeks.