This Trump Military Parade Update Means It Might Be Awhile Until POTUS Gets His Wish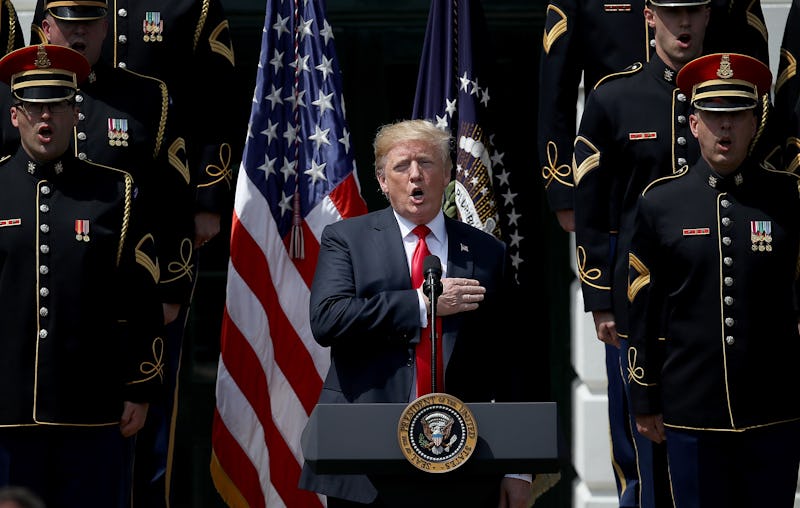 Win McNamee/Getty Images News/Getty Images
President Trump has a well-known fondness for displays of power and toughness, as well as an inclination to one-up his competitors. It might be why, after witnessing a French military parade on Bastille Day last July, he ordered his own, set for Veterans Day this year. Though he still might get his wish eventually, amid reports that the parade will cost upward of $90 million, officials say Trump's military parade may be delayed to 2019.
"The Department of Defense and White House have been planning a parade to honor America's military veterans and commemorate the centennial of World War I," Col. Rob Manning, a Pentagon spokesman said in a statement. "We originally targeted November 10, 2018 for this event but have now agreed to explore opportunities in 2019."
After watching the French parade — which, it should be noted, celebrated the fall of royal power, not specifically military strength — Trump described it as "one of the greatest parades [he'd] ever seen," and reportedly joked to French president Emmanuel Macron, "We're going to have to try to top it."
Then in January, at a meeting of Pentagon officials, Trump gave his directive. "The marching orders were: I want a parade like the one in France," a military official told The Washington Post.
Press Secretary Sarah Huckabee Sanders painted the idea as an opportunity for the administration to show its appreciation for the sacrifices of American servicemen and women. "President Trump is incredibly supportive of America's great service members who risk their lives every day to keep our country safe," Sanders said in a statement. "He has asked the Department of Defense to explore a celebration at which all Americans can show their appreciation."
But critics quickly drew comparisons between visions of tanks and missiles being rolled through Washington to the showy displays of military might associated with authoritarian governments — North Korea, China, and Soviet Russia, to name a few. Trump's admiration for Vladimir Putin, a president known for his autocratic rule, and a past statement that Trump wished "[his] people" would "sit up at attention" like North Koreans do for Kim Jong Un, put the idea of a military parade in an even more striking — and some went so far as to say narcissistic — light.
Initial estimates for the parade budget were between $10 and $30 million, according to the White House budget director, Mick Mulvaney. The new estimate of $92 million allots $50 million for the Pentagon to arrange for aircraft, equipment, and personnel. The remaining $42 million is largely expected to go toward security costs, and would be covered by other government agencies.
According to The Guardian, the parade itself is expected to include all five branches of the military — the Army, Navy, Air Force, Marine Corps, and Coast Guard — as well as combat vehicles, aircraft flyovers, and service members in uniforms from multiple periods in American history.
Veterans advocacy groups have weighed in on the growing controversy around an increasingly lavish parade, arguing that the funds would be better spent serving
"The American Legion appreciates that our president wants to show in a dramatic fashion our nation's support for our troops," the organization's national commander, Denise Rohan, said in a statement. "However, until such time as we can celebrate victory in the war on terrorism and bring our military home, we think the parade money would be better spent fully funding the Department of Veteran Affairs and giving our troops and their families the best care possible."