This Ugly Christmas Sweater Can Hide An Entire Bottle Of Wine, So Miracles Are Real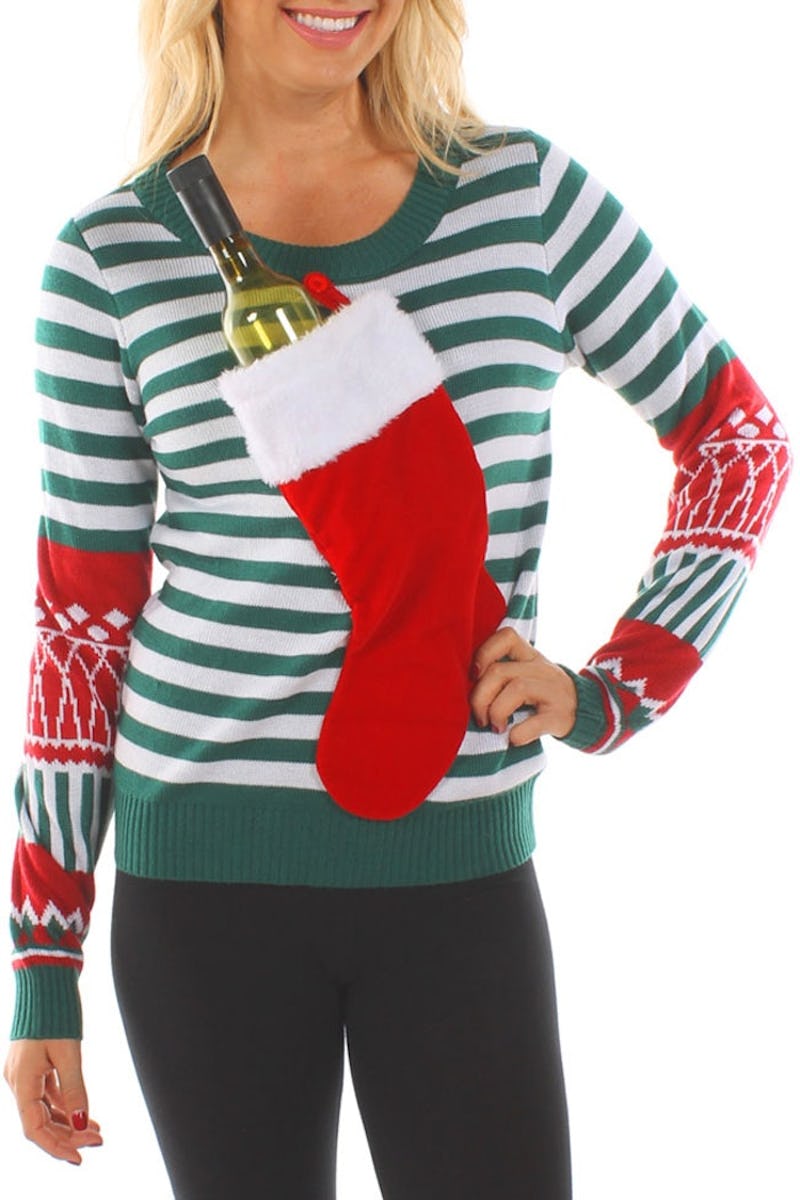 Tipsy Elves
If you thought it was rough hanging out with your family during Thanksgiving weekend, you might already be mentally preparing yourself for the holidays in December. Many of us will be clumped back together with the fam for days — if not weeks — at a time, and it might stretch some nerves a little thin. But fear not. This time around there's a sweater that will let you drink your annoyance away. The Tipsy Elves Wine Stocking Sweater lets you hide a whole bottle of Rose or Merlot down the front of your chest with none being the wiser.
If you're as big of a Wine-O as me, you are already imagining the constant tipsy state you can achieve with this sweater in your possession.
On the surface, it looks like an uber-festive holiday sweater. But if you're one that begins singing holiday songs before the Thanksgiving turkey has cooled cool, no one will think it's odd you're wearing it for a week straight while you're trapped at home. After all, holiday kitschiness is just your aesthetic.
The sweater has green and white stripes that may remind you of elf stockings, and a wildcard red-and-white pattern on the sleeve that makes you think of a Scandinavian Christmas. But the true magic comes with the red stocking plastered across the front.
Women's Stocking Stuffer Ugly Christmas Sweater, $59, Tipsy Elves
In this magical stocking, you can slip in a whole bottle of wine and nestle it close to your chest. When your family is getting to be too much, you can excuse yourself to the bathroom and take a swig out of your bottle. If you're feeling extra brazen, you can just stick a crazy straw into the incognito pocket and drink wine straight from your sweater. What a time to be alive!
And hey, no one said you have to stick to wine. You can pick your poison and hide whatever alcoholic beverage you so choose in that stocking of yours. It's your party, baby. More of a gin person? Pop that flask in there. Think yourself a whiskey savant? The stocking invites you in. Is your racist grandma coming to visit earlier than expected? Just empty a water bottle and fill it up with vodka instead. All is welcome!
Right now you can get the stocking sweater at Tipsy Elves for $59. The sweaters run from XS-XXL. If you're curious what other options the cheeky shop has, here are some favorites below.