This 'Cake' Isn't Edible & You'll Want It ASAP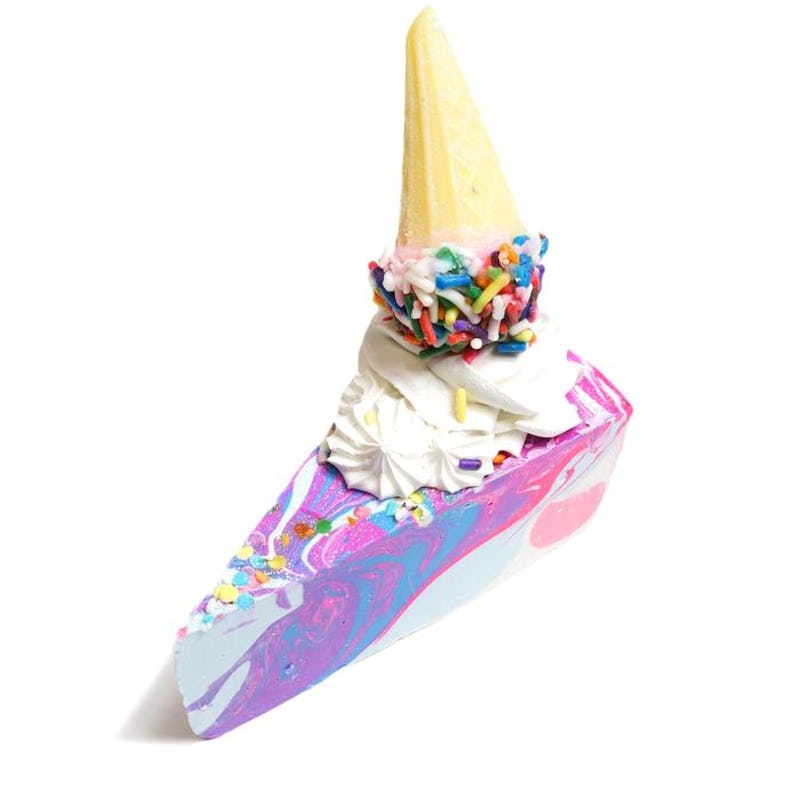 This unicorn-swirl cheesecake looks like it could inspire hour-long lines that wrap around the block, but unfortunately for us, it's not something we'll be able to eat. While it looks like a slice of creamy, whip-cream topped cake goodness, it's actually cake-shaped soap! Instead of stuffing your face with it, you can wash your face with it.
The clever design was whipped together by the geniuses of Soap Cherie, a Brooklyn-based bath store that has a display window of cupcakes and torte slices that are all for your bath experience. Each of the selections are handmade, and they use organic and luxurious ingredients to get your skin silky smooth with all-natural products.
According to Cosmopolitan, "The soaps are also made out of skin-friendly ingredients, like hydrating sweet almond oil, shea butter, coconut and olive oil, and cocoa butter." They have a big selection of products (offering everything from coconut milk shampoo bars to lip scrub in a chap stick tube,) but their "bakery" is the main attraction.
While they have a fun and wild selection of different "baked goods," the ice cream cake slice is one of the prettiest. It's made entirely out of plant based oils, using Shea butter, castor oil, olive oil, and coconut oil to nourish your skin.
The "whipped cream" is another layer of soap, and the ice cream waffle cone has a fun layer of glitter to give your body some sparkle. If you're at a loss on how to use it, you basically treat it like a normal bar of soap. You wet your hands and lather them on the sides of the slice, enjoying the moisturizing properties of the luxury product. Never has hand washing been so fun!
If you want to buy one as a gift (for a friend or for yourself,) you can either swing by their Brooklyn location or order it online. The cake slice will set you back by 16 dollars, but you can't deny that it'll make bath time all the more fun. Sometimes pampering yourself costs a pretty penny, but it will be well worth it.
Go on, have a slice of cake.
Images: Soap Cherie (1)