This Video Of Chuck Grassley Shows His Opinion On Investigating Sexual Assault Has Changed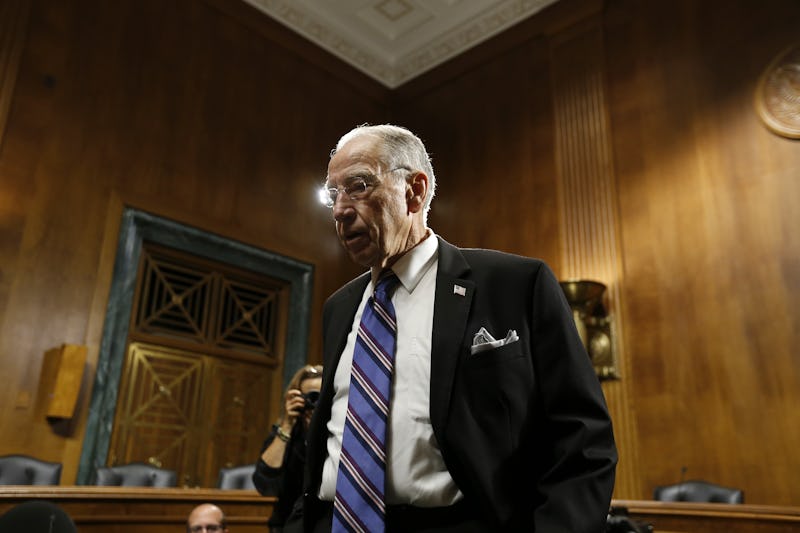 Pool/Getty Images News/Getty Images
Senators, if they win elections, can remain in their positions for a very long time. One example of that is the chairman of the Senate Judiciary Committee: Sen. Chuck Grassley, an 85 year-old Republican from Iowa, who has sat in the Senate since 1981. In fact, Grassley has been on the Senate Judiciary Committee for long enough that this isn't the first Supreme Court confirmation process he's sat through where allegations of sexual misconduct were involved — and there's video of Chuck Grassley at Anita Hill's hearing, expressing one opinion that's very different from the opinion that he holds today.
During the Hill and Clarence Thomas testimonies in 1991, Grassley was a member of the Senate Judiciary Committee. He was one of the panel of white men asking Hill questions about her allegations of sexual harassment against Thomas, then a Supreme Court nominee (allegations which Thomas denied). At that hearing, Grassley spoke about FBI investigations into sexual misconduct allegations that had the potential to affect Supreme Court nominees — and he said that they were valuable.
In video of the hearing, he even explains how he believes that committee members should get full reports on what the FBI finds so that they can properly evaluate the veracity of the claims made against the nominee.
In 2018, 27 years after saying that to Hill in a public setting, Grassley evidently does not agree with the statement he made back in 1991 on the subject of FBI investigations into claims of sexual misconduct regarding Supreme Court nominees. On Sept. 18, Grassley issued a statement in response to a letter from the lawyer of Christine Blasey Ford, the woman accusing Supreme Court nominee Brett Kavanaugh of having attempted to sexually assault her when they were both in high school (Kavanaugh denies the allegations). And in that statement, Grassley said that there was no need for an FBI investigation:
We've offered Dr. Ford the opportunity to share her story with the committee, as her attorney said yesterday she was willing to do. We offered her a public or a private hearing as well as staff-led interviews, whichever makes her most comfortable. Dr. Ford's testimony would reflect her personal knowledge and memory of events. Nothing the FBI or any other investigator does would have any bearing on what Dr. Ford tells the committee, so there is no reason for any further delay.
Democratic senators have repeatedly questioned Grassley's decision to move forward with the hearing without an FBI investigation into Ford's claims. At the hearing, Sen. Dianne Feinstein brought up the issue, saying that the FBI had investigated Hill's claims back in 1991 "as is the normal process and squarely within its jurisdiction."
"This would clearly be the best way to ensure a fair process to both Judge Kavanaugh and to Dr. Ford," Feinstein said in her opening statement.
In his opening statement, Grassley did not mention the need for an additional FBI investigation, only saying that the previous FBI background checks into Kavanaugh did not reveal anything of the nature that Ford claims. Grassley's past opinions, apparently, are staying in the past.
If you or someone you know has been sexually assaulted, call the National Sexual Assault Telephone Hotline at 800-656-HOPE (4673) or visit online.rainn.org.