This Video Of Drag Queen Kim Chi Taking All Her Makeup Off Is Totally Mesmerizing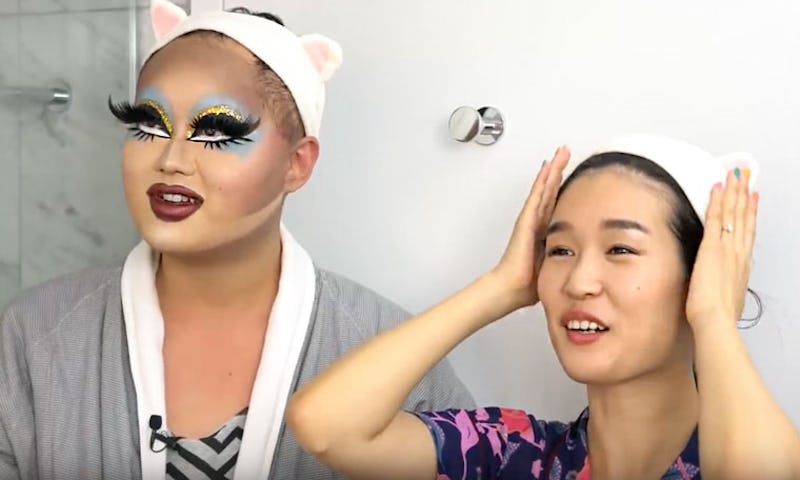 Soko Glam/YouTube
Is there anything more fascinating than watching a beautiful drag queen artfully put on her makeup? Before you say no, take a look at this video of the fabulous and famous Kim Chi doing the complete opposite — removing all of her makeup using a Korean Beauty routine alongside Soko Glam's co-founder Charlotte Cho. It's totally mesmerizing, but also super entertaining because, well, it's the hilarious Kim Chi, after all.
The video was filmed after a long day at RuPaul's Drag Con in New York City earlier this September. Cho and Kim Chi have been friends for a while now after they met and bonded over their love of skin care and their Korean heritage. Cho tells me that she was curious to hear about Kim Chi's routine and her skin care journey, and since there are so many videos on the internet showing drag queens putting their face on, it only made sense that people were curious about what a drag queen's makeup removal process looked like.
Cho also knew that Kim Chi had started incorporating more steps into her routine (thanks to Cho's suggestions, of course), so filming a video of the two of them getting "unready" just made sense.
The almost 13 minute video might seem long, but fans of Cho and Kim Chi will enjoy every second. The dynamic duo (but really, can the two of them start a video series already?) walks viewers through a nine-step Korean Beauty skin care routine, from using a cleansing oil to locking in all the moisture with a luxurious hydrating cream. It almost feels like you're getting a sneak peek into a secret slumber party with Cho and Kim Chi — they share everything from their favorite skin care steps to useful sheet mask hacks, with lots and lots of laughs in-between.
According to Cho, this is favorite skin care video ever made. It's informative and eye-opening, but it's also just super fun to watch, too!
"Despite all the pressure and attention, [Kim Chi] never fails to have such a sense of humor about it all, and she is simply her creative, genuine self!" Cho tells me over email about filming with Kim Chi. "In the end, I realized we're just two biological women in a bathroom sharing skin care secrets. It was so much fun!"
If you want to recreate Charlotte Cho and Kim Chi's "unready" skin care routine at home, here's what you'll need.
Step 1: Banila Co Clean It Zero Purity
$25, sokoglam.com
"Using an oil cleanser is less harsh on my face... it melts everything away and it feels really hydrating at the same time," says Kim Chi in the video. Cho emphasizes how important it is to really wash your face with water and a cleanser, like Banila Co's Clean It Zero, to get rid of all of the pollutants, excess oil, and makeup on your face. A cleansing wipe just won't do, especially if you wear lots of makeup during the day.
Step 2: Klavuu Pure Pearlsation Revitalizing Facial Cleansing Foam
$30, sokoglam.com
Cho says that if you take 20 to 30 minutes to put makeup on, you should use the same amount of time to remove it. "I love this one because it's super soft and luxurious," notes Cho.
Step 3: Neogen Bio-Peel Gauze Peeling Lemon
$27, sokoglam.com
This double-sided brightening exfoliator is a favorite of both Cho and Kim Chi's. "She hooked it up and it's been a game-changer," says Kim Chi.
Step 4: Son & Park Beauty Water
$30, sokoglam.com
Cho says she uses this cult-favorite toner religiously.
Step 5: Manefit Natural Gift Green Tea Pore Care Sheet Mask
$19, sokoglam.com
Cho actually created this hydrogel mask in collaboration with Manefit. It's got bits of green tea leaves inside to cool, de-puff, and sooth your skin. Kim Chi says she tries to use one every day! (Fun hack: You can use it on your neck as a mask after using it on your face!)
Step 6: Hanskin Hyaluron Skin Essence
$46, sokoglam.com
When applying your essence, be sure to pat it in so it gets fully absorbed into your skin without tugging or pulling on your face.
Step 7: Missha Misa Cho Bo Yang Eye Cream
$35, sokoglam.com
This is Kim Chi's favorite step because it feels especially soothing and cooling after a long day of wearing fake lashes, eyeshadow, and glue. Cho suggests gently tapping it onto your orbital bone so you avoid your waterline.
Step 8: Cosrx Triple C Lightning Liquid
$27, sokoglam.com
This serum, which Cho created herself, has 20.5 percent vitamin C, which means it chemically exfoliates, prevents pigmentation, and results in a healthier, more radiant appearance.
Step 9: Hanskin Bio Origin the Cream
$58, sokoglam.com
To lock in all of your hard work — and ensure that all of the moisture stays in your skin — Cho and Kim Chi suggest using this soft cream at the end of your routine.
To learn more about Korean beauty, be sure to follow Soko Glam, Charlotte Cho, and The Klog.