This Video Of Hurricane Irma From Space Showcases Its Unprecedented Power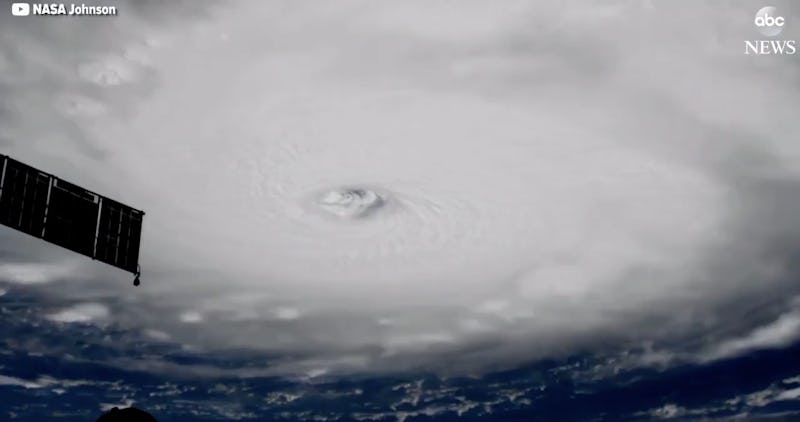 NASA
Even though Hurricane Irma has pummeled Antigua and Barbuda, there are hardly any photographs yet, given that those on the islands are hunkered down, and the worst of the storm arrived in the dead of night. But if you're looking for images to help you better understand the sheer magnitude of the storm, NASA has released a video to help you out. This video of Hurricane Irma from space is a big warning sign of the sheer force that could hit Florida later in the week.
The video is satellite footage shared by NASA and the National Oceanic and Atmospheric Administration. The satellites over the Atlantic give you a visual clue of just how serious the Category 5 storm is. The eye is clearly defined in the video, with sustained winds circling it at speeds up to 185 miles per hour. That makes Irma the strongest Atlantic Ocean hurricane ever.
That became abundantly clear in Barbuda early Wednesday morning when wind speeds were so fast that they broke off the island's weather station's anemometer, the tool that measures wind speeds. After gusts of 155 miles per hour, the station started registering as calm, or no winds, but it was actually that there was no signal registering.
To move beyond a photo, the description of Category 5 hurricane, a storm with catastrophic damage, is very telling:
A high percentage of framed homes will be destroyed, with total roof failure and wall collapse. Fallen trees and power poles will isolate residential areas. Power outages will last for weeks to possibly months. Most of the area will be uninhabitable for weeks or months.
Puerto Rico is already preparing for that possibility. It's been more than a 100 years since a Category 5 storm hit the island. The New York Times reported that many stores on the island are sold out of emergency preparation items like water, plywood, and batteries. Plus Puerto Rican Gov. Ricardo Rosselló said that issues with electricity could take days, weeks, or even months in some areas to resolve — exactly what the National Hurricane Center predicted.
Further north in South Florida, emergency precautions are well underway as well. The Florida Keys are under a mandatory evacuation order, and schools are closed as of Wednesday to pressure people into leaving the low lying areas that are particularly vulnerable to a storm surge. The same reasoning motivated the Bahamas to move residents off the southernmost islands to the capital city.
These images from space may be the only visuals to date, but there are likely to be many dramatic videos to come.