The Moment Hurricane Irma Hit St. Maarten Is Absolutely Terrifying — VIDEO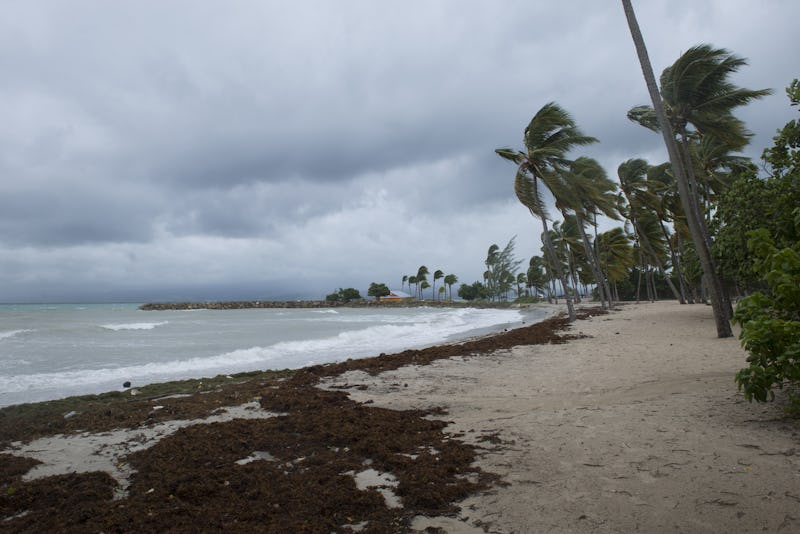 HELENE VALENZUELA/AFP/Getty Images
Northern Caribbean nations have been preparing for days for the onslaught of Hurricane Irma. Everyone knew the Category 5 storm was bound the wreak havoc on the islands in its path. But seeing a video of the moment Hurricane Irma hit St. Maarten is terrifying beyond imagination.
The video, shared widely on social media, shows the storm battering St. Maarten, a small island nation to the east of the U.S. Virgin Islands. It's hard to see much in the 55-second video, because the screen is obscured by what can only be described as a high-speed wall of water blowing across the frame. The caption for the video says "Irma sounds like a jet engine on the Caribbean island of Sint Maarten," and the description is accurate. The noise caused by the 185 mph winds is deafening.
A car in the foreground appears to be ripped open, while other debris is pinned against a barbed wire fence, which is violently shaking back and forth in the blustering wind. It's hard to tell what is happening or where the camera is filming from in other scenes in the video, but the one thing that is extremely apparent is that this storm ripped through St. Maarten with catastrophic strength.
Some reports said that the video showed the destruction of the island's famed Princess Juliana International Airport. Sand was scattered across the runway, and rocks smashed into planes, the check-in lounge was flooded, and the walkways in the airport had been completely destroyed.
The island is split into two territories, with the northern part of the island, called Saint Martin, controlled by the French government, and the southern section, named Sint Maarten, by the Dutch government. The islands has about 75,000 residents, and while French officials said on Wednesday that it was too early to determine the true scope of the storm's impact on the island, the damage is sure to be formidable.
"We will have victims to lament, and the material damage on the two islands is considerable," said French president Emmanuel Macron on Wednesday of St. Martin and St. Barthélemy.
Irma's path continues to track west toward Puerto Rico, the U.S. and British Virgin Islands, the Dominican Republic and Haiti. It's clear from the footage coming of of the islands that bore the brunt of the storm's initial impact that Irma is a serious storm, and people in its path should be ready for the worst.