This Video Of Obama In A Santa Hat Is More Holiday Cheer Than You Can Handle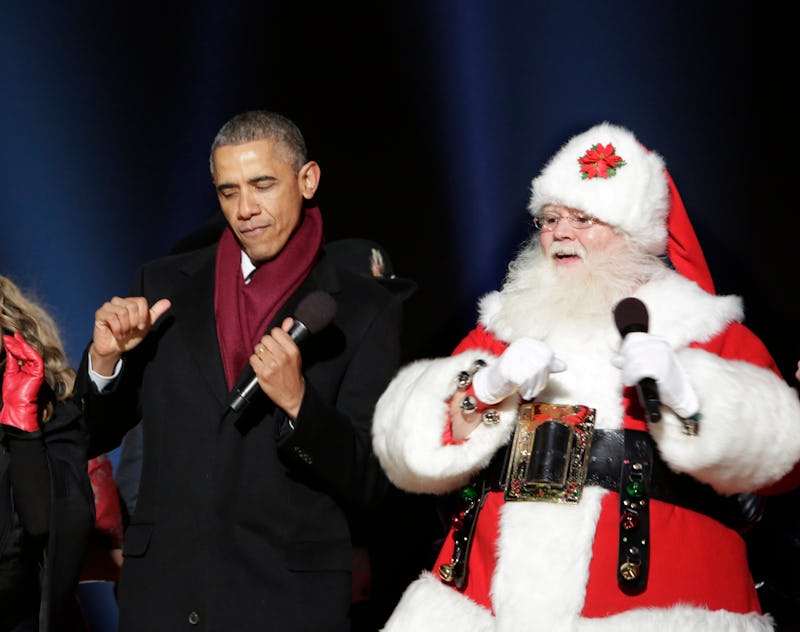 Pool/Getty Images News/Getty Images
Leave it to former President Barack Obama to make dressing in a Santa Claus hat cool. I mean, sure, Santa seems like a pretty cool dude to any kid on the receiving end of a toy, but let's be real: Jolly Old St. Nick has been wearing the same outfit for far too long. Enter Obama Santa Claus. Clad in a leather jacket and jaunty red Santa hat, President Obama surprised a group of kids at the Boys & Girls Club of Greater Washington with gifts Thursday. He even toted around a giant sack bursting with toys and gifts.
According to the Washington Post, the former president delivered gifts to approximately 50 middle school age kids participating in after-school activities at the Jelleff Boys & Girls Club in Washington, D.C. dressed as a significantly more hip version of Santa. But unlike Santa, Obama didn't just drop the gifts and ditch. He visited with the club's students and staff for roughly half an hour.
"There's no better time than the holiday season to reach out and give back to our communities," former President Obama wrote in a tweet he shared Friday, along with a photo of him and the children. "Great to hear from young people at the Boys & Girls Club in DC today."
This was reportedly the fifth surprise visit former President Obama and former Fist Lady Michelle Obama have made to schools and community centers since beginning their post-presidency lives. Last month, Michelle Obama joined Prince Harry in surprising students at Hyde Park Academy in Chicago's South Side. And in September, Obama dropped in on McKinley Technology High School in the D.C. area to wish the students there a great first week of school.
"You guys don't mind me crashing, right?" a video of his visit showed Obama asked a group of visibly shocked McKinley Technology students. During his visit Obama said that he'd made it a point to meet with young people everywhere he went throughout his presidency in order to hear their ideas and what interests them. "I do believe that most of the problems that we have are going to be solved by you," the former president told the students. It seems Obama still likes to check in with America's youth despite leaving the presidency behind.
Since leaving the White House in January, Obama has treated himself to a tropical vacation, spoken at a handful of events, launched the Obama Foundation, and caused many New Yorkers to temporarily lose their minds. Still, overall he's managed to keep a relatively low profile, especially for a former president still living in D.C. But that doesn't mean it's been all fun and games for Obama.
In October, a jury duty summons proved that not even former presidents can escape their civic obligations. While Obama was ultimately dismissed from jury duty by the Cook County Circuit Court in Chicago, Illinois, over concerns his presidential status might influence how his fellow potential jurors' might approach the case, he still showed up in person when his number was called.
The Obamas opted to remain in D.C. for at least a couple of years after handing the keys to the White House over to Donald Trump so their youngest daughter Sasha could finish high school. Malia, the couple's oldest daughter, began classes as a freshman at Harvard University earlier this fall.
While former President Obama may not have donned the traditional red and white Santa suit for his surprise delivery at a D.C. Boys & Girls club Thursday, he makes a festive and snazzy St. Nick just the same.