This Video Of Shaun White Snowboarding The Halfpipe Is UNREAL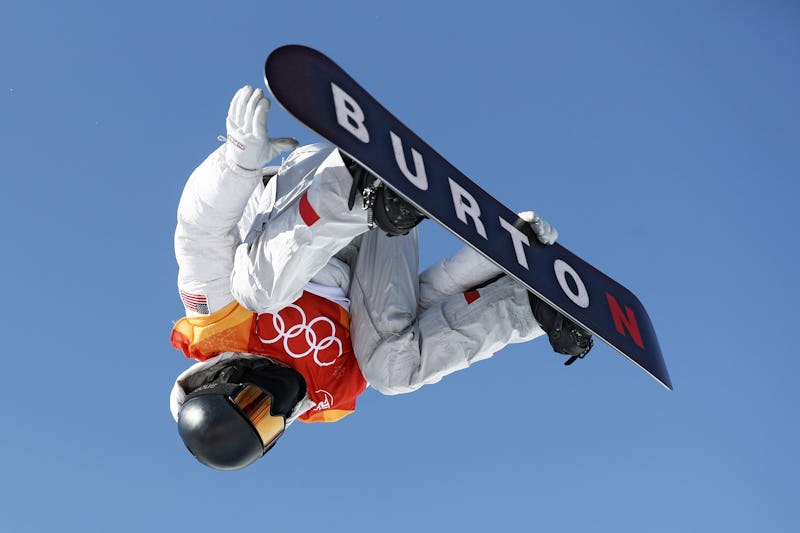 Clive Rose/Getty Images Sport/Getty Images
Late Monday night, NBC gave Olympics fans a glimpse at snowboarders from around the world as they competed in the men's halfpipe qualification rounds. Among the competitors is two-time gold medalist Shaun White — and video of his snowboarding halfpipe qualification run shows that he's ready to snag another gold.
White has absolutely crushed the competition so far in the qualifiers, scoring an incredibly impressive 93.25 on his first run and an astonishing 98.5 on his second run. White and Ben Ferguson, one of his American teammates, were the only two athletes to score above 90 points in their first runs. White's highly impressive scores in the qualifiers thus far could be a sign of good things to come should he make the halfpipe final on Tuesday (the top 12 competitors from the qualifiers make it to the final, where they contend for Olympic medals).
Many have framed the 2018 Olympic Games as one of redemption for White, who failed to medal at the 2014 games in Sochi, Russia. White had been attempting to secure a third straight gold medal at the 2014 Games, competing in both the halfpipe event and new slopestyle event. However, he injured his wrist during the slopestyle competition and was not up to his typical performance level in the halfpipe final, ultimately finishing in fourth place.
As CNN noted, White told reporters in South Korea that he was "burned out" during the 2014 Olympic Games and that "at the time my heart wasn't in it." However, White has appeared far more confident about his prospects for the 2018 Games. As reported by CNN, during a press conference at the U.S. Grand Prix, White spoke about his hopes for PyeongChang — and how he feels more comfortable now than he did in Sochi.
I would love to feel like an underdog but I just don't. ... Ever since I can remember I've been expected to do well not only from the media and fans but even more so from myself. So I'm going in to hopefully do my best.
Sitting here today I am a happier person and more comfortable with who I am and what I've accomplished and what I intend to accomplish than ever before.
White echoed similar sentiments to PEOPLE shortly before that Games began — and expressed particular joy and gratitude that he is able to call himself an Olympian yet again.
He told the magazine:
Look, this is my fourth Olympics, you know, what a great position to be in — and I'm just so thankful to be going to the Olympics again, to be an Olympian. It's great, really great.
All of these different things and cultures come together and we compete. ... It's a really beautiful thing. That's why they do that big march in the opening ceremony parade. Everybody gets out there. You bring your flag and you be a part of something bigger. It's a joyous thing. I didn't realize that until I was older that being a part of the Olympics is you're an Olympian. That's a feat on its own. You join this history of being an Olympian.
PEOPLE also reported that, before competing, White told reporters in South Korea that he hoped to have his best run at the Olympics.
I've had it in my mind of what it would [look] like, and I can visually see myself going through the run. ... And seeing all the people that I know are coming out here at the bottom, I can just see it. And it's just all about getting there and kind of matching that vision with reality, because that's what's happened before in the past Olympics. But it would mean the world to me, honestly.
White's performance at Monday's qualifying event certainly seems to indicate that the snowboarder is bringing his absolute best to the PyeongChang Games. Following the completion of all of his runs, White officially qualified for the halfpipe final in first place, which means that many around the world will be soon be watching White compete for another Olympic medal.