This Video Of Trump By A HRC Portrait Is Priceless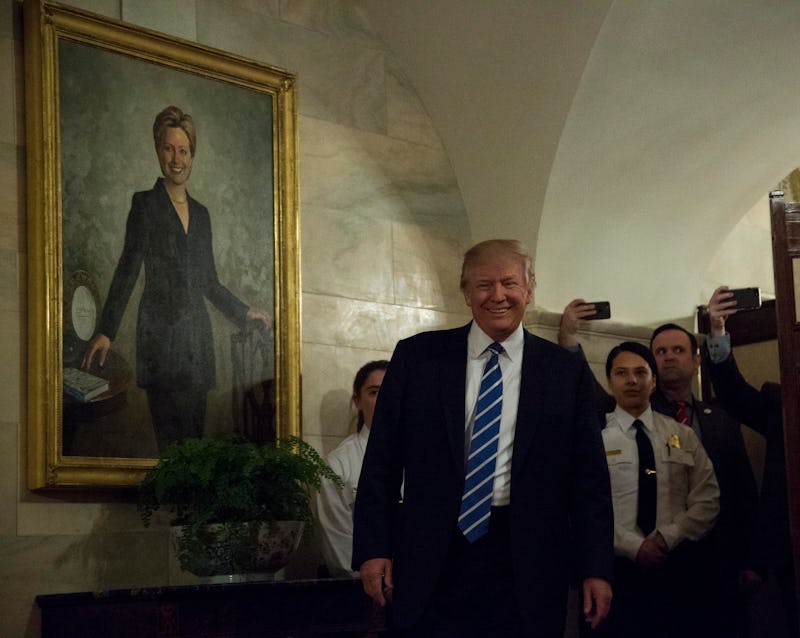 Pool/Getty Images News/Getty Images
It might be an understatement to say that politics in recent history have been unusual. During the election, President Donald Trump repeatedly called for an investigation into his opponent, which inspired chants of "Lock her up!" at his rallies. As if that wasn't abnormal enough, things got just a tad more uncomfortable on Tuesday when Trump surprised a group of students touring the White House. Normally, that wouldn't be terribly eventful, but it was the location of the photo and video opportunity that was the source of the tension. Unknowingly, Trump stood underneath a portrait of Hillary Clinton in the White House.
The painting, which shows Clinton standing beside a desk displaying her book, It Takes A Village, was her official White House portrait from when she was First Lady of the United States. The painting of Clinton resides in the Cross Hall, where George W. Bush placed it in 2004. It's certainly a little funny to see Clinton staring down at Trump from her perch on the wall while he addressed the group.
Interestingly, the group, which largely consisted of fifth graders from Birmingham, Alabama, was the first tour group to go through the White House during President Trump's administration. The White House had been closed to tours for almost seven weeks following Trump's inauguration. CNN reported that the closure was due to the fact that Trump hadn't yet appointed leaders to oversee the White House Visitor's Office.
The White House, also commonly referred to as "the People's House" offers free tours throughout the year. According to the National Parks Service, visitors to the White House must request a tour through their member of Congress. You can schedule a tour up to three months in advance but no sooner than 21 days in advance, and they are filled up on a first come, first serve basis. According to the Associated Press, around 3 million tourists visited the White House under former President Barack Obama.
In 2015, the White House even decided to lift its longstanding photo ban. Now, tourists are able to use their phones to snap pictures and cameras with a lens of fewer than three inches are allowed inside. The White House even encourages visitors to use the hashtag #WhiteHouseTour on their social media accounts if they post the photos.
The White House is perhaps the most visible and well-known landmark of the U.S. government, and it's important for the people to be able to access it. Trump's placement under Clinton's portrait Tuesday was awkward, but it's good to know that the people are once again able to access the historic building once again.