People Are Calling This Video Of Trump Talking About John McCain "Disgraceful"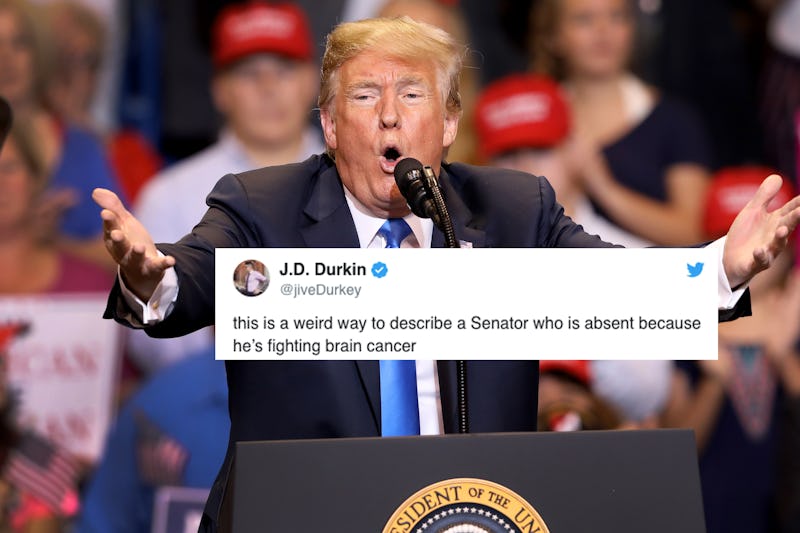 Rick Loomis/Getty Images News/Getty Images
It's no surprise that Trump and ailing Arizona Sen. John McCain aren't the best of friends. But in normal political times, presidents and congresspeople generally manage to keep their public relationships respectful, at least. A video of Trump talking about McCain not voting at a recent rally, though, shows that the relationship between the two is anything but cordial.
At the rally, Trump was complaining about the small Senate majority that the GOP currently holds, pinning the problem on McCain for being away from the Hill.
"We have a majority — we don't really have the majority of the Senate," Trump said, continuing on with a sarcastic, annoyed tone. "51, we have one person, yeah, not around to vote, he's not voting, so we have 50."
The Republican senator not around to vote, of course, is McCain, who is currently at home in Arizona fighting a virulent form of brain cancer. This comment — directed at McCain but not explicitly referencing him — did not play well on Twitter. The responses to it called the president's comment "hateful," "highly disrespectful & inhumane," and "disgraceful and sad."
"Just a matter of time before he says: 'I like members of Congress who don't get cancer,'" one Twitter user wrote, referencing the moment during the 2016 presidential campaign when Trump maligned McCain's record of military service, saying "I like people who weren't captured."
At this recent rally, Trump then made his reference even clearer, by bringing up the health care legislation that McCain famously helped sink with a decisive no-vote in July of 2017. After telling the crowds that he would give them an "example" of how difficult it is to pass legislation at the moment, he described the situation and physically imitated McCain casting the vote.
"I had Obamacare done except one guy at two o'clock in the morning," Trump said, referencing McCain and then slumping his shoulders and letting his jaw go slack in an apparent imitation of the 81 year-old senator. "Went in and said — he went — thumbs down. Even though he campaigned for years, repeal and replace. Okay. Alright."
"Trump's a despicable man," one Twitter commentator wrote in response to that clip. "Seriously what kind of person berates a patriot and veteran fighting brain cancer???" wrote another.
Disturbing though many people seem to find this episode from the recent rally, it's nothing new for Trump to insult people — even war heroes and their families — in what many see as offensive terms. Besides his comments about McCain, the campaign also saw him insult the Muslim parents of a soldier who had been killed in action and do a mocking physical impression of a disabled journalist. His rallies still regularly repeat the campaign calls to "Lock Her Up" — a reference, of course, to former Secretary of State and First Lady Hillary Clinton. McCain is a frequent target of Trump's ire, even though he's battling such a serious illness. There are many ways in which Trump draws his own boundaries as president and in politics in general — but Twitter seems to agree that this is one of the ways that people find the most offensive.