This Recipe Proves Making Waffles Isn't As Scary As You Think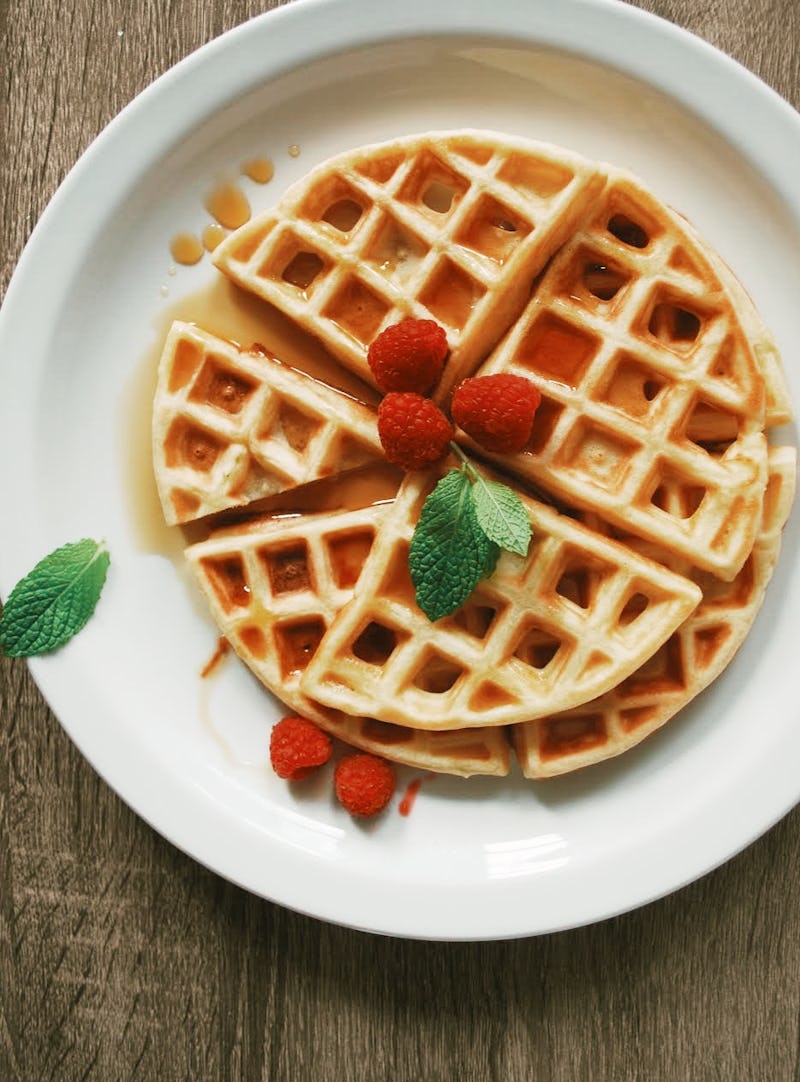 Sogoal Zolghadri
Owning a waffle iron can often make you feel like you're truly an adult. I mean, what does that waffle iron signify, really, other than a tool that helps you make waffles? It means you're established enough to be able to afford an extra kitchen tool that isn't necessary for basic survival, and it means that you have the time to leisurely put together breakfast on the weekend in your very own kitchen. You can make a serving of waffles for just yourself, and you're damn proud of it, too.
That said, mine was in the basement of my apartment building for ages before I put together this waffle recipe for one, mostly because I don't have space in my kitchen for it (or the patience to make waffles for breakfast when they can so easily be delivered right to my door from my local diner). However, on an ambitious Saturday morning, I decided it was time to roll up my sleeves, pull the ol' waffle iron out of its dungeon, and get back to basics: Making a delicious breakfast for just me with my waffle maker. Adulting done right, right?
Luckily, this waffle for one recipe isn't hard to throw together, even on a lazy Saturday morning when you're hungry for something hearty and sweet. The batter consists of a lot of pantry staples you probably already own — nothing fancy or too particular, just your standard flour, sugar, salt... you get the idea. Even better, the waffles generally cook up in a few minutes in most waffle irons. With this recipe, I had enough for about two thinner waffles, or one really big waffle — also known as the most perfect serving size for a single person.
The recipe featured here is a great base for you to tailor to your liking, too. There are a lot of different waffle recipes out there, and many are quite easy to throw together if you have the base recipe — like the one you see here — down. Blueberries, bananas, walnuts, cheese... the possibilities are endless. Can't be bothered to deal with all these add-ins? Then toppings are your best friend. Since the batter isn't terribly sweet, it marries well with lots of different toppings, like fruit, jam, syrups, and, of course, butter. But don't limit your potential! Try anything you want on your waffle — after all, they're all yours and only yours.
Waffles
Adapted from: Martha Stewart Living
Prep Time: 25 minutes
Yields: One really large waffle
½ cup of all-purpose flour
1½ tbsp sugar
½ tsp baking powder
⅛ tsp salt
½ cup milk
1 egg
2 tbsp butter, melted
Maple syrup for serving
Preheat waffle iron. There are lots of different waffle makers out there and settings can differ tremendously, so be sure to follow your specific iron's instructions.
1. In a medium bowl, whisk flour, sugar, baking powder, and salt. If you're adding any fun spices, do so here.
2. In a separate, smaller bowl, whisk milk and eggs. If you're adding any extracts, do so here.
3. Mix the dry and wet ingredients to combine (slow and steady — you don't want to over-mix), then slowly whisk in the butter.
4. Following your manufacturer's instructions, pour the appropriate amount of batter into your iron. For the waffle iron I used in this recipe, I poured just over 2/3 of a cup of batter per waffle.
5. Cook for about three minutes, or five if you want your waffles super crispy.
6. Remove from iron and plate. Top with all your fixins'!
Seriously, how amazing does that look? And the best part is, it's all for you!