This Warners Bros. Collection Will Remind You Of Saturday Morning Cartoons In The Most Stylish Way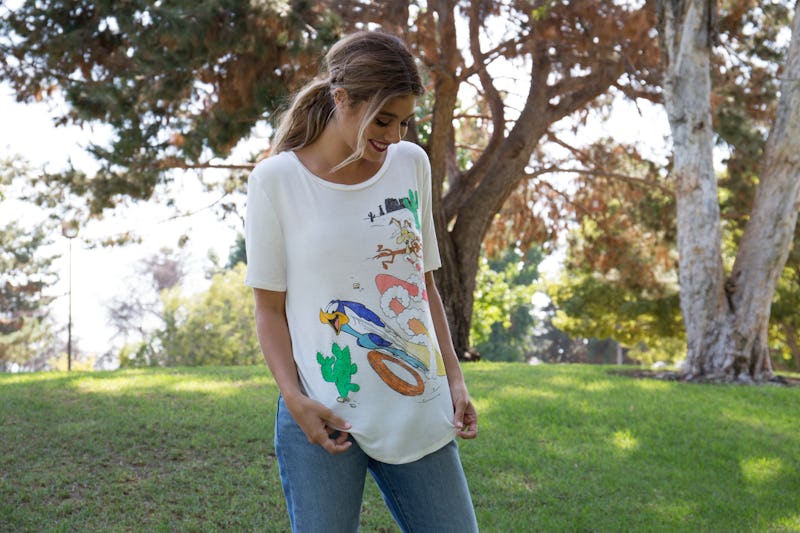 Courtesy BoxLunch
Saturday cartoons might not be like they were when you were young, but you can now throwback to the good ol' days in the most fashionable way possible. Warner Bros. and BoxLunch have joined forces to create a collection that will take you back to your childhood without having to leave the fashion trends of today. Graphic tees, hats, and several other items inspired by the '90s characters that you know and love are all in this collection.
Get ready because this collection will make you scream, "Yabba-Dabba-Doo!"
BoxLunch is known for nailing throwback fashions, and this time is no different. The brand has moved on from previous Nickelodeon and Disney collections, and they're now taking on Warner Bros. It's the final leg in the trifecta of cartoons — and might just be their best one yet.
The collection is filled with subtle and standout items based on characters from Scooby Doo, The Flinstones, and Looney Tunes. There are casual graphic tees for cartoon-loving minimalists and more stand-out items for those of you looking to truly commit.
Don't go grabbing for your wallets just yet, though. Unfortunately, you have a little bit longer to wait to get the items. The line will be available in-store and online on Oct. 2, which is right around the corner and right in time for the holidays. The collection will only be around for a limited time, so you'll want to set your alarms for this one.
A representative for the line told Bustle the items will range in price from about $10 to $70, which is a pretty great price point for those of us on a budget.
But don't be mistaken. This isn't just your typical BoxLunch launch. Unlike the other cartoon lines by the brand, this one will come with a special pop-up shop. According to the press release, the "360 degree pop-up will take you into the worlds of Bugs Bunny, Scooby-Doo, The Flintstones and more," so you and your Instagram page can get a throwback update.
The Get Animated Invasion pop-up shop will be located in SoHo in New York City. It will be open to the public for one weekend only during New York Comic Con, which is from Oct. 6 to the 8. If you are in the area, you can reserve free tickets for the pop-up here.
"We're excited for fans to experience this new creative way to step into the world of their favorite animated characters," said Pam Lifford, president of Warner Bros. consumer products, in a press release. "The Get Animated Invasion pushes the boundaries of fan engagement, blurring the lines between art, content, and commerce."
Not only are the styles absolutely adorable, but a portion of the proceeds of each sale goes towards a great cause. With every $10 spent on the collection, BoxLunch will provide a meal to a person in need through a trusted charity they partner with. It's a small way your purchase can extend beyond your personal closet.
To put it simply, even if you want to splurge for the highest ticketed item, you don't have to feel too bad at all. You know, until that credit card bill comes in.
Between the experience of the pop-up shop and getting to put on these feel-god throwback every day, this collection couldn't possibly get any better. After all, it's not every day that you get to buy a full millennial pink Space Jam tracksuit.
There's truly never been a more exciting time to be alive — except maybe in the '90s.