This Woman Flew 3,500 Miles Just To Buy Lush Products — And Now She Works For The Brand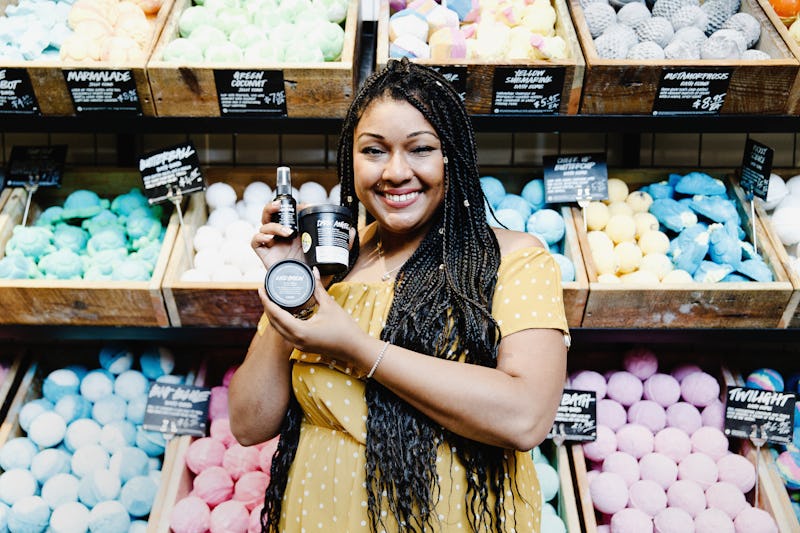 Courtesy Lush
Lush is a brand with a following like no other. While fans of the brand share their love both IRL and online, no one is a bigger Lush lover than this woman: Nicole McRonney-Apaw started as a Lushie and now works for the brand, while simultaneously collecting over 300 products (!!!) in her tiny bedroom. Now, she even stars in her own campaign, and it is in every single Lush storefront in North America right now. Because beauty dreams really do come true.
McRonney-Apaw's journey to Lush love started right where yours likely did — in the brand's store. She ended up going in with a friend, and one shopping trip and $80 worth of products later, she was hooked on the brand. In fact, McRonney-Apaw is so committed to the brand that she actually flew to the U.K. to get scents that weren't released in her home country.
"Thankfully, I have family in the U.K., so what I did was I ordered perfume... and I took four days vacation to go to the U.K.," McRonney-Apaw tells Bustle. "I was like, 'Hey, family. I'm here to see you, but also where is my Lush perfume delivery?"
It wasn't until she started taking her friends to the store and selling them on the products that she realized that she could do it for a living. Six years, a job in-store at Lush, and an email to the CEO of Lush later, she's the star of the brand's campaign.
"I couldn't be prouder," McRonney-Apaw tells Bustle of the campaign. ""It shows the power of perseverance."
This campaign did not come because of a viral social media post or even because of her 300+ product collection. It came from six years of dedication to the brand. She started out wearing the perfume so much in college that she became known for her Lush obsession. After school, she cold-emailed the CEO of Lush to tell him where she thought the brand could improve on social media.
Guess what? It worked. She's now just celebrated her one-year anniversary as communication specialist with the brand and stars in its latest body scrub campaign.
McRonney-Apaw's love for and knowledge of Lush is apparent, even in the interview. When I ask what her favorite products from the brand are, she doesn't just give me names of them. Instead, she goes into the ingredients, work it takes to make then, and even how to apply them. She is the true definition of Lushie in every sense of the word.
Speaking of her favorite products, McRonney-Apaw loves perfumes — so much that she has over 60 units sitting in her bedroom right now. The collection of fragrances makes up for a cool 20 percent of her collection. The rest includes around 300 products of used and unused products.
"[My collection is] a combination of bath bombs, bubble bars, gift boxes. I keep old gift boxes 'cause they're super cute," McRonney-Apaw says. "Perfumes, lip balms, lip scrubs, shower gel. I don't even get to using them all, but I like knowing that they're there for me when I'm ready to come around."
She says that the collection completely covers her dresser and has spread to the space above her bed. You know, so she can reach up and still do her skin care routine while she's comfy in bed.
The money for her Lush products comes right out of her own pocket, too. She might work for the brand, but she still finds time to visit her brick and mortar store to pick up her favorite products, like the Sandstone scrub, and even new products she's yet to try, like the Roots hair treatment.
There is a major perk about working in-house though. Besides the incredible smells and products being created around her all the time, McRonney-Apaw can order online and have the products delivered right to her desk.
Besides that incredible service, it's the brand values that keep McRonney-Apaw around. She completely stands behind Lush's cruelty-free and sustainable sourcing and efforts to go package-free.
"If you haven't given Lush a shot, give it a go." Spoken like a true Lushie.