This Is The Best Workout If You're Not Trying To Mess Up Your Hair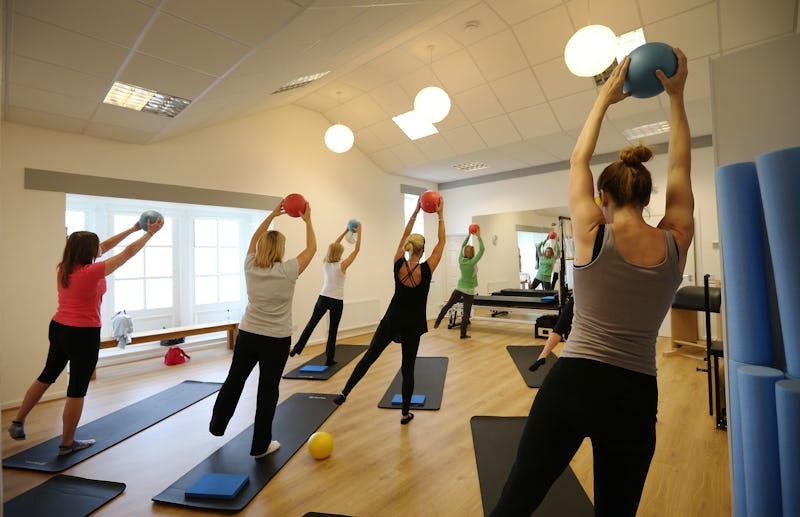 Peter Macdiarmid/Getty Images News/Getty Images
The dilemma: You want to get in a good workout, but the threat of head sweating and hot-mess hair keeps you from hitting the gym. Sound familiar? This is me all day. If you're looking for a workout that won't mess up your hair, but still challenges you and strengthens your body, Pilates is totally going to be your jam. While sweating is often equated with a good workout, you actually don't have to squeeze every drop of water from your body to reap the rewards of exercise. "Sweating is the cooling process your body goes through to help you maintain a steady body temperature — but it's no workout indicator," Jessica Matthews, exercise physiologist for the American Council on Exercise, told WebMD.
"We have this association that sweating equals calories burned, and that's actually not accurate." Enter Pilates, named for its creator Joseph Pilates, a workout that focuses on strengthening your core through concentration and breathing. Even though the workout focuses on your core, it will actually strengthen your entire body without leaving you super sweaty. "It's demanding, but it's not the kind of workout that always works up a sweat," Kara Mayer Robinson wrote for WebMD. "You can expect to see strength gains in your arms and legs [too]."
That being said, everyone is different and there's no guarantee you won't work up a sweat in a Pilates class, especially if you're taking a high-level reformer class, which uses an apparatus outfitted with springs and pulleys. So, before you sign up for the first Pilates class you find online, it's important to learn about different types of Pilates. Scottsdale, Ariz., based Pilates Instructor Jen McNeely — who teaches rigorous Pilates reformer classes and trains professional athletes — tells Bustle that any workout that gets your heart rate up is probably going to make you sweat. "In my classes, if you're doing it right, you're dripping with sweat."
If you're someone like me, who only washes your hair once a week, and you plan to go out and meet friends straight from your workout, low-impact mat Pilates is a good option to keep your head from sweating so you don't have to wash your hair. Just loosely pile your hair on top of your head during class with come clips, and let it down afterward.
"Pilates is a great option for women who hate to sweat or hate to spend extra time showering, blow-drying their hair and re-applying makeup after a workout," Robin Long, creator of online-Pilates platform The Balanced Life, told Body Rock. "You can hit up a Pilates class and then be on your way to lunch without feeling sticky and sweaty."
If you're used to washing your hair every day, and the idea of not sudsing up your strands after a workout sounds super gross, it's actually not. As a former daily hair washer, once you get through the transition phase of feeling like your head is hella oily, your body adjusts and realizes it doesn't need to make as much oil to hydrate your hair because you're not stripping your natural oils away every day.
Personally, I find it liberating to not have to wash my hair every day. And, washing less can actually improve and strengthen your hair, which has been my experience. Jeff Chastain, a hairstylist in New York City, told the New York Times that once or twice a week is the ideal when it comes to often often you should be washing your hair. However, you do you. If you want to wash your hair every day, you totally can.
Everyone is different, and some people sweat more and produce more oil than others, and there's nothing wrong with that. For the non-hair washers out there, low-impact exercise like gentle yoga and mat Pilates will help keep your tresses looking better longer so you don't have to sacrifice a good workout to maintain your styled strands. Seriously, let's stop letting our hair rule our lives. #LiveYourBestLife