Thomas From 'Southern Charm' Is Reportedly Being Investigated For Sexual Assault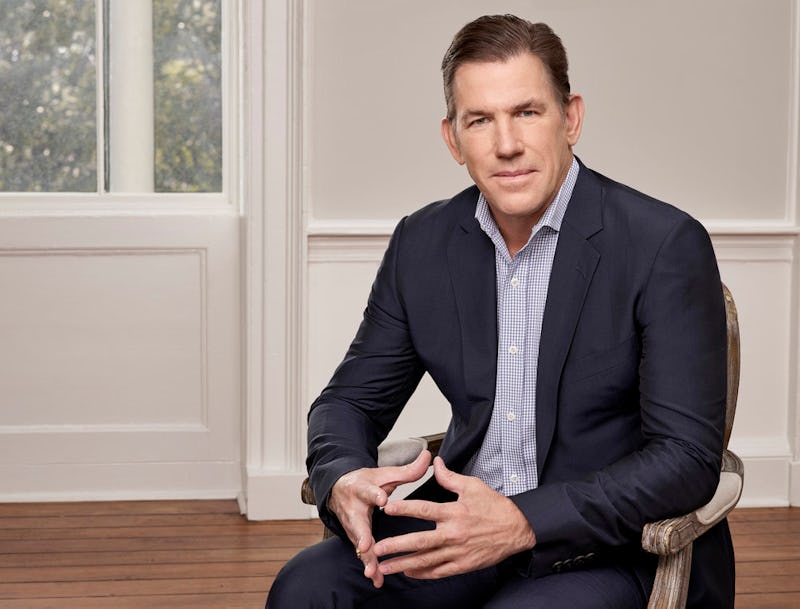 Rodolfo Martinez/Bravo
On Tuesday, People reported Southern Charm star Thomas Ravenel is being investigated for alleged sexual assault. This is the second allegation of sexual assault Ravenel is facing. A lawyer for Ravenel previously commented on the first allegation and said that the reality star was "committed to defending his reputation" (full statement below). Bustle has reached out to Bravo, Ravenel's lawyer, and Charleston police for comment regarding the investigation, but did not receive a response at the time of publication.
Warning: This article contains information about sexual assault allegations, which some may find triggering.
According to an investigation report People obtained, an unidentified woman reported an alleged "sex offense" and "forcible rape", allegedly involving herself and Ravenel in January 2015, to Charleston, South Carolina police. "I told them the truth about what happened to me," the woman told FITSNews on Tuesday. "They are investigating him," she said.
According to The Hollywood Reporter, Charleston police confirmed to the publication Ravenel is being investigated for alleged sexual assault in South Carolina. THR also reported Tuesday that the alleged victim filed a report on Monday in which she alleged Ravenel sexually assaulted her during the second week of January 2015.
This is the second sexual assault allegation involving Ravenel that has been made public. On May 3, Us Weekly reported that a woman named Ashely Perkins alleges the 55-year-old Bravolebrity sexually assaulted her mother, Debbie Holloway Perkins, in December 2015 after they matched on Tinder.
Perkins originally posted a blog on April 16 detailing the alleged sexual assault, in which she claimed, "My mom and Mr. Ravenel matched on Tinder in late October 2015. Mr. Ravenel asked my mom out several times before she finally agreed to a 'date'". She continued, and alleged, "I helped mom get ready for her date. That included picking out jewelry for her wrists … Her wrist didn't have a mark on them before she entered Mr. Ravenel's car … I greeted her when Mr. Ravenel dropped her off a few hours later, her wrist was cut and already showing signs of bruising."
Perkins also spoke with Fox News on May 2, where she alleged, "[My mother] told me that he grabbed her by the wrist and held her down. He then proceeded to pull his penis out. She said 'no' and then he shoved his fingers inside of her vagina and later her anal area." She also said, "...She finally screamed at him, 'You're a rapist!' And apparently that was a trigger word for him because he jumped right off of her."
Perkins' mother and Ravenel allegedly went out on a date on Dec. 25. Perkins also told Fox News she and her mom hired lawyer Gloria Allred for a case against the former politician and claimed they settled it for $200,000 during a June 2016 mediation, where her mother also allegedly signed a non-disclosure agreement. Regarding the latter, Fox News reports this is why Perkins was speaking out on behalf of her mother.
Perkins also previously released a statement to Bustle via email. "I want to see Thomas Ravenel removed from Bravo and not just because of what he allegedly did to my mother but because of the negative comments he posts [on social media] on a regular basis."
Her statement continues,
Also, the way Thomas treats women on the show Southern Charm is totally disrespectful to women everywhere and promotes an antiquated attitude of the "good ole boys" network and "boys will be boys" which is too commonly accepted. I want to see not only Thomas removed from the show but for Bravo to apologize to the audience for allowing Thomas to remain on the show with his reckless, threatening, and demeaning attitude to women.
Ravenel's lawyer, Richard P. Terbrusch, released the following statement to People regarding Perkins' allegations:
"My client enjoys a certain degree of fame, which has unfortunately made him a vulnerable target for such claims. The person this woman describes is simply not the man that I know. My client is a loving father, successful businessman, and upright member of the community. He is appalled and hurt by these allegations — and is committed to defending his reputation in the appropriate legal forum."
On May 4, Bravo released the following statement to Bustle regarding Perkins' allegations. When asked about the news of the investigation, the network sent the same statement:
Haymaker, the production company for "Southern Charm," and Bravo take allegations like these very seriously. Haymaker is conducting an investigation, and once all the information is gathered and carefully reviewed, appropriate action will be taken.
If you or someone you know has been sexually assaulted, call the National Sexual Assault Telephone Hotline at 800-656-HOPE (4673) or visit online.rainn.org.