The Saga Of Justin Bieber Eating A Burrito Sideways Just Took An Unexpected Turn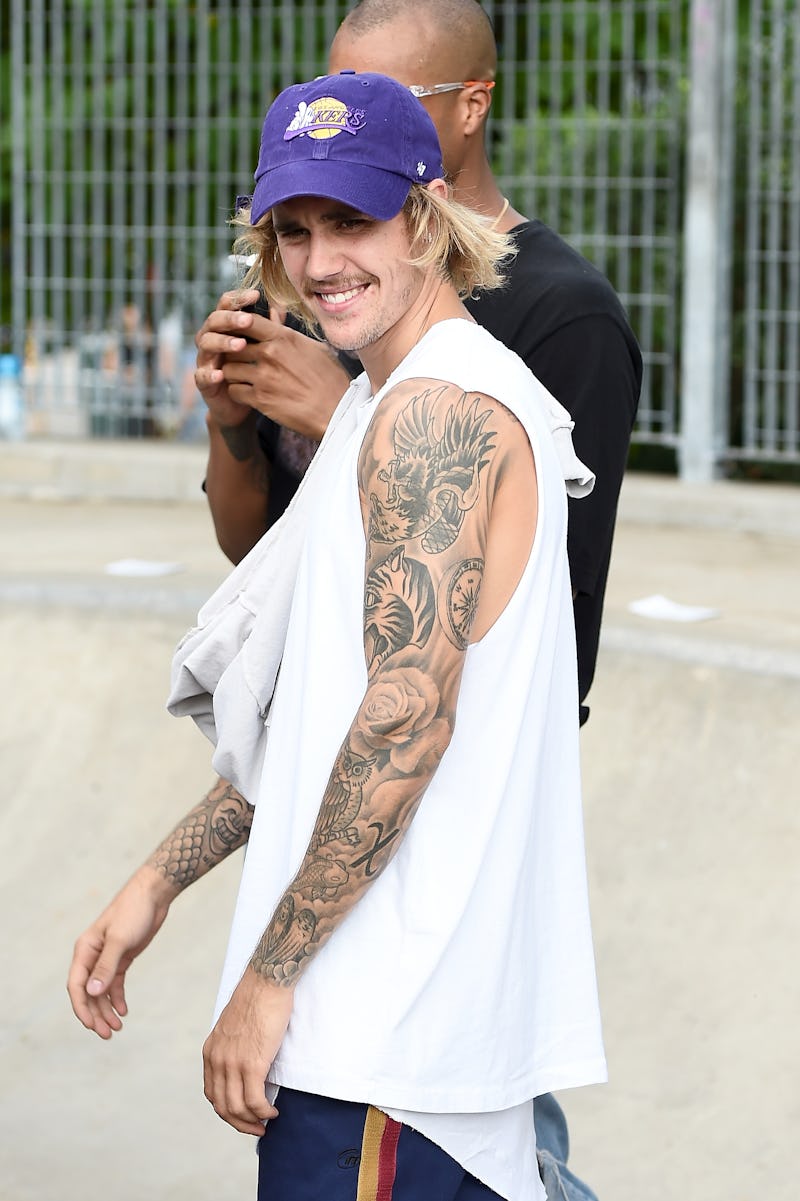 Theo Wargo/Getty Images Entertainment/Getty Images
One of the greatest recent mysteries — how Justin Bieber actually eats a burrito — was finally solved. But it may come as a bit of a letdown to Bieber burrito truthers. As The Cut reported, the Justin Bieber burrito photos were a scam. So after all of the speculation and social media discussion, the singer wasn't even photographed eating a burrito sideways at all.
Instead, the viral photo in question was actually a scheme hatched by a group called Yes Theory. As explained in the group's Youtube video, they hired a man named Brad Sousa to pose as Bieber eating the burrito in an odd fashion, complete with a wig and beanie to capture the singer's now-classic grungy look. They took a snap of the act and posted in on Reddit, after which it made the rounds on the internet. In their video, they said,
"We've never pulled off anything like this before, but engineering a viral story that has nothing to do with Yes Theory has been a challenge we've always wanted to do."
Unfortunately, this means that all of the speculation into Bieber's questionable burrito eating ways was for naught, as it wasn't even the "What Do You Mean?" singer in the photo. But all of the questioning was definitely fun while it lasted, especially because it sparked a major conversation surrounding the proper way to eat a burrito (which, by the way, the only acceptable answer is to start at the ends, sorry not sorry).
As you might recall, the photo of what was originally presumed to be Bieber made the rounds on social media around late October. On Oct. 25, journalist Ryan Bassil, posted said photo and asked, "does....justin bieber not know how... burritos work ?"
Naturally, seeing as though eating a burrito from the side isn't your typical manner of eating them (depending on who you ask), the photo got Twitter buzzing. It made one Belieber question everything about the singer as they joked, "All those years of loving Justin Bieber and then you find out this is how he eats a burrito."
Another Twitter user was not down with the snap and said, "justin bieber eating a burrito sideways is why I'm angry today."
Amazingly enough, the whole Bieber burrito saga even prompted Chrissy Teigen to jump in on the fun. And in an interesting turn of events, she was totally Team Bieber when it came to his presumed burrito move.
She replied to Bassil's tweet and said, "the only way they should be eaten tbh, ends are just carb factories." She's not entirely wrong there, but come on, Teigen, it's still not the best way to eat it.
Ever since the photo was revealed to be a big hoax, Twitter has gone wild in a totally different way. In fact, there's quite a few people who are disappointed to find out that Bieber's supposed wonky burrito-eating manner was completely fake.
Ryan Mitchell, the host of the Let's Go There radio show, may have said it best when he joked that he felt "personally attacked" after finding out that the photo wasn't real.
It's a bit disappointing to find out that the photo was all an elaborate prank. To give props to Yes Theory though, it was indeed a pretty amazing prank. Seeing as though the photo was faked, now there's only one question that still needs to be answered: How does "Sorry" singer actually eat a burrito? Bieber is really going to have to step in to put an end to this grand burrito saga.