These Hilarious Graphic Tees Drag All Of Us For Being Terrible To The Planet & TBH, It's Deserved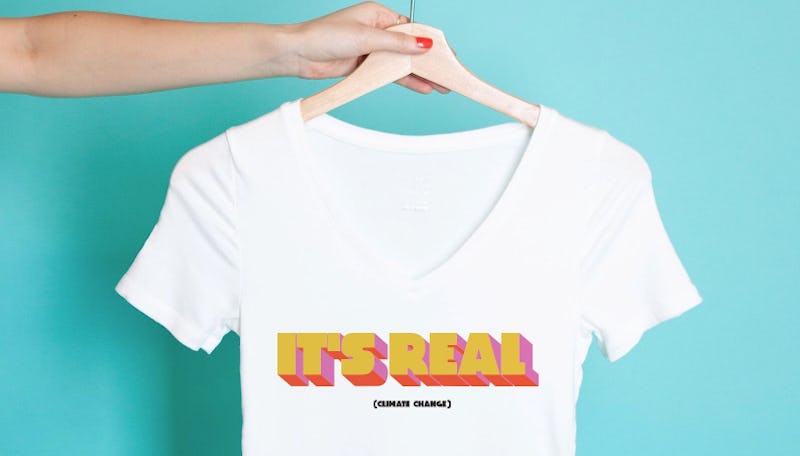 Courtesy thredUP
These white tees have gone green for Earth Day, and you're going to love every single one. ThredUP created a sustainable Earth Day Collection made from secondhand clothing. The brand teamed up with well-known designers to poke a little fun and spread a message about global warming using the basic white tee. Because thredUP isn't just for thrifting. It's for making a statement.
The graphic tee is having a moment in history. Since the 2016 election, there has been a boom of charitable and statement making attire. But thredUP is here to prove that it's not just what your shirt says that makes a difference, but about where it come from.
ThredUP used secondhand white t-shirts from brands like Celine, Rag & Bone, and J.Crew for the designs. Each one was individually screen-printed on a white t-shirt at a local small business, and the results were hilariously upsetting.
Cartoons include concerned change, which features coins having a concerned conversation, and a girl walking around in a bathing suit and scarf talking about how Tupac is still alive. There are also more serious graphics, like the one that reads "Climate Change Is Not Dead" spelled out in dying flowers.
"This campaign is all about climate change: raising awareness of it, and reducing it. By printing designs on secondhand shirts instead of producing new material, thredUP shoppers reduce their carbon, waste and water footprints," Karen Clark, Head of Marketing Communications at thredUP, tells Bustle.
This collection is bigger than just T-shirts though. All proceeds from the collection will be donated to the environmental non-profit Cool Effect, a group supporting global projects that offset carbon and other greenhouse gas emissions that contribute to climate change.
"Cool Effect is an amazing organization that allows the impact of secondhand tees to reach even further," Clark tells Bustle. "They work to mitigate climate change by making it easy for companies and consumers to fund greenhouse gas reducing projects around the planet. For each tee-shirt purchased, Cool Effect estimates a reduction in carbon equivalent of planting 95 trees that live for 10 years."
The non-profit isn't the only amazing collaboration in this collection either. The brand tapped some incredible talent to get involved. Artists include New Yorker cartoonist Hilary Fitzgerald Campbell, J.Crew designer and fashion illustrator Julie Houts, and digital designer for brands like Outdoor Voices, Tessa Forrest. They even got some incredible Instagram artists to create designs, too.
"We set out to work with voices of this generation - who have powerful ways of expressing their fears, frustrations and belief systems," says Clark. "We knew each artist would have a lot to say about climate change, and a touching way of saying it."
The brand isn't just talking about climate change though, it's proving that fashion plays an important part in saving the environment. Everything from the secondhand shirts that the designs were printed on to how they were printed makes a difference. According to the brand, this is only the beginning of ways that the brand will become more sustainable.
"At thredUP our goal is to extend the life of clothes by inspiring consumers to think secondhand first," says Clark. "We're already processing up to 100,000 secondhand items every day, and we felt Earth Day was a great moment to transform some of these treasures into a more meaningful statement."
You can get involved, too. Just by shopping thredUP and giving an old item a new home, you are helping the cause. Or you can buy from this collection, of course. You'll have to do it fast though. The shirts, ranging from $10 to over $100 are already selling out on the brand's website, and only 1,000 were made.
What you wear matters just as much as where you buy it. That's something to think about not just on Earth Day, but every single day of the year.