You Can Now Shop The Closets Of Dorinda, Ramona, and Luann From 'RHONY'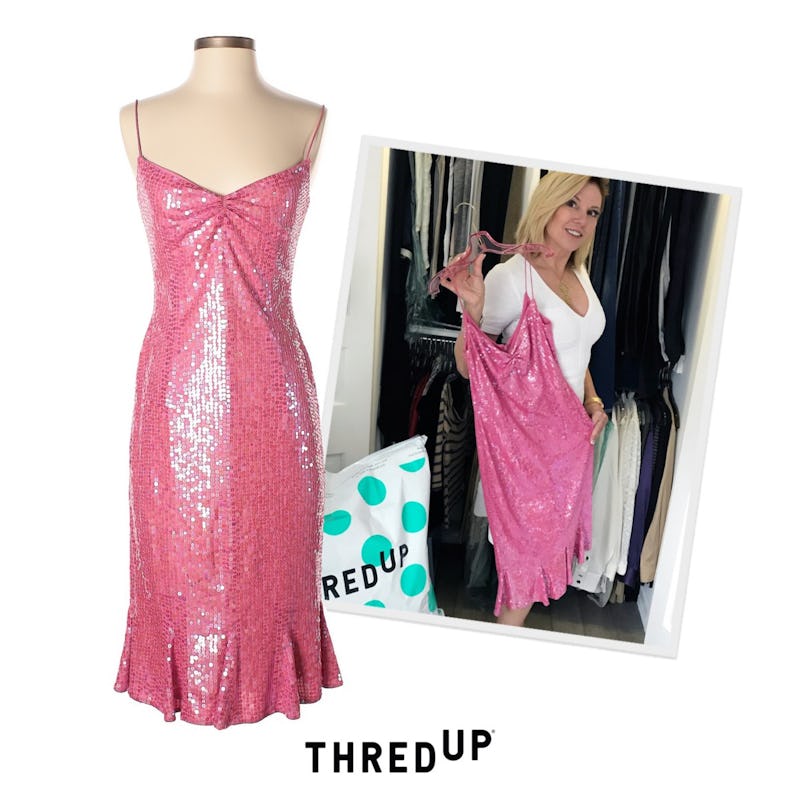 Courtesy thredUp
Forget everything you know about spring cleaning, because the way these women are cleaning out their closets is even better. The Real Housewives of New York have teamed up with thredUP to rid their closet of toxic fashion moments. Think: all of those dresses worn in on-air meltdowns and lavish-turned-food-fight dinner dates.
Carole, Dorinda, Ramona, and Luann have gotten together for a closet clean-out of epic proportions. Each housewife is getting her own thredUP closet and filling it with items that you can directly purchase. All proceeds will go to their specifically chosen charities, too. So get ready to do a world of good while you shop.
The idea is the same as every other item on thredUP. You visit the website and browse through pre-owned items from the stars. There will only be one of every outfit, so you're going to want to shop fast.
Each of the women's closets will launch on a different day. Carole's arrives on July 24, Dorinda's on July 25, Ramona's on July 26, and Luann's is yet to be announced. Each woman has a different sense of style, which means the closets will be different. You probably are already fully aware of that, as the show is in its' tenth season.
The closest will go live at 9am EST on July 24, 25, and 26. There will be more than 100 items in the entire collection, so get ready to shop. The website does say that there will be a wide-variety of different of different items up for grabs — not just designer outfits.
"A clean closet equals a clean slate," the website reads. "The NYC housewives get a fresh start by cleansing their closets of toxic memories. You get your dream closet filled with designer dresses, perfect-fitting jeans, and like-new activewear."
That means that the price range will vary from $5.99 to $600. All the prices will be set in stone though. So you won't be able to bid like an eBay auction. Remember when you shop that all the proceeds go to different charities though.
It's not every day that you can on something right from a celebrities closet, so this is pretty major. This isn't the first time that the brand has teamed up with different stars to purge their closets, either. The Bachelorette's Rachel Lindsay, Gina Rodriguez, and Rachel McAdams have put together charitable listings as well.
Every single time that there has been a celebrity closet, they have sold out extremely quickly. History repeats itself, and the Real Housewives of New York closets will likely be no different.
From the sneak peeks of the collection, there is a whole lot to love. From sequin-covered dresses to vintage-looking skirts and everything in between, there will be a whole lot to get your hands on. There will also be a variety of sizes as well.
A closet clean-out like this doesn't come around very often. Cancel your plans, grab your wallets, and get to shopping. Because this is one event that you won't be able to record.