How Not To Sexually Harass A Woman, According To Tiffany Haddish & 'SNL'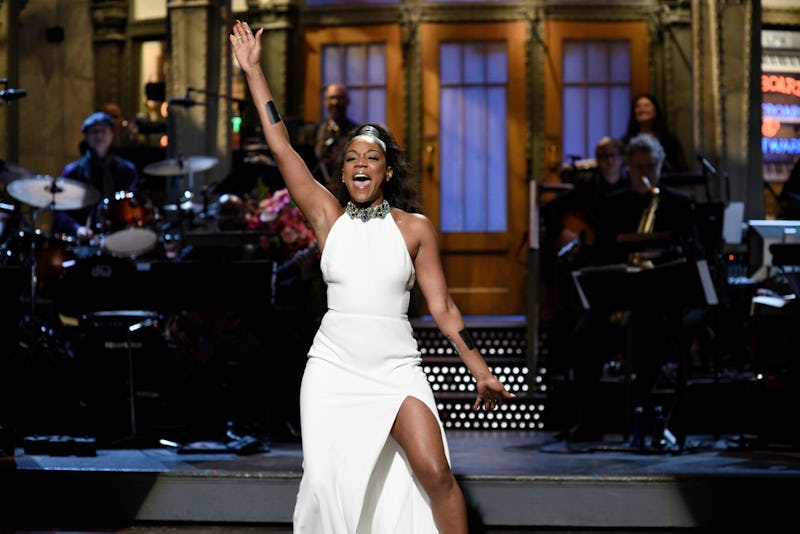 Will Heath/NBC
With many sexual harassment allegations in the headlines, the topic is definitely on the minds of many people — and Saturday Night Live made many references to the current news. SNL and host Tiffany Haddish talked about sexual harassment during the Nov. 11 episode of the comedy series. Haddish is the first black female comedian to host the show and she addressed the sexual harassment headlines in her monologue, opening the episode. "Weekend Update" then used the character Claire from HR (played by cast member Cecily Strong) to give a quiz on how to properly behave in the workplace. Essentially: Use common sense to not be a horrible person.
In her monologue, Haddish talked about her breakout role in the hit movie Girls Trip, her time in foster care, and how SNL was her favorite show growing up. The actor also threw in what she called a "Tiff Tip" for men. "Listen fellas, if you got your thing thing out and she got all her clothes on, you're wrong!" she says in her monologue. "You're in the wrong!' It was a hilarious monologue joke and Haddish skillfully addressed the topic in just a few sentences, but it's also unfortunate that such a tip needs to be dispensed at all.
"Weekend Update" further discussed the current topic of sexual harassment with a visit from Strong's Claire From HR character. She rolls into the segment on a chair, frazzled from what she says has been a busy week for her. "I haven't been home in three days," she says, referencing all the recent allegations that have been reported. She proceeds to give "Weekend Update" host Colin Jost a quiz about how to properly behave in the workplace. She asks him questions like, "When should your penis ever be out of your pants at work?" and "When is it OK for an adult to have a sexual relationship with a 14-year-old?"
The answers to the questions are fairly obvious to Jost (and the audience), but Claire expresses relief every time he gets a question right. "You'd be surprised how many people get that wrong. It could almost make you lose your mind," she says after one of the questions, with her frustration intensifying after each one. Throughout the segment, Claire gets so disgusted at the fact that these questions should be known to everyone that she regularly pumps hand sanitizer into her mouth. Jost passes the quiz in the segment, but Claire isn't convinced that her job is done yet. "I'm sure I'll be back next week and the week after that forever and ever, because all of this isn't just a scandal," she says. "It didn't just start last week. It's actual reality for half the population."
Sexual harassment or misconduct allegations have been reported against comedians, directors, actors, and politicians just this week — never mind all the weeks prior. And, it's not a flood that's likely to stop because, as Strong says, sexual harassment is an issue half the population regularly faces from all kinds of men in all kinds of scenarios.
Twitter users cheered for the Claire From HR segment, saying it was the right commentary we needed on the issue this week.
Both Haddish's "Tiff Tip" and Claire From HR are hilarious sketches, but it's unfortunate that they are so relevant right now. We can laugh, but we also need to make sure the lessons from these jokes are implemented in Hollywood and everywhere else as well.
This comedic commentary should be common sense to everyone, but if it wasn't already, SNL is helping make sure that it's common sense in the future.
If you or someone you know has been sexually assaulted, call the National Sexual Assault Telephone Hotline at 800-656-HOPE (4673) or visit online.rainn.org.