Tiffany Haddish's Golden Globes Snub Is Super Confusing & Everyone Is Pissed AF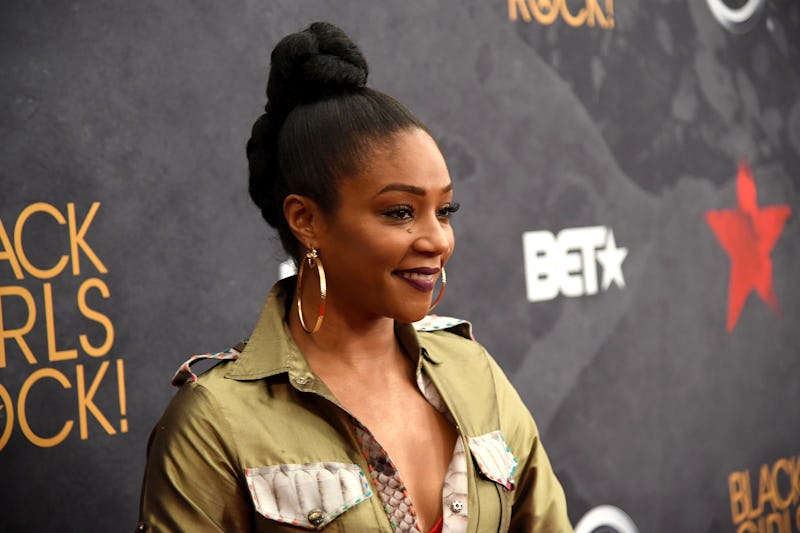 Paras Griffin/Getty Images Entertainment/Getty Images
One of the best things about the 2018 awards season so far has been the recognition of a handful of actors who gave amazing performances in films not typically considered "Oscar bait," like Kumail Nanjiani for The Big Sick and Daniel Kaluuya for Get Out. And then, of course, there's the great Tiffany Haddish, whose scene-stealing turn in Girls Trip made massive waves this year, despite the movie being a raunchy, female-led comedy — not exactly traditional awards material. So it was a real shame to see that Tiffany Haddish was snubbed by the Golden Globes for Best Supporting Actress, when the nominations for the 2018 show were announced on Monday morning.
There was plenty of reason to think that Haddish would make the cut for the upcoming awards show. She has popped up on several nomination lists so far this season, even winning Best Supporting Actress at the New York Film Critics Circle Awards. And in addition to her incredible performance in Girls Trip getting attention, the actor herself has become a total Hollywood favorite over the last several months, catapulting into superstardom thanks to hilarious talk show appearances, a great SNL hosting gig, an acclaimed Showtime stand-up special, and so much more.
So going into the Golden Globe nominations on Dec. 11, pretty much everyone expected that Haddish would earn herself a nod — and perhaps even a win, when the show airs on Sunday, Jan. 7. But shockingly, the actor was totally snubbed. Instead, the nominees for Best Performance by an Actress in a Supporting Role in Any Motion Picture are Mary J. Blige for Mudbound, Hong Chau for Downsizing, Allison Janney for I, Tonya, Laurie Metcalf for Lady Bird, and Octavia Spencer for The Shape of Water. These women are all great actors, to be sure, but it's still a huge disappointment not to see Haddish's name included among them for this prestigious honor.
And many of her loyal fans are voicing their opinions about the Globes snub on Twitter, loud and clear.
So many people are mad not just about Haddish being left out of the nomination list, but also about Girls Trip overall missing out on any Golden Globes recognition. The movie was a massive critical and box office success, offering both hilarious comedy and necessary on-screen representation to the masses, so it makes no sense at all why awards shows wouldn't choose to honor that by giving it a few nods. But alas, that's exactly what happened with the Globes.
It's truly disappointing to see that neither Haddish nor the filmmakers behind Girls Trip got any recognition this time around. But hopefully, the Globes won't be an indicator of how the rest of awards season is going to go. After all, other expected honorees like Greta Gerwig for Lady Bird and Jordan Peele for Get Out also didn't make the cut, but are still considered serious contenders for the Oscars. Although Haddish's snub is undoubtedly frustrating, there's definitely still a big chance that the actor could earn an Oscar nod when those nominations are announced, on Tuesday Jan. 23.
So keep your fingers crossed for Haddish, and cheer up knowing that she's still a serious contender, no matter what the Globes did with their nomination list. And how great would it be to see Haddish at the Oscars next year?! 2017 may have been pretty awful overall, but Girls Trip and her performance were total highlights — so it'd be an amazing start to the new year if the actor got some deserved awards recognition for the role that turned her into a superstar.