Tiffany Trump Is Going To Study Law At Georgetown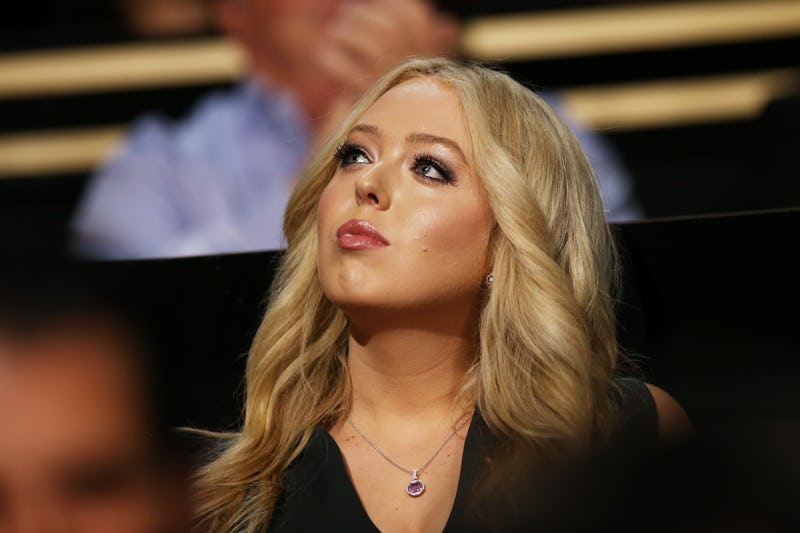 John Moore/Getty Images News/Getty Images
Come fall 2017, Tiffany Trump will be studying law at Georgetown University, putting her in closer proximity to the rest of the first family. Located in the nation's capital, Georgetown University is far nearer to the White House than where Trump is currently living — in a New York City apartment that her father gifted her after graduating from the University of Pennsylvania in spring 2016.
"I am so proud of Tiffany," her older half-brother Eric Trump, who graduated from the university in 2006 with a bachelor degree in finance and management, told The Daily Mail. "Georgetown University is a truly amazing school and she is going to love her time in Washington D.C."
In an interview with George Stephanopoulos last October, Trump admitted to having interest in joining her father's company and suggested that a law degree would allow her to bring something to the family business distinct from her siblings' contributions. "Of course, I'm interested," she said. "I'm applying to law school though so I like to bring — a different kind [of] skill set to the company."
The 23-year-old Trump is the only child from the president's marriage to ex-wife Marla Maples, with whom she lived in California until graduating high school. Trump shared her interests in pursuing a law degree last summer through an Instagram post showing a prep book for the LSAT. She is the only one of President Trump's children to pursue a law degree.
Trump maintains a much lower profile than her three adult half-siblings, and because of Ivanka Trump's heavily publicized involvement in her father's political life, she is often derided by critics as the president's least favorite child. And her father's public gaffes haven't helped the perception — in a television interview on Election Day, he insinuated that he was less proud of his younger daughter than he was his other children "I'm very proud of my children," he said. "I'm very proud 'cause Don and Eric and Ivanka and, you know, to a lesser extent 'cause she just got out of school, out of college, but, uh, Tiffany, who's also been so terrific. I mean, they work so hard."
A Daily Beast profile of Marla Maples published last September gave glimpses into Trump's relationship with her father and her desire to want to get to know him better. Now that she'll soon be closer to the White House, it'll be interesting to see what role, if any, she'll play in the administration.