Tiffany Trump Got A Shout-Out In Her Dad's Ohio Speech & It Was ... Brief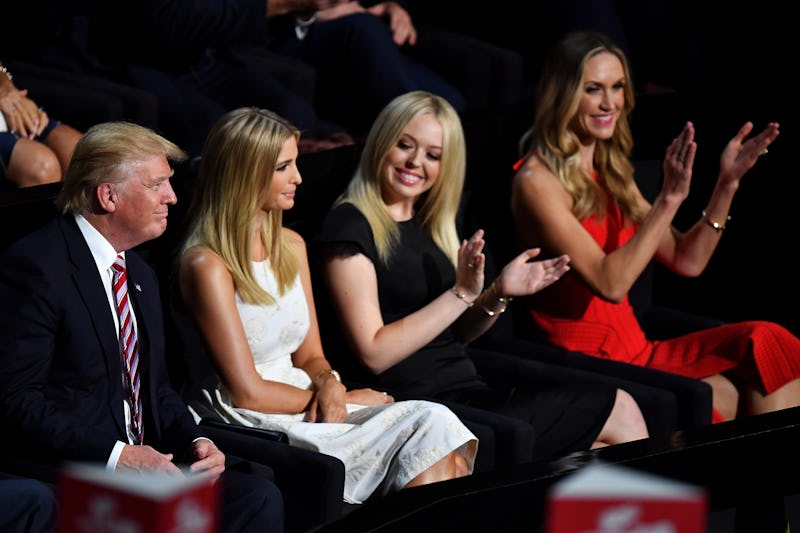 Jeff J Mitchell/Getty Images News/Getty Images
President Trump held a rally in Ohio on Thursday, and while there, he introduced his daughters. There's nothing unusual about that, of course, and yet the language that the president used during that introduction caught many peoples' ears, and highlighted the subtly different ways in which Trump talks about Ivanka and Tiffany.
"We have two of my daughters here today," Trump said. "Ivanka, who is working hard on infrastructure. Ivanka! And Tiffany."
In addition to the strange formulation Trump used at the beginning of the callout ("two of my daughters" incorrectly implies that he has more than two daughters), some couldn't help but notice that, in contrast to the lavish praise he heaped on Ivanka, Trump's shoutout to Tiffany was markedly brief. A look back at Trump's previous comments about his two daughters suggests that this is part of a pattern.
According to FactBase, a website with searchable archives of Trump's public comments, Trump has said Ivanka's name 651 times in public (this includes comments he made before entering politics). By contrast, FactBase's archives only show Trump speaking Tiffany's name 74 times. But even that number is misleadingly high, as it includes several instances in which Trump was not talking about his daughter, but rather the jewelry store Tiffany & Co., which is in fact his younger daughter's namesake.
On 14 occasions, Trump has mentioned both of his daughters at once, according to Factbase, and there are some notable trends in those remarks.
For one, when Trump rattles off the name of his children during speeches — which he often does — he almost never mentions Tiffany before Ivanka. in all but one of the transcripts available on FactBase, Trump introduces Ivanka and his son Don Jr. before naming Tiffany. He usually introduces his son Eric first as well (although there are exceptions to this), and on occasion, Trump has even given shoutouts to Ivanka's husband, Jared Kushner, before mentioning his youngest daughter.
"My son Eric Trump, he is working, and Ivanka and Don and Tiffany, all of them, they are working," Trump said in a September 2016 speech.
"Ivanka, Don, Eric, Tiffany, they are all going to be in the White House," Trump told Fox & Friends days before he was inaugurated. This turned out to be incorrect; Tiffany, unlike her sister, didn't take a job in the White House or move into the building.
"I want to thank Ivanka and Jared and Don, they're here, and all of my kids," Trump said in a speech at Mar-a-lago in December. "Tiffany's here. Eric is here."
The lone exception to this trend was during his campaign announcement speech in 2015, when Trump did mention Tiffany before Ivanka. Nevertheless, he then went on to heap praise on his oldest daughter, saying that "Ivanka did a great job" introducing him.
"Did she do a great job?" Trump asked again. "Great!" He said nothing more about Tiffany in that speech.
In his address to the Republican National Convention in Cleveland, Trump said he was "lucky to have at my side my wife, Melania, and my wonderful children, Don, Ivanka, Eric, Tiffany, and Barron." He then singled out his wife and oldest daughter for special recognition for the speeches they'd given earlier at the convention.
"Melania and Ivanka — did they do a job [sic]?" Trump said, eliciting roars of approval from the crowd. Tiffany gave a speech during that convention, too, yet elicited no praise from Trump.
In 2016, Vanity Fair reported that, in the opinion of most of Trump's family, Ivanka is his favorite child. Only the president knows whether or not that's true, but the public record makes clear that Trump speaks much more enthusiastically, and more frequently, about one of his daughters than the other.