It Looks Like Tiffany Trump Reunited With Ivanka & Eric At The UN General Assembly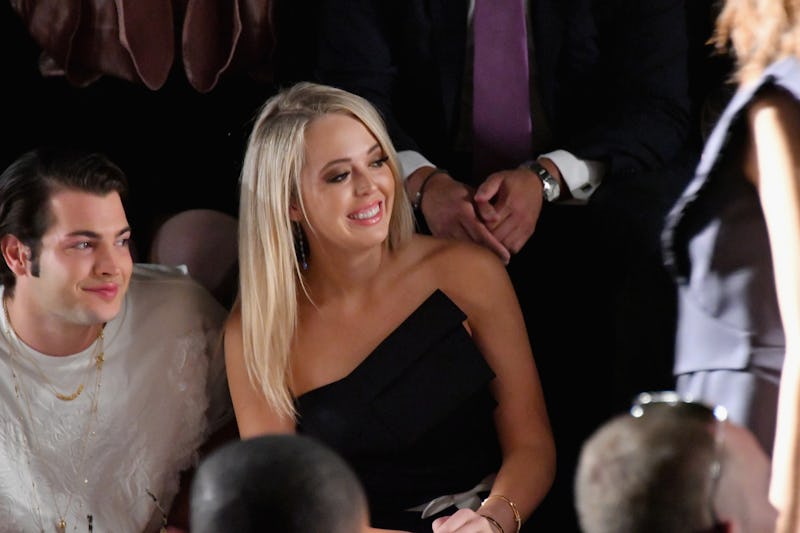 Mike Coppola/Getty Images Entertainment/Getty Images
Though she's known for keeping a lower political profile than some of her siblings, Tiffany Trump went to the UN General Assembly with Ivanka and Eric Trump in New York City on Tuesday morning. The three Trump siblings were reportedly there to support their father during his speech at the UN headquarters; Ivanka's and Eric's spouses, Jared Kushner and Lara Trump, were in attendance as well. Not pictured at the mini-Trump family reunion were Barron, who was likely at school, and Donald Trump Jr., who was in North Dakota at the time.
Though Tiffany retweeted Eric's tweet, she didn't post anything additional on her own social media accounts. Her most recent posts on both her Twitter account and her Instagram account are commemorative posts regarding the 9/11 terrorist attacks.
Tiffany's appearance at the UN headquarters marked the second occasion she has stepped out publicly from grad school in the last month. Earlier in September, Tiffany left Georgetown Law School for the weekend to sit front-row at New York Fashion Week for designer Taoray Wang.
Although Tiffany's presence was certainly notable, nothing could detract from the magnitude of Trump's speech, which inspired laughter from world leaders.
In his opening remarks, Trump said, "I stand before the United Nations General Assembly to share the extraordinary progress we've made. In less than two years, my administration has accomplished more than almost any administration in the history of our country."
Trump didn't seem bothered by the laughter that broke out after that statement. "So true," he added, and the laughter grew. Then Trump said briefly, "Didn't expect that reaction, but that's okay." His surprised, seemingly self-effacing response drew a little bit of applause, and then he moved onward with his speech.
Trump went on to discuss far more serious topics, from the power of American military to his plans to flat-out reject globalism.
Trump said, "We will never surrender America's sovereignty to an unelected, unaccountable global bureaucracy. America is governed by Americans. We reject the ideology of globalism. And we embrace the doctrine of patriotism."
Globalism, according to Merriam-Webster's definition, is "a national policy of treating the whole world as a proper sphere for political influence." Trump's rejection of globalism was, as The Atlantic's Uri Friedman puts it, a denouncement "of the international system itself."
Trump has proven his commitment to patriotism over globalism through such acts as withdrawing from the Paris Agreement and the UN Human Rights Council, respectively. Trump said, "We must defend the foundations that make it all possible. Sovereign and independent nations are the only vehicle where freedom has ever survived."
During his speech, Trump also claimed that the U.S. had begun construction on the long-awaited border wall (it hasn't), talked about his interactions with North Korean leader Kim Jong-un, and called the UN Human Rights Council a "grave embarrassment" for its criticism of his controversial zero-tolerance immigration policy at the border.
Later on in the day, Trump told reporters that his opening remarks were "meant to get some laughter," according to The Washington Post.