Tiffany Trump's Birthday Message To Her Mom Shows How Close They Are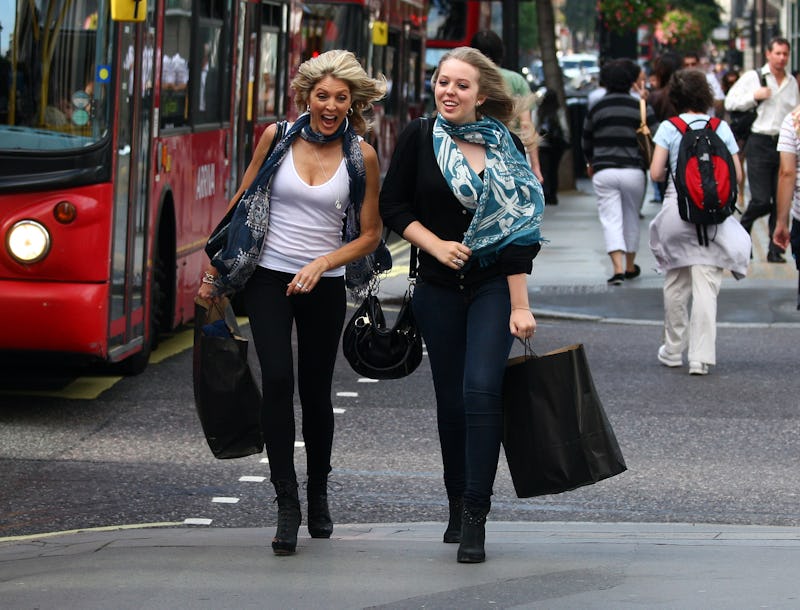 Gareth Cattermole/Getty Images Entertainment/Getty Images
The youngest Trump daughter has stayed largely out of the spotlight over the past year, but on Monday, she spoke out on social media for the best reason. Tiffany Trump wished mom Marla Maples, a happy birthday, by posting a series of adorable mother-daughter photos.
Trump wrote, "I love you @itsmarlamaples♥︎♡♥︎ May all of your birthday wishes come true!✨"
Though Trump did post a seemingly recent picture of herself with her mother, it doesn't appear that the pair will celebrate Maples' birthday together in person. Maples has posted several photos of the place where she chose to ring in her birthday: Rhodes Island, Greece. So unless Trump decided to take some time away from law school to visit her mother across the Atlantic, it's more likely that these were throwback photos.
Maples posted her own series of Instagrams of the rocky ocean landscape where she currently is, writing in one post, "The seas may have been too high to take the boat 🚣‍♀️ to the #bluegrotto but the experience of the wind, the sea & the cliffs was an amazing gift to experience on my birthday. Just above these seas are the Megalithic Temples of Malta ... which I'll share in my story #ĦaġarQim is a #UNESCO World Heritage Site and #Mnajdra#beautifuldestinations"
Maples' birthday comes two weeks after Trump celebrated her 25th birthday on October 13. Trump also celebrated that birthday via Instagram, posting two photos of herself along with the caption, "10.13.93.🎈♎︎❣️"
Washingtonian magazine noted that Trump celebrated her birthday at none other than one of her father's hotels, specifically, the Trump International Hotel in D.C. Washingtonian also mentioned that Donald Trump did celebrate a special occasion on Oct. 13, but it had nothing to do with Tiffany's special day; rather, he celebrated the 243rd birthday of the United States Navy.
Though Trump used to frequently post photos of her social life and personal excursions, she's tightened down on the information she releases on her social media account. Her most recent Instagram photos include one of her and her four siblings supporting their father when he gave his now-infamous U.N. speech in September, as well as some snapshots of a law school gala and of her in front of various landscapes.
As for Maples, her most recent public endeavor seems to be her role in a music video release last week — for the town of Dalton, Georgia. Maples was one of the residents featured in "When You're In D-Town," a lighthearted promotional video rolled out by the Greater Dalton Chamber of Commerce. However, it seems like the producers of the video had to get pretty creative to incorporate Maples into the video. She reportedly makes a cameo via a FaceTime call with Bob Shaw, a carpet industry tycoon of the area.
Though POTUS doesn't seem to publicly show his affection for the his youngest daughter very often, Maples certainly does. Her Instagram feed is littered with photos of her and her daughter.
One such photo, posted on Trump's birthday, contained a similar birthday message as the one Trump posted for her on Monday. Maples wrote, "On this day, 25 years ago, 12:50 PM in West Palm Beach, FL our beautiful daughter @tiffanytrump was born. You are a blessed gift to this world and my life my girl ... keep shining ✨"