Tiffany Trump's Law School Extracurriculars Show She & Her Dad Have This In Common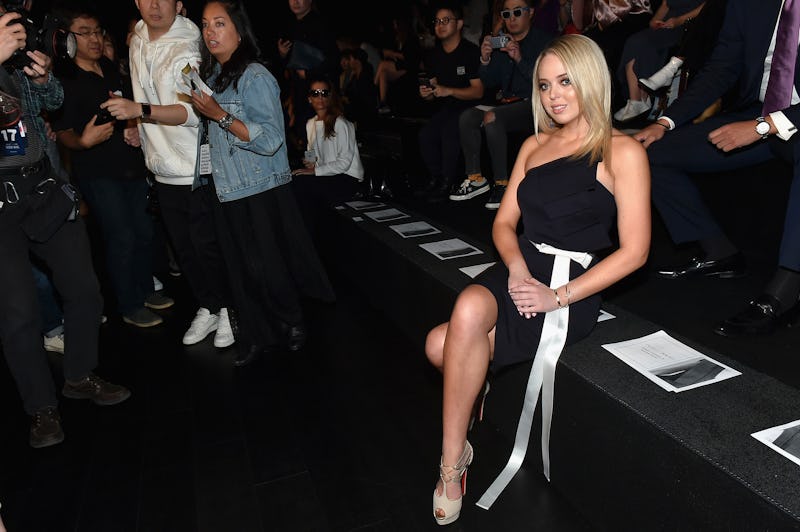 Mike Coppola/Getty Images Entertainment/Getty Images
While President Donald Trump's youngest daughter generally keeps herself and her future career as far out of the spotlight as possible, there's enough information out there to divine a few things here and there. For example, Tiffany Trump's Georgetown work shows that criminal justice is one of her legal interests — and it's something that she already engaged with during her first year at Georgetown Law School.
According to the Washingtonian, Tiffany, who is beginning her second year at Georgetown Law this month, will be working as a research assistant with Georgetown professor Shon Hopwood, who began his legal career while he was in prison for robbing a bank. According to a People report on Tiffany from earlier in the summer, she started her work with Hopwood at the end of last semester. While one of People's sources said that Tiffany was having a "rough" summer, a her spokesperson said that that was "wrong."
"Tiffany is doing incredibly well," Tiffany's spokesperson told People. "She had a terrific first year at Georgetown Law and is currently working this summer as a research assistant for Law Professor Shon Hopwood."
While her Instagram over the summer gradually filled up with dreamy shots in interesting places, her work with Hopwood most likely took on a much more serious character.
Hopwood's work largely concerns criminal justice reform and prison reform. According to an interview he gave on the Georgetown Law website in June, this professional interest comes from his own background as a convicted felon who got a second chance. He described how he's representing a man named Matthew Charles, who was released from prison after 21 years and then sent back to finish his original 35-year sentence after fully rehabilitating himself in his short time out. Instead of just working on individual cases, though, Hopwood is also working with Jared Kushner on the First Step Act, a prison reform bill currently making its way through Congress, he said. President Trump has said that he would support the act, and he has taken action on other criminal justice issues, such as granting clemency to Alice Marie Johnson.
It's clear from a quick look through the papers he's published that criminal justice and prison reform in America is his number one issue — and so Tiffany's work will definitely have something to do with that. According to the Washington Post, so far she's mainly been focusing on various prison reform initiatives and programs that help to lower recidivism rates.
Someone close to Tiffany told the Post that the work so far has "been really interesting for her and she has learned a tremendous amount."
Currently, there's no information out about Tiffany's stance on exactly how the criminal justice system should be reformed. Unlike her older half siblings, who are all very public with their political views, Tiffany stays very quiet on that front. According to Today, she's a registered Republican, but the Washington Post noted several instances where she has liked social media posts aligned with liberal causes. She did speak in support of her father at the Republican National Convention in 2016, though, and one of her law school classmates told the Post that, at least in her opinion, Tiffany's silence on the subject can be seen as tacit approval of her father's administration.
"Some of them say that the sins of the father shouldn't be visited on the children — but I think that, look, none of us are children," said Greyson Wallis, who just graduated from Georgetown Law. "She is a grown woman with an Ivy education who has elected to be silent and thereby complicit, like her sister."