Alert! 'Titanic' Is Being Re-Released In Theaters & This Is Not A Drill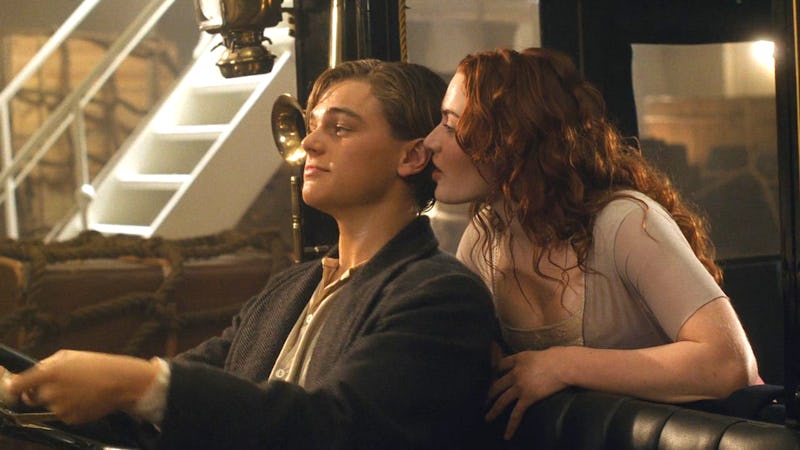 20th Century Fox
Ready to freak out for the best possible reason, Jack and Rose stans? Titanic is returning to theaters for its 20th anniversary, so that, once again, viewers can pretend to be the king of the world, can luxuriate in the view of Leonardo DiCaprio's late '90s curtains, and can perhaps, most importantly, finally settle that door debate (because there was room, seriously). So if you want to know where to see Titanic in theaters again, pay attention, because here's where you can find it.
According to the film's director James Cameron via a video on the official Titanic Twitter account, the movie is returning exclusively to AMC theaters on Dec. 1, and the contours of that cockblocking iceberg will be crisper than ever since the movie is being released in Dolby Vision. The fact that the romance movie is returning to the big screen two decades later just goes to show how iconic the film is.
Not that it needed this return to cinema to prove it, of course. The movie scored a few scathing reviews at the time, with Time magazine calling Titanic "dead in the water" and Salon calling the Kate Winslet movie "a travesty" in Cameron's manhandling of "the real story... scavenging it for his own puny narrative purposes." However, these reviews didn't seem to make much of a difference. According to IMDb, Titanic won 11 Academy Awards and was nominated for 14, which, according to the Guinness World Records, meant it tied with both Ben Hur and The Lord Of The Rings: The Return Of The King for the most Oscars ever won by a single movie.
But it wasn't just about Academy acceptance, but about how much audiences loved it. Box Office Mojo gives a sense of how obsessively into the movie audiences were in its all time box office records, which show that Titanic sold more tickets than any other movie in its eighth, ninth, 10th, 11th, and 12th weekends. Guys, we're talking about this film beating all of its competition even three months into its release.
It's easy to see why the movie's so adored. For starters, according to IMDb, it was only Winslet's sixth movie and only DiCaprio's 10th movie. While mainstream audiences would have already been familiar with the blonde actor's work from his performance in Baz Luhrmann's Romeo + Juliet and his Oscar-nominated performance in What's Eating Gilbert Grape, this movie was arguably Winslet's first major blockbuster film, and what better way for the actor to make her debut then on the arm of the hottest leading man of the time?
The beauty is that the pair had undeniable chemistry (that painting scene is still sexier than any outright sex scene, period) and that it wasn't put on for the cinema. According to Elle, the Winslet and DiCaprio are still friends, with the magazine quoting The Dressmaker star as saying, "I do feel so grateful for that friendship, and honestly it is like family and one of those rare Hollywood friendships that I feel very, very blessed to have."
There's also the joy of its twist ending. While it's almost impossible to imagine not knowing how things played out, if you can think back to the first time you ever saw it: Did anyone really expect the often cheesy (in a totally great way, obviously) romance movie to end by killing off its male lead? It seemed totally impossible. But that's what took the film from being exceedingly good to straight up great. When we see Old Rose's bedroom and the pictures on her dresser, we learn what a ripple effect her brief affair with Jack has had. Instead of a life as an unhappy wife to Cal, she's led exactly the sort of bold, colorful life — piloting planes, riding horses — Jack would have wanted for her.
It's time to celebrate. This movie isn't a guilty nostalgic favorite; it's a godd*mn masterpiece. And it's back in theaters soon, so find your local AMC and get ready for the magic.