To The Women Leading The Resistance In Red States & Small Towns: I See You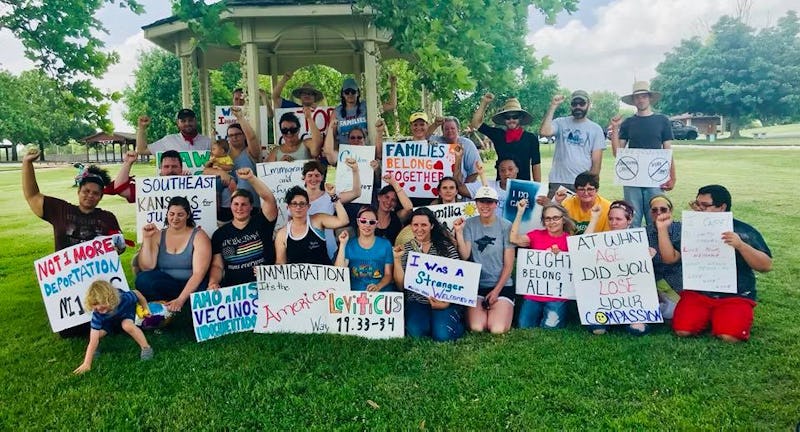 Courtesy of Montgomery County Coalition for Human Dignity
We all hear it. Across the country, new voices are rising in places we didn't expect to hear them. In small towns and big cities, deep in states that are generally politically red, we're discovering hotbeds of resistance. And those leaders of the resistance are multi-racial, rural and urban, immigrant and non-immigrant, lower income, and mostly women.
These new voices tell a different story than the one told by lobbyists and monied special interests that feed cynicism in our politics. They are driven by a moral calling that is difficult to ignore. And they are powered by everyday civic responsibility and care for their community.
In Georgia, Black domestic workers who care for and clean private homes do "the work that makes all other work possible." These women — nannies, house cleaners, and caregivers for our elderly and disabled loved ones — have fanned out across Georgia neighborhoods from Atlanta to Savannah knocking on doors to register voters and providing childcare so that working women who need it can get out and vote.
And their uprising has been felt. On May 22, Stacey Abrams — a Democrat running on kitchen table issues, like health care, education, jobs, and economic fairness — won her party's nomination for governor. She could become the first ever African-American female governor of a U.S. state, and she's in the deep South.
In Texas, undocumented immigrant women are defiantly placing themselves in the eye of the storm. The same state that instituted the "show me your papers" law, which legalized discrimination against immigrants and people of color, is now home to growing numbers of immigrant women resisters.
President Trump said "The forgotten men and women of our country will be forgotten no longer." But he forgot about us.
For example, the Rio Grande Valley has become the talk of the nation as home to one of the largest child detention facilities in the country. Immigrant women have been gathering in front of the Ursula Border Patrol Processing Center in South McAllen, Texas and facilities like it throughout the border region, holding vigil for the children inside. Their uprising continues to grow in strength and numbers, despite waning media attention to the issue. These women care, and they will insist on being heard.
Even the town of Independence, Kansas (population 10,000), saw its first protest in recent decades when members of Montgomery County for Human Dignity joined members of Quinn Chapel AME Church in A Walk for the Children on June 30.
A diverse group of women and men came together to declare that separating families is not what America stands for, in one of nearly 800 events that took place that day to end family separation and detention. For context, Montgomery County voted 72.8 percent for Trump, and the 2000 census recorded a median income for a household in the county at just $30,997.
In the reddest of states, under the leadership of women, the issue of family separation is not only bringing people out, it's bringing people together, to affirm our shared universal values.
President Trump said in his inauguration speech, "The forgotten men and women of our country will be forgotten no longer." But he forgot about us.
We are the women he undervalues. We are the people of color who can't be found in his White House. We are the immigrants he vilifies, though immigrants are fundamentally integrated into every aspect of American life, including in his own family. We are the rural women who are at the heart of the heartland, who reject the heartlessness of this administration's policies.
Women of America: Black women, women of color, immigrants, rural women, disabled women, low-income women: We see you, and we hear you. You will not be forgotten because you are standing up against the odds and demanding to be heard. You are joining together to lift one another up, and you are standing steadfast to oppose the policies that do not represent the values of your communities. You are doing the work that needs to be done — as you have always done — and you are sending a message to Washington, D.C. that they didn't expect to hear.
The very next line of Trump's inauguration speech was "Everyone is listening to you now." We agree, everyone is listening.
We hear you, and we could not be more grateful.
Ai-jen Poo is the Executive Director of the National Domestic Workers Alliance. She has led the domestic workers movement and was instrumental bringing the lens of low-wage women workers to the Women's March in 2016. She was invited to the Golden Globes and has been helping lead the Families Belong Together campaign.
This op-ed solely reflects the views of the author, and is part of a larger, feminist discourse.