Tomi Lahren Thinks Conservatives Have It Harder Than Women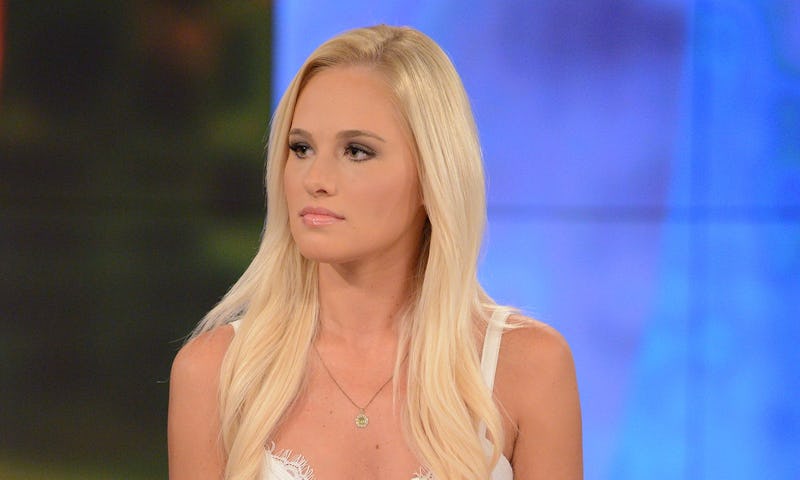 Lorenzo Bevilaqua/Disney ABC Television Group/Getty Images
Political commentator and self-dubbed "constitutional conservative" Tomi Lahren thinks conservatives have it harder than women. While speaking to the crowd at the Young Women's Leadership Summit, Lahren described the United States as the most ideal country for women.
"There's no better place to be a woman than the United States of America," Lahren said, "Somebody tell Katy Perry that."
Lahren was booted from her former workplace after she aired her perspective on abortion on ABC's The View. "I'm for limited government, so stay out of my guns, and you can stay out of my body as well," Lahren said. As expected, her pro-choice statements did not ring well among the more conservative segments of her fanbase. Right after the comments were aired, people reacted with a good deal of criticism online.
Now, however, Lahren is sparking controversy for an entirely different reason. While speaking with the crowd — including many young women and teen girls — at the Young Women's Leadership Summit, Lahren spoke of how "it's hard to be conservative sometimes."
Lahren's intention may have been to shed light on the specific hardships she personally faces as a conservative commentator, but it is slightly difficult to believe that United States is "ideal" for women. That's because recent reports on women's conditions in the country have not been so uplifting.
It would help to juxtapose Lahren's comments against empirical evidence concerning women's standing in America. For instance, in the very state that Lahren delivered her speech — Texas — the rate of pregnancy-related deaths is staggeringly high. In fact, Texas' maternal mortality rate is the highest in all of the developed world. Then there's the issue of gender wage gap: it hits women hard, and women of color the hardest. There's also the issue of millennial women facing higher rates of economic inequality than Baby Boomers or Generation X women.
Economic inequality for millennial women in the United States takes on many shapes. Among them, there is a tenfold increase in incarceration which has ensnared the lives of millennial women in the United States. On the mental health frontier, women have witnessed a spike in suicides unmatched by the previous generations. As mentioned before, maternal mortality is a deeply disturbing and pervasive phenomenon among this generation of women.
Lahren might face backlash as a conservative for her views, but to posit the ideology of conservatism as a vulnerable class in United States — and not women — is to ignore the conditions of women living in this country.