Tom Brady Called A "Reagan" Play At The Super Bowl & You Can Guess What That Means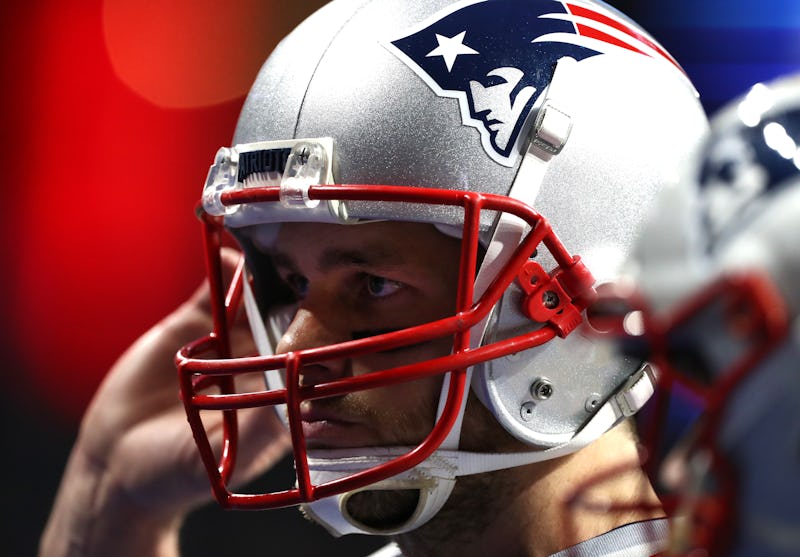 Al Bello/Getty Images Sport/Getty Images
In the middle of the third quarter during Super Bowl LIII, Tom Brady called "Reagan" as an audible to go right on the field. Almost immediately Twitter had some thoughts about Brady namedropping the conservative president. (If you didn't know, an "audible" is when the quarterback changes the play at the line of scrimmage.)
After Brady shouted "Reagan, Reagan," the quarterback handed the ball to New England Patriots running back Sony Michael, who ran for four yards, according to SB Nation.
Former Cowboys quarterback Tony Romo was a commentator during the audible. "Obviously Reagan means 'run to the right,'" Romo said, according to a tweet from CBS News senior NFL writer Will Brinson. But there could have been other meanings, Twitter suggested. One user replied to SB Nation's video of the audible: "The yards were supposed to trickle down."
Others said the audible was almost too obvious. Brady was photographed with a Donald Trump "Make America Great Again" hat in his locker in 2015, and has supposedly been friends with the 45th president since roughly 2002, according to TIME. "Patriots having an audible called 'Reagan' makes the most sense," a Twitter user wrote. "And it's a run to the 'right.' The jokes write themselves."
Brady's wife Gisele Bündchen denied in a 2016 Instagram post that the couple supported Trump and his presidency. During an interview with WEEI's Kirk and Callahan show in 2017, though, Brady did acknowledge the friendship. "He's [Trump's] been very supportive of me for a long time. It's just a friendship," he explained. "I have a lot of friends. I call a lot of people." Despite their friendship, as ABC reported, Brady ultimately turned down a celebratory visit to the White House because of "personal family matters" that year. And he wasn't the only player from the Patriots team to do so.
And that relationship between Brady and Trump wasn't lost on Twitter. WEEI digital content specialist Scott McLaughlin wrote, "Patriots fans: We're not the MAGA team, I swear. Please stop calling us that. The Patriots: *run a play called Reagan*."
Brady's audible hasn't been the only interesting play in an otherwise low-scoring game. Because of the low score, punters have been having a moment during Super Bowl LIII. Los Angeles Rams punter Johnny Hekker kicked a new Super Bowl record of 65 yards, according to SB Nation. Ironically, Hekker broke the 64-yard record set by Patriots punter Ryan Allen in 2015, the outlet also reported.
Then, there were the interceptions. Brady's first pass of Super Bowl LIII was an interception, according to Sports Illustrated. The Rams were unable to capitalize on that move, though, according to the magazine.
In the fourth quarter, New England Patriots cornerback Stephon Gilmore intercepted a throw from the Rams, USA Today noted. And it could've been one of the most consequential plays of the night. Jay Skurski — Buffalo Bills writer for The Buffalo News — credited Gilmore's interception as the reason for the Patriots' victory. "Stephon Gilmore is a Super Bowl champion. His late interception is a big reason why the New England Patriots defeated the L.A. Rams in Super Bowl LIII," Skurski wrote.