Tom Brady's Kids Are His Biggest Fans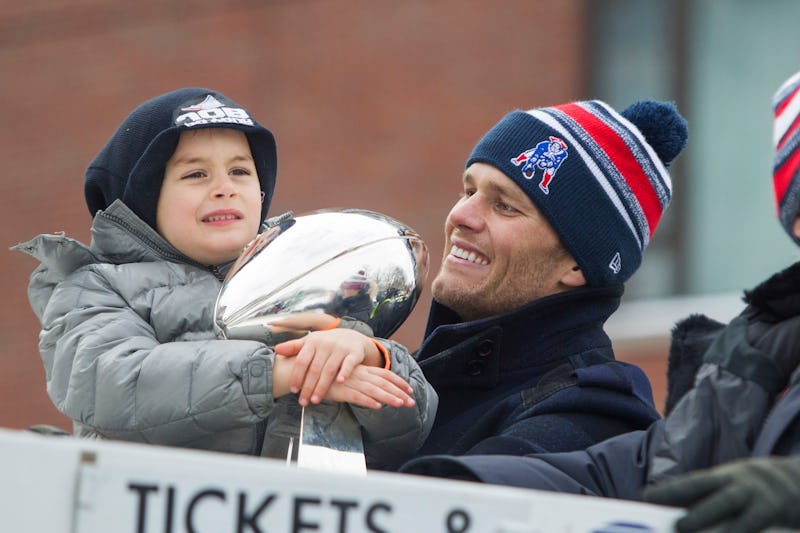 Scott Eisen/Getty Images Sport/Getty Images
Tom Brady and Gisele Bündchen have been to quite a few Super Bowls. The Patriots' quarterback will make his seventh Super Bowl appearance on Sunday, and he is hoping for his fifth win. Over the most recent season, Bündchen has again been a huge supporter of her husband, and at this years' Super Bowl, there's a good chance Brady could have more cheerleaders in attendance, as Brady and Bündchen are parents to kids Benjamin and Vivian. Brady also has a third child, Jack, with actor and model Bridget Moynahan, who has stayed supportive of his football career, as well.
According to E! News, Brady told reporters during a press conference that he doesn't really talk about the Super Bowl with his kids, but they keep up with the sport enough to worry about their dad. "When they're with me they don't want to talk about too much football, other than to say, 'Dad, the Atlanta Falcons are really good — they are a really good team. I don't know if you could beat them,'" Brady said.
The kids might joke about doubting their dad, but Bündchen and the rest of the family are wishing the quarterback well before going into the biggest game of the year. Bündchen gave Brady a good luck necklace, which he will wear under his uniform on Sunday. During the press conference, Brady gushed about the amazing mother she is. The family has been known to show up to many of his games sporting lil' Patriots jerseys, as seen the adorable post-game Instagram below:
Bündchen captioned the Instagram with three emoji hearts, and clearly their dad has nothing but love for the Brady children. This isn't the first time that the kids have shown up to game in full Patriots gear:
"Let's go daddy!! Let's go Pats!! Vamos Papaii!! Vamos Pats!!" Bündchen's caption on this pic reads.
The kids aren't the only members of the Brady family who like to get dressed up for the big game. Two of Brady's other children, his dogs Lua and Scooby, have also been known to rock a jersey or two.
These pups are decked out and ready for another Superbowl win! The only one who is missing is the fam's most recent addition, a teeny terrier named Fluffy.
The Brady children love to support their dad, but cheerleading is sometimes grueling work for the four- and seven-year-olds. Brady has discussed his kids interest in football and apparently they are absolutely exhausted after a major Patriots game. "It looks like they played the game," he once said on the radio show Dennis and Callahan.
However, this doesn't stop them from showing up to support dad, even if it's just well wishes. Before departing for Super Bowl LI in Houston, Texas, Brady posted a good luck Instagram of his daughter:
He captioned the post "Good luck daddy" with three emoji hearts. The support from his kids is sure to carry him through the nerve wracking two weeks that lead up to the Super Bowl.
Neither parent has confirmed if the kids will attend the game in Houston. I guess we will have to wait until Sunday to find out if the Bündchen and the kids are at the game. I think it might be save to say, though, that Lua, Scooby, and Fluffy will probably catch the game on TV.
Either way, as for whether or not the children will follow in their dad's athletic footsteps, Brady also cannot confirm. He did tell Dennis and Callahan that no matter what they choose, he's going to be there for them. "Whatever they want to do, that's what they'll do,'' Brady told the show. "And I'll do my best to support the things they love. I've found things I love." Whether the kids decide to be the next big NFL quarterback or a painter, Brady will support them.