Tom Hardy Spoke About Parenthood In A New Interview & It's Literally The Sweetest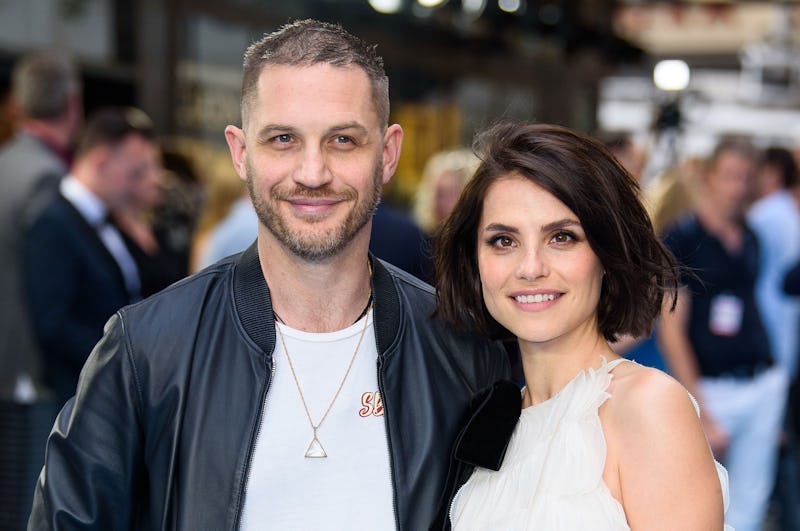 Joe Maher/Getty Images Entertainment/Getty Images
Jobs on Tom Hardy's CV (cinematically, at least): spitfire pilot, fur trapper, multiple crime bosses, and apocalyptic supervillain. But none of them come close to the hardest job going, according to Hardy, who reserves that spot for parenting. The actor has a toddler with wife Charlotte Riley, and a ten-year-old son from a previous relationship. In an interview with Esquire, he opened up about fatherhood, and honestly, Tom Hardy and Charlotte Riley sound like the cutest parents ever.
In Miranda Collinge's Esquire profile of Hardy, she revealed what a doting dad he is behind closed doors, noting that he was even crafting a Captain America shield out of a kitten scratching mat, a plastic hook, and some gaffer tape during his interview. "It's got to be made by Daddy and it's got to show effort," he explained to her.
The piece also highlights just how protective Hardy and Riley are as parents. Collinge explained that she was asked specifically by the pair to not reveal the name or gender of their two-and-a-half-year-old toddler.
Hardy explained that he wants to keep the identity of his children private for their own security. "[Pictures of my] kids are a no. They really are. And that's what really bothers me, and it will fast-track me immediately to respond like any father in any situation, regardless of where they come from and what they've been through."
Hardy then went on to talk about what it's really like to be a parent. The actor described it as the hardest job on the planet, but stressed that it is also the most important. He said: "You've got the military, police, doctors, service personnel — massive respect, huge consequences — but parenting? It's beyond a job, isn't it?"
During the chat, the actor admitted that he was afflicted with "baby brain". He added: "It's five gear shifts down from where I've been, and then it's up five gears. So it's two vehicles and one space to park it in. Two completely different vehicles, and both need someone at the wheel."
Hardy first met his wife, Riley, according to the Guardian, after they were both cast in ITV's Wuthering Heights adaptation, which aired in 2009. He played the role of Heathcliff, meanwhile she portrayed the character of Cathy. Sparks flew on set and that's how they apparently first started dating. The couple then got married five years late in July 2014. In October the following year, they welcomed their first child together.
Riley and Hardy aren't a couple for major personal announcements, tending to shy away from the public eye. Riley's pregnancy, for instance, was only revealed when she accompanied Hardy to the 2015 Legend premiere, as the Express reported.
"I don't feel the need to keep people updated regarding where I am and what I'm doing," Riley told the Telegraph. "I don't want to put myself out there like that. I enjoy privacy and anonymity."
It's probable that said privacy will be challenged even further with the release of Venom, which also stars Riz Ahmed, Michelle Williams, and Jenny Slate. The film, due for an October release in the UK, is likely to increase the hype around Hardy to fever pitch — but it sounds like Hardy and Riley have their public-private balance completely figured out.