Tom MacArthur's Town Hall Failed To Address Women's AHCA Concerns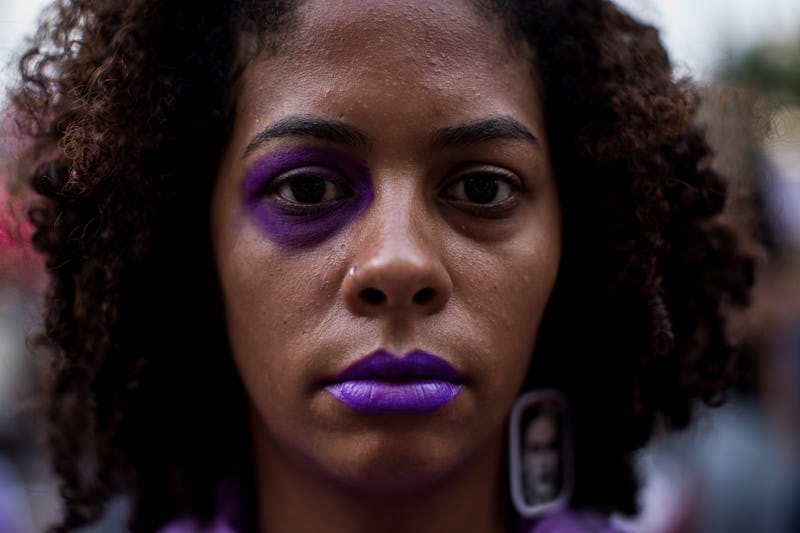 Victor Moriyama/Getty Images News/Getty Images
During a heated town hall debate in New Jersey on Wednesday, Representative Tom MacArthur, one of the men responsible for reviving the GOP health care plan, met with hundreds of constituents to defend the American Health Care Act. Among other things, his answers proved that MacArthur doesn't understand how the AHCA will affect women, as each time he was confronted by local teachers, activists, and even young teenagers, the GOP representative defended the bill that could cause millions of the country's most vulnerable women to lose their insurance coverage.
MacArthur was immediately forced to respond to some of the questions that have been on the minds of women across the country since the AHCA passed the House last week. While the bill is now one step closer to being enacted and potentially making health insurance coverage more expensive for survivors of sexual assault across the country, attendees of the town hall refused to refrain from voicing their opposition.
"How did it pass your conscience to allow rape to be considered a pre-existing condition?" one 17-year-old girl boldly asked MacArthur.
MacArthur did not give a straight answer. "This is the sort of hysteria that makes people not listen," he responded.
MacArthur's refusal to answer the frustrated teen's question, and to dismiss her concerns as "hysteria" that can and should be ignored, displays just how out-of-touch MacArthur is with his constituents — and how little he seems to care.
An amendment that MacArthur helped pen, the MacArthur-Meadows Amendment, would allow states to seek out waivers to opt-out of providing essential benefits and covering people with pre-existing conditions at low costs; unfortunately, this is a policy that could disproportionately affect women. For example, this would not only affect survivors of sexual assault, who often rely on health insurance to receive necessary physical or psychological treatment, but also women who have had Cesarean sections, women who use birth control, and women who rely on Planned Parenthood for health services — all of which would see a decrease in government funding under the AHCA.
Additionally, the AHCA would potentially cut $880 billion from Medicaid, according to a report by the Congressional Budget Office, a program that allows approximately 98 million low-income women nationwide to access things like prenatal care and therapy for postpartum depression.
MacArthur, once again, refused to engage in actual dialogue about how these cuts would affect women; rather, he simply denied that such cuts would even exist. "We are not cutting Medicare benefits," MacArthur said, contrary to what reports of the health care bill have proven.
MacArthur's inability to defend some of the bill's most controversial components is unacceptable, and disrespectful to the millions of women who are worried, anxious, and fearful about the effect that MacArthur's provisions would have on their livelihoods. For many, the AHCA is life-or-death: It can't be ignored or denied.
Ultimately, while MacArthur's town hall did allow constituents the opportunity to voice their opposition straight to the face of the man who could potentially take away their health care, it did little to provide answers on how the GOP representative can actually defend many of his positions. He may not have yet answered to the millions of women who could lose insurance coverage, but that's all the more reason to continue challenging him to do so.