You're Giving Tomi Lahren Exactly What She Wants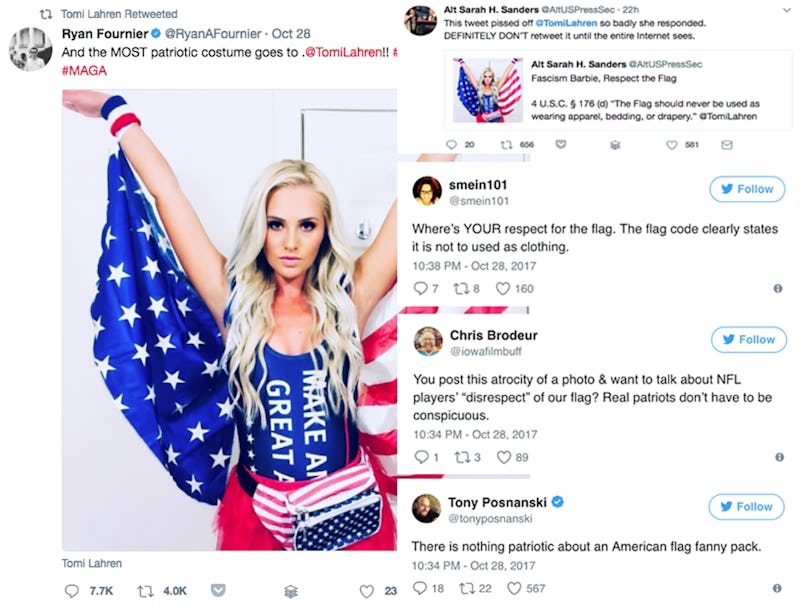 Tomi Lahren Instagram / Twitter
If you're familiar with conservative commentators, you might know who Tomi Lahren is. The right-wing self-proclaimed "constitutional conservative" has been riding the airwaves for her controversial views on gun access, police brutality, the transgender community, racism, and other things. On Sunday, Lahren sparked a costume controversy after sharing a post on Instagram with the caption, "Oh LA get ready to find your safe spaces! What am I? Well if you're a conservative, I'm American AF. If you're a lib, I'm 'offensive.' Let's go."
If there was any post that openly demonstrated Lahren's appetite for seeking attention through creating controversy, it was her Sunday night Halloween content. In her photo, Lahren can be seen wearing a somewhat cringe-worthy ensemble based on the flag of the United States of America. The conservative commentator wore a pair of American flag-themed wrist sweatbands and a fanny pack along with flag-based wings. In addition to the peculiar collection, Lahren donned a Make America Great Again one-piece and bright red tutu. Patriotic or offensive, a fanny pack paired with a tutu and wrist sweatbands was... a lot.
The response to her Instagram photo was remarkable. With over 8,000 comments on her page, social media users' sentiment ranged from cheering for Lahren to criticizing her for her Halloween get-up. Instagram users could be seen bickering with each other about the American flag code, which states both that the flag "should never be used as wearing apparel, bedding, or drapery" and "no part of the flag should ever be used as a costume or athletic uniform" — and whether or not Lahren violated it.
And that's where Lahren's predilection for sowing discord becomes crystal-clear. Lahren's flag costume gave her exactly what she seems to seek online and on-air — division.
Here's the thing — Lahren's Halloween costume is only noteworthy if you recall her views on NFL players taking the knee during the national anthem. In September, Lahren issued a fiery monologue on Fox News against football players who, according to her, "decided to take a knee or otherwise disrespect our country, our flag, and our American pride." Hence, people telling her she was disrespecting the flag by wearing it.
But according to Lahren, football players are kneeling for attention. While decrying the supposed division that "take a knee" protests were creating, Lahren said:
Football and sports bring Americans together. Game day unites Americans of all colors and backgrounds on the field, the sidelines and in the stands. Well, up until a few players decided to throw that unity in the garbage out of misguided anger for attention.
It's hard to tell whether Lahren herself is aware of the irony of her own Instagram photo and how it's difficult to brush off the unmistfakable impression that she's seeking to remain relevant in the media landscape, where research indicates our attention-spans are shorter than ever. A for effort, though.
It's also worth noting that Lahren has yet to say a word about the actual cause behind "take a knee" — police brutality against people of color. For those interested, Samuel Sinyangwe (a data scientist and policy analyst from Stanford) compiled data and mapped police brutality in the country — and it's not a pretty picture.
With all of this said, Lahren's Halloween costume shouldn't be a shock to anyone, liberal or conservative. It's not about the flag or patriotism — her photo merely adds more fragmentation in a country where present political polarization is high. If she was indeed concerned about unity as she once spoke of in her Fox News monologue, she would presumably choose a different route to bring people together.
At the end of the day, Lahren markets herself as a pro-America provocateur who finds virtually everything that the ominous "left" does as criticism-worthy. The constitutional conservative is fairly open about her need to remain relevant, too.
In 2016, Lahren told BBC News:
Obviously, controversy sells. I've found that even beyond television, digital broadcast is the future. I want to be everywhere. I want to be like whack-a-mole. ... You try to knock me at this platform, then I pop up here.
That, ultimately, is where Lahren's true allegiance seems to lie.