Tommy Hilfiger's New Adaptive Clothing Line Makes Fashion More Inclusive To People With Disabilities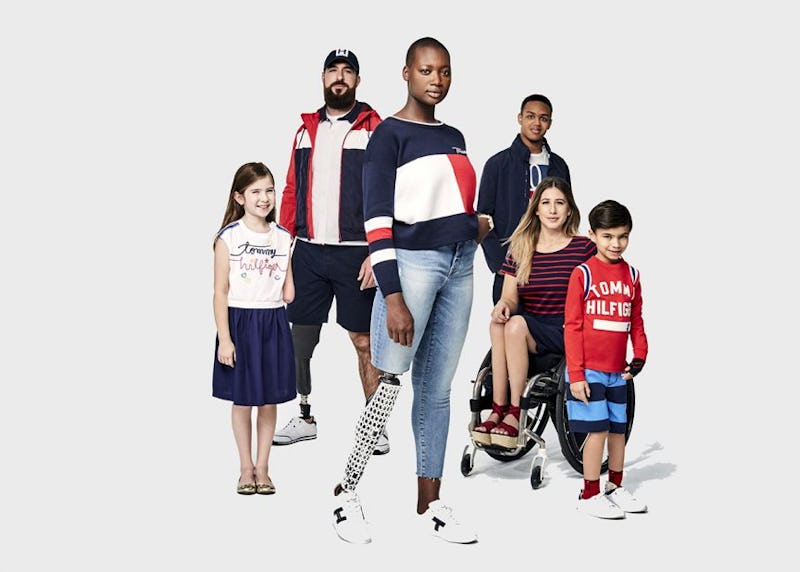 Tommy Hilfiger
Earlier last year, Tommy Hilfiger released a collection of adaptive clothing designed for people with disabilities, simultaneously making it easier for the community to get dressed in the morning and making the fashion industry more inclusive. After all, putting on an outfit can be tricky for a person with physical disabilities, with rows of buttons, tight jeans, and zipper flies as obstacles.
Hilfiger's adaptive clothing line addresses the issues by featuring things like magnetic buttons, adjustable pant hems to accommodate a prosthetic or brace, wrist loops to help put on pants, easy open necklines, expanded back and side openings, one-handed zippers, and Velcro closures that make fastening a cinch. Called Tommy Adaptive, the line still looks like a typical Hilfiger collection, featuring color blocking, stripes, and a general red, white, and blue color palette. The only thing that is different is that the pieces are easier to put on.
"Inclusivity and the democratization of fashion have always been at the core of my brand's DNA," Hilfiger said in an official statement. "These collections continue to build on that vision, empowering differently abled adults to express themselves through fashion."
Seeing how nearly one in five people in the United States are living with a disability, the adaptive clothing market is overwhelmingly overlooked when it comes to what consumers need from designers. According to the Census Bureau, over 55 million people — or 20 percent of the U.S. population — have a disability, so it only makes sense for labels to keep their needs in mind when creating their seasons.
The Tommy Hilfiger Spring 2018 adaptive collection was released Tuesday, and it's the second collection in the line. The campaign uses notable people from the disabled community as models, like Paralympian gold medalist Jeremy Campbell, 18-year-old autistic chef Jeremiah Josey, motivational speaker Mama Caxx, and dancer Chelsie Hill.
According to Elle, this second collection has made improvements from its first line, taking feedback from the community seriously. The Velcro closures are better quality now, bungee cord closures are replacing zippers, and plackets at the waistline make putting on pants easier for those in wheelchairs.
More brands are beginning to join Hilfiger in the adaptive clothing arena, including Target, which extended its popular Cat & Jack children's clothing line and its Universal Thread women's line to include people with disabilities and sensory-sensitivities.
For Universal Thread, the main focus was on fixing shopping qualms around jeans, and the design team worked with almost a thousand women to figure out how to make their denim better. They decided to flatten the seams in order to reduce pressure points and make the pants more sensory-friendly, add wider legs to make it easier for people to dress, and a higher rise to make the pants more comfortable. They also included a range of sensory-friendly shirts with no tags, softer material, and flat seams.
As for Cat & Jack, the store made a whopping 40-item selection that featured things like side and back snap closures, hidden openings for abdominal access, flat seams, and sensory-friendly materials.
Zappos also launched an extensive adaptive line, featuring easy on-off shoes, sensory-friendly clothing, pull-on pants, adaptive jeans, surgical wear, reversible clothing, and diabetic approved shoes. The brand realized the need for adaptive clothing when a Zappos employee took a call from a customer a few years back whose autistic grandson was unable to use shoes with laces because of the challenges of tying them. Her order got misplaced and the employee helped her track it down, but the call had a lasting impression on the team. Because of it, they decided to create a more inclusive line that would meet all types of needs.
From Tommy Hilfiger to Target to Zappos, more and more designers and big box brands are beginning to become more inclusive and listen to the various needs of their disabled customers. Here's to more labels following suit.