You Have To Watch Tonya Harding Dancing To "Redneck Woman" In A Camo Print Dress — VIDEO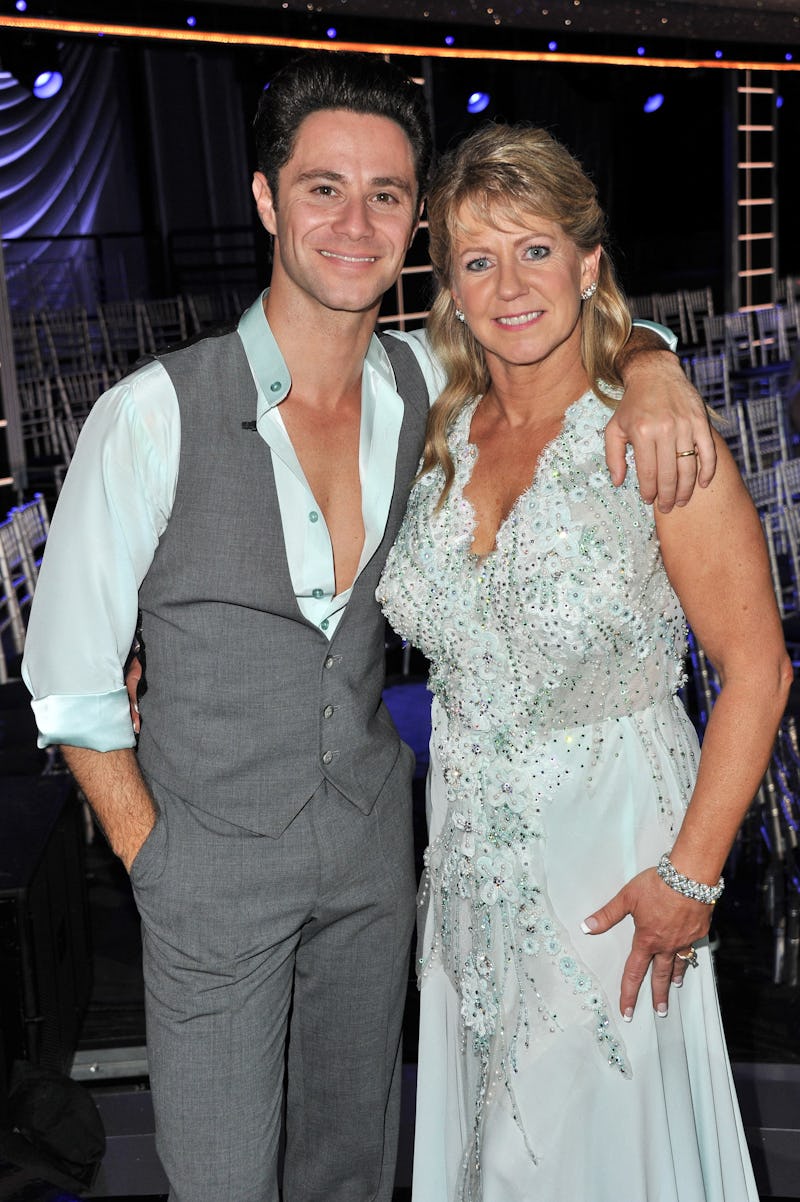 Allen Berezovsky/Getty Images Entertainment/Getty Images
Her second appearance on Dancing With The Stars: Athletes was far different from her whimsical foxtrot that she danced during the season premiere. On Monday night's episode of DWTS, Tonya Harding danced to "Redneck Woman" — a performance in which she showed the world a more "country" side of herself. "'Redneck Woman' is totally me," she said on the show. She admitted that she's a country girl at heart — she drives a truck and likes to hunt and fish, so she was more than excited for their song choice.
She and her partner, Sasha Farber, embraced the song's roots in full — the stage was set in a campsite scene, and, within the first few seconds of the song, a dancer in a bear costume jumped out from behind their campfire and chased them across the stage, forcing them to quickstep for their lives.
Harding wore a camouflage and green-sequined dress and cowboy boots, and Farber was dressed in park ranger-esque attire. "I don't think I could work any harder than I already am," Harding said on the show during a rehearsal. And that hard work paid off when the judges gave them a total score of 33 out of 40 points.
Not to mention, Carrie Ann Inaba said the quickstep is one of the most difficult dances to master, especially for beginners. They did a solid job.
After ending up in the bottom three and coming to terms with many emotions following her first dance, Harding seemed incredibly at home and confident on the dance floor the second time around. She said she allowed a more vulnerable side to show while dancing to "When You Believe" by Mariah Carey and Whitney Houston, which is why she became so emotional. "People understand who I am, why I act the way that I do, why I portray myself as this hard person just to protect myself and the vulnerable side of me is what came out," Harding told ABC News.
She told the cameras that being asked to appear on DWTS means more to her than anything, as it's acting as an opportunity for redemption after her Olympic skating career was ended after the scandal with her figure skating rival Nancy Kerrigan.
"Being able to be part of something that is so special makes me feel alive again," she said. "And now I get one more chance to prove to America, hey, I can dance now." She also said that stepping onto the dance floor for the first time was "like stepping onto Olympic ice one more time."
Many of her fans are happy for her, and enjoy seeing her receive positive attention for the first time in a while.
Some die-hard fans even skipped staying updated on the Met Gala happenings to watch Harding kick her boots around.
Even viewers who aren't big country fans enjoyed the performance, solely because they loved seeing Harding on the dance floor.
And of course, the bear was a hit.
The judges were extremely happy for Harding, and for the most part, had positive feedback for her. Guest judge, former New York Giants running back, and DWTS Season 24 Champion Rashad Jennings said that was glad to see her embracing a "new chapter" of her life.
Harding said that she came onto the show because she wanted to show the world what she was capable of. "I wanted to prove to myself," she told ABC News. "And prove to the world, that I could be a lady."
Not only did she prove herself as a lady, but she proved that she could be a redneck woman and own it just as well.