Too Cool For School's Pumpkin Skin Care Products Are Perfect For Fall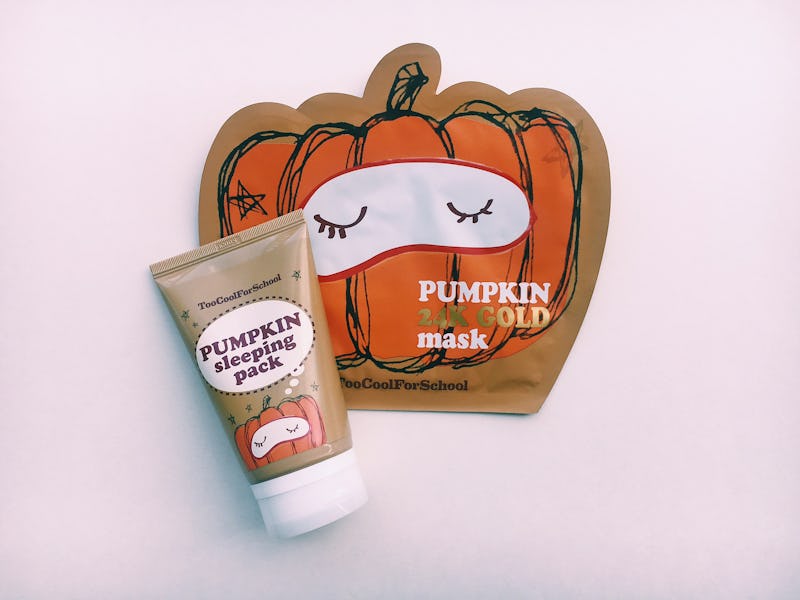 Kali Borovic
Whether you like it or not, fall is on it's way. That means it's time to swap out all of your lightweight skin care products for a bit more hydration. Cue Too Cool For School's Pumpkin Skincare line. This collection offers incredible hydration and all the scents of fall all at the same time. Is there a better way to get ready for the season? Rhetorical question.
When K-Beauty came to the US, it changed the way that people saw skin care. The items are quirky, the price is right, and the results are clear. Thanks to Too Cool For School, you can get all of those benefits right at your nearest Ulta and Sephora. This brand might be known for their egg-centered products, but they're stepping it up for fall with their new pumpkin additions.
Just in time for the summer to fall skin care transition, Too Cool For School created two pumpkin face masks that are packed with vitamins and ideal for every single skin type. Whether you're looking for the one-time use of a sheet mask or a nightly dose of hydration, the brand has you covered.
I had the chance to test out both skin care products, and they really are as great as they seem. My dry, textured skin drank up this mask, and I'll definitely be using it throughout the fall.
Too Cool For School Pumpkin Face Mask, $8, Sephora
If you're looking for a quick drink, the 24K Gold Sheet Mask is the one for you. This is seriously a game-changer. The sheet masks hold 100 times its weight, according the product description, and you can feel it. After just one use, my skin felt extremely plump.
You're probably not supposed to do this, but I even put it in a ziplock bag and used it for another night. That's how much hydration this packs. On top of that, the mask uses pumpkin fruit extract and 24K gold to nourish the skin as well. You can't ask for a better way to head into fall.
Their Pumpkin Sleeping Pack is similar to their Pumpkin Face Mask, but you control the level of hydration. That's what I love the most about this product. I can use the overnight mask by itself if I use a big dollop or I can add it to my moisturizer for the ultimate level of hydration.
Just from one week of using this mask, the texture on my face had gone down and my skin looked more plump than ever. The mask looks like your typical, white cream moisturizer, but trust me when I say that it's so much more.
Too Cool For School Pumpkin Sleeping Pack, $20, Sephora
I've saved the best part for last — the price. Both products are available at Ulta and Sephora and are in-stock right now. The sheet mask is $8 and the overnight mask is $20. Between the affordability and benefits of these products, you really can't go wrong.