These Sunglasses Named After Pop Icon Selena Benefit Those Impacted By Immigration Policies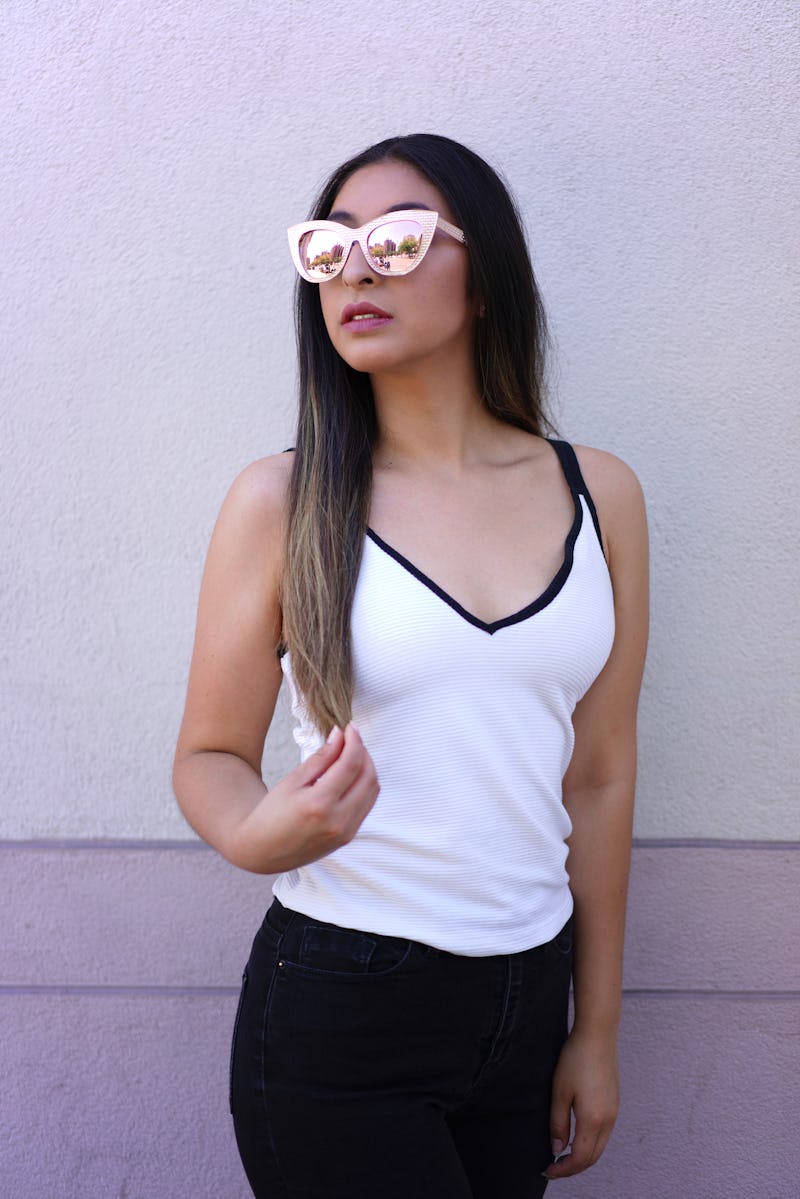 Courtesy of Topfoxx
Fashion can be a powerful agent of change. In this case, an accessory is making a major difference. Indie, trendy, and affordable NYC shades brand Topfoxx has dropped its Selena sunglasses collection — and a portion of the proceeds benefit the children who have been affected by immigration policies.
The brand is donating 15 percent of the proceeds of the Selena sunnies to Project Paz, which helps underserved Latino children to thrive in their communities. The donations will directly aid children who are languishing in immigration shelters.
The Selena sunglasses are $69 a pair and boast a sleek, sexy, and strong cat-eye silhouette. The frames are metal, while the lenses are mirrored. The Selenas come in four colors — black, blue, silver, and rose gold.
The collection comes with the coolest twist — its collaborator is not a celeb. Rather, it's Priscilla Manzo, who serves as Topfoxx's PR manager.
Manzo is Mexican-American and wanted to unite her California upbringing, her cultural background, and the brand for which she currently works while helping others and raising awareness for an important social cause.
Possessing a lifelong ambition to work in the fashion field, Manzo pulled up stakes when she was 18 and moved across the country to New York City. She juggled multiple internships, went abroad, and worked with impoverished Latin communities while in college on a partial scholarship.
The name of the Selena sunglasses nods to one of the most famous Latina singers of the modern era — the late, great Selena Quintanilla-Perez. But they are not simply statement-making and snazzy frames.
They are also a bold reminder of the Topfoxx mantra. There is no such thing as an average girl because we are all DNA distinct and unique, which is something to embrace and celebrate.
"Our hope for this collection is to make every woman feel bold and beautiful, and give them the strength to face challenges that come their way and the courage to lend a helping hand back to their community," Manzo said in the press materials received by Bustle.
The sunglasses are as gorgeous as Manzo's origin story is thrilling and inspiring.
Check out that detailing! The textured material elevates the frames and makes them look expensive. But as any Topfoxx fan is already well aware, the brand's offerings come with attractive prices.
You can call them "rose gold." Or "millennial pink." The blush hue and mirrored lenses make for a stunning contrast with one another and with a fall-ready outfit such as this.
The silver pair is so chic. These industrial-looking and NYC-appropriate frames will go with any outfit.
Those blue lenses, though! The Selena shades might be Topfoxx's best assortment yet. The collection is limited edition so you will want to scoop up a pair or all four on the quick.
If you are a devotee of Aussie sunglasses brand Quay, you will find yourself enamored by Topfoxx. The Selenas are a sartorial treat and they benefit a critically important cause — allowing you to passively do good and to feel great about making about making a purchase.
Your face will also be fabulously accessorized. Topfoxx's Selena range is further proof that being fashionable and charitable are mutually beneficial things.