Topher Grace Was Asked About That Time He Dated Ivanka Trump & It Got So Awkward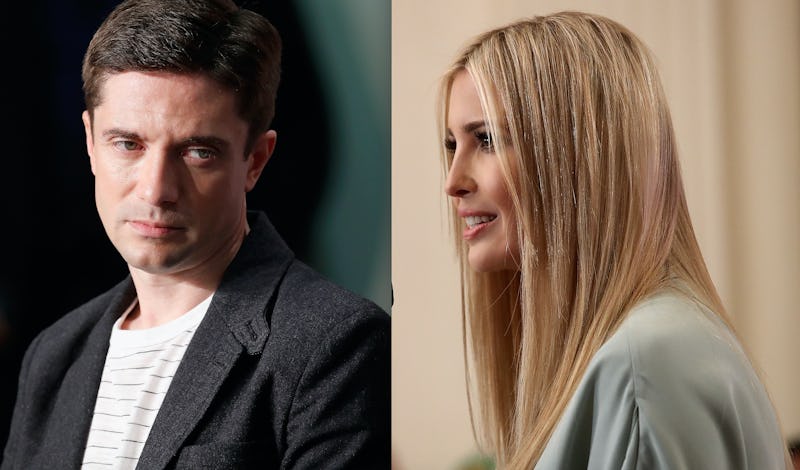 Getty Images/Getty Images Entertainment/Getty Images and Win McNamee/Getty Images News/Getty Images
Topher Grace does not seem thrilled that his 2006 courtship with Ivanka Trump is back on the public radar. In a new interview with The Daily Beast, the actor warily expounded on their brief fling. Grace's comments on dating Ivanka Trump make it clear that he feels pretty awkward about it.
Interviewer Marlow Stern asked the actor — best known for starring in That 70's Show and for his upcoming role as David Duke in Spike Lee's BlacKkKlansman — to confirm that he'd gotten involved with Ivanka, which Grace did, albeit "reluctantly."
"Uh… I did," he said. In an apparent attempt to distance himself from the politics of the Trump administration, he added, "Certainly it wasn't a political statement. This was a decade ago."
People broke the scoop of their intimacy in November of 2006 when they were spotted together at Ivanka's 25th birthday celebration in Las Vegas. The magazine reported that the two "danced and cuddled on the VIP bed and even shared a quick kiss during the party," and then "left holding hands."
According to Grace, he'd first met Ivanka prior to that occasion. "I met her here in New York and we went on a couple of dates," he told The Daily Beast. "I wouldn't say that we 'dated,' but…." He trailed off, and then reiterated, "I didn't do it for political reasons."
Grace also noted that he "never met her father." The actor has implied in the past that he's not a fan of the president. During a May interview with The Hollywood Reporter about BlacKkKlansman, he drew comparisons between Trump and his character David Duke, who led the Klan for several years in the '70s and has continued to participate in white nationalist activities since then.
Duke "kept using hot-button words like 'America first' and 'make America great again,'" Grace said, referring to several interviews the Klansman gave on The Phil Donahue Show.
Grace also suggested that BlacKkKlansman is pertinent to today's politics. "I think this movie could come out any year," he said, "but there was something about it being in that kind of post-Trump America, the post-tiki torch America." White nationalist protestors brandished tiki torches at last year's rally in Charlottesville, Virginia.
Given Grace's past comments, it's not surprising that he seems to be trying to disassociate himself from the Trump family. When the Daily Beast interviewer quipped that Grace could play Jared Kushner in a cinematic adaptation of the Trump presidency, Grace laughed and brushed the idea off, saying, "I don't know, man." It's true that Kushner and Grace look somewhat alike.
In the same interview, Topher compared drama in the Trump White House to "a daily deluge." He told The Daily Beast that he "can't even think what the scandal was five weeks ago."
As Grace notes, his fling with the future first daughter didn't last long. Soon afterward, Ivanka was onto Kushner: She started dating him in 2007, and the couple married in 2009. Grace began dating Ashley Hinshaw in 2014 and married her in 2016.