Tracee Ellis Ross Is Taking On A Behind-The-Scenes 'black-ish' Role & Fans Will Be Proud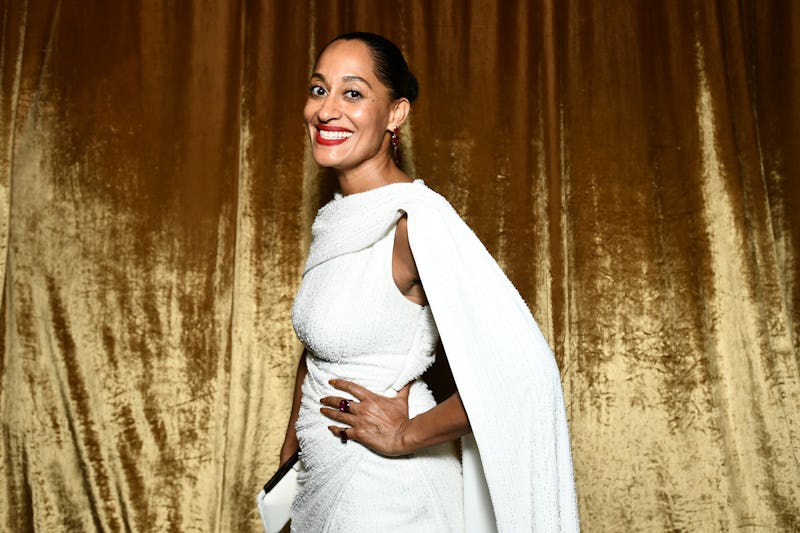 Emma McIntyre/Getty Images Entertainment/Getty Images
Only a month into the new year, and this woman is straight-up winning. According to People, Tracee Ellis Ross is directing a black-ish episode, and the news couldn't have come at a more perfect time. The actor, who's scored a Golden Globe for her performance as Dr. Rainbow Johnson in the hit comedy series, announced the exciting news to fans on Tuesday morning. "Guess who's directing an episode of @blackishabc?" Ross wrote on Twitter with a photo of herself holding the script. After recent speculation about a potential pay gap with co-star Anthony Anderson, this news is truly inspiring.
Four seasons into the show, and Ross is calling the shots. "I'm so excited to share that I'm directing episode 21 of black-ish this season!" she told People. She continued:
"It's not my first time directing, but it's my first time directing here. I've gotta be honest: I'm a little bit nervous because I heard Tracee Ellis Ross only likes to receive direction in a whisper tone, while Anthony Anderson only likes direction given through song… All jokes aside, I'm really looking forward to working with my TV family in a new capacity."
The episode is called "Fifty-Three Percent" and it's written by Gail Lerner. This is fantastic news coming from the sitcom, which was created by and is mostly produced by men.
In late January, Ross was a buzz-worthy topic of conversation, as there was much discussion and speculation regarding her salary from the show. A piece by The Hollywood Reporter claimed Ross was paid "considerably less money" than Anthony Anderson and that she was reportedly considering appearing in fewer episodes if she couldn't negotiate a higher salary with the upcoming fifth season on the horizon.
The piece also claimed that if Ross couldn't negotiate a higher salary, she would take on guest appearances on other shows to compensate for it. This reportedly stirred controversy, as it was viewed as a step backward for the Time's Up movement, as explained by THR: "Some worried that it's more a retreat than a forward-looking solution."
However, following the speculation, Ross shared her side on social media and addressed the rumors, saying they weren't entirely accurate. While she didn't confirm nor deny claims that Anderson, who also serves as executive producer on the show, makes a considerable amount more than she does, she did say she was in a renegotiation and "wanted to be compensated in a way that matches [her] contribution to [the] show."
While ABC never responded to the rumors, Forbes reported that Ross reached a negotiation deal that was going to "significantly increase" her salary moving forward. However, Ross' pay increase would still reportedly be less than Anderson's because of his role as an executive producer.
Given news of her directorial debut, Ross is clearly still so proud to be part of the show and what it stands for, in terms of representation in mainstream media. When Ross won the Golden Globe in 2017, she dedicated the award to people of color. "This is for all of the women, women of color and colorful people, whose stories, ideas, thoughts, are not always considered worthy and valid and important," she said. "But I want you to know that I see you, we see you."
And she'll clearly crush it while taking the director's chair. In 2008, Ross directed an episode of the beloved Girlfriends in Season 8 titled "What's Black-a-Lackin'?" She has a knack for storytelling, and hopefully her rumored new salary will motivate her and other women in the industry to fight for their worth while chasing after their dreams.