Trader Joe's New "Brookie" Just Combined Your Two Fave Desserts Into A Glorious One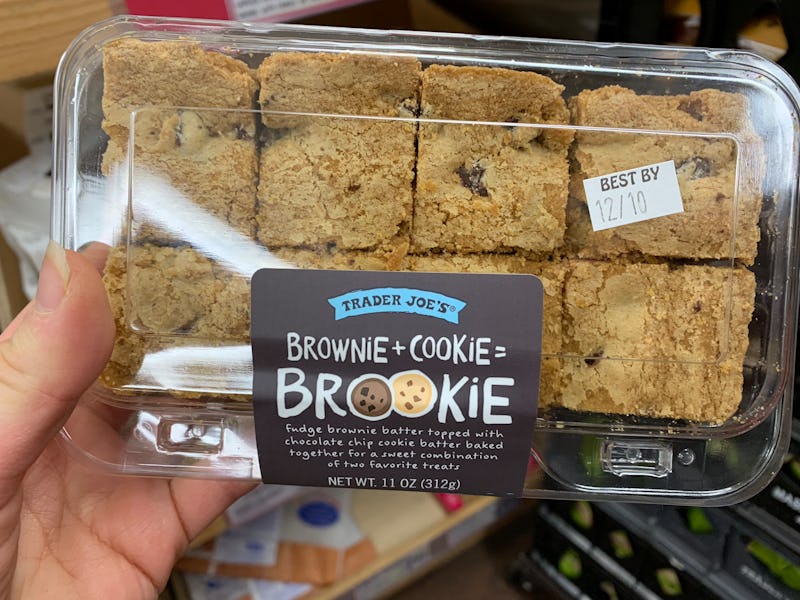 Bustle
Those who believe "less is more" clearly don't have a sweet tooth. If you're a treat head, few things sound more intriguing than adding even more sweetness to your dessert. For instance, why would you eat ice cream when you could have a sundae? Why have a slice of pie when you could add whipped cream? Now, thanks to Trader Joe's, you'll never have to ask yourself to choose between a brownie and a cookie. Introducing the ultimate treat: the Trader Joe's brookie.
As you've probably already figured out, a brookie is a combination of a brownie and a cookie. The two treats are layered, as opposed to mixed to create the bar. So, when you take a bite, you get a taste of both of your favorite sweet treats instead of being overwhelmed by a monstrous cookie-brownie concoction. Only in the past week or so have Trader Joe's devotees spotted these on shelves; they are so new they're not even on the website yet.
But, in this day and age, companies need not devote too much time to advertising thanks to the DIY advertising created by devoted Instagram users. Instagram account @TraderJoesList is not affiliated with the brand, but when its posts appear on the feeds of more than 650k users, maybe it should be. Last week @TheTraderJoesList reposted a photo of the brookie taken by @TheLuncheonClub and received a casual 12k likes.
Bustle Lifestyle Editor Emma Lord stopped into a Trader Joe's earlier this morning to grab a package of the goodies. The label reads, "Brownie + Cookie = Cookie. Fudge brownie batter topped with chocolate chip cookie batter baked together for a sweet combination of two favorite treats." There are eight bars per package, and each is a little larger than a bite-sized sweet. Considering how rich they must be, this seems like the perfect portion.
From the photos, you can tell there is a clear divide between the brownie and the cookie layers of the treat. But, there is also a small part in the middle where the two batters mix together ever so slightly, creating what one can only assume is a brief bite of otherworldly brookie deliciousness.
This holiday season, Trader Joe's would appear to be finding more than one way to spice (sweeten?) two of the most classic baked goods.
Another innovation is the Mint Flavored Fudge Brownie Bar, which pairs wintry mint green frosting and dark chocolate ganache with a brownie to create a wintery treat that is simultaneously rich and refreshing. The whole thing is finished with crumbled chocolate cookies and a smidgen of green sprinkles. Side note: all of the green aspects of the treat are colored naturally with vegetable juice and spirulina. But, don't worry, there's no veggie taste to be found.
The Deep Dish Chocolate Chip Cookie, which was released last spring, has also remained a fan favorite. It's the perfect way to dig into a chocolate chip cookie if you're only satisfied by the meltiest of treats, or feeding a crowd (it serves ten!)
Nothing really compares to the brookie, though. Find them at your local Trader Joe's store now. It has not been confirmed how long these will be around, but considering how much of a splash they have already made, chances are the brookie isn't going anywhere for the foreseeable future.