You Need To Read What Judge Aquilina Said To Larry Nassar At His Sentencing, In Full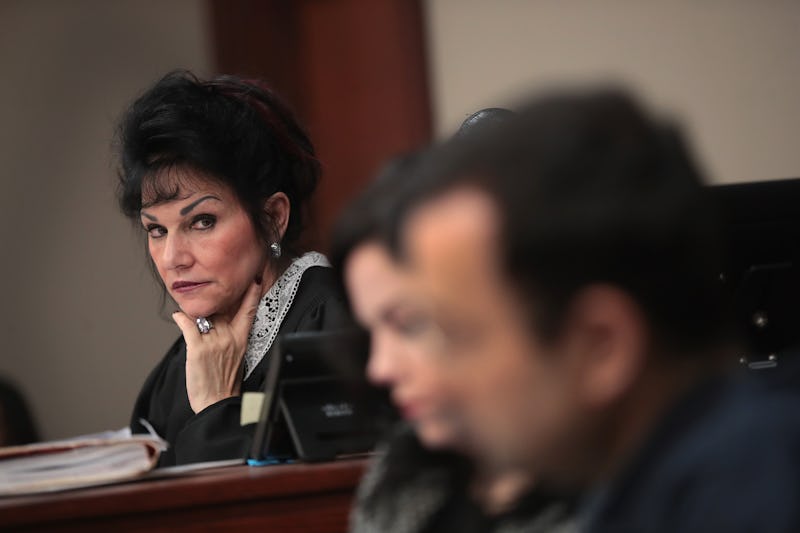 Scott Olson/Getty Images News/Getty Images
On Wednesday, Judge Rosemarie Aquilina sentenced former USA Gymnastics doctor Larry Nassar to 175 years in prison for sexually abusing underage girls. Nassar's trial was widely covered by the media, and 156 survivors gave their impact statements in court detailing how he abused them. One of the moments from Wednesday that has caught plenty of attention is the no-holds-barred statement Judge Aquilina delivered to Nassar during his sentencing.
Judge Aquilina, who made a point to throw out the letter Nassar wrote in which he lamented having to hear the impact statements from his victims, said at the sentencing:
It is my privilege to sentence you to 40 years. I'm going to look at my cheat sheet: 40 years, just so you know and you can count it off your calendar, is 480 months. The tail end — because I need to send a message to the parole board in the event somehow God is gracious and I know he is — and you survive the 60 years in federal court first and then you start on my 40 years. You've gone off the page here as to what I'm doing. My page only goes to 100 years.
Aquilina paused and then said, "Sir, I'm giving you 175 years, which is 2100 months. I've just signed your death warrant."
In his letter to Judge Aquilina that he threw out, Nassar blamed it on "the media" for influencing the survivors' perception of him. "I was a good doctor because my treatments worked," Nassar wrote. "Those patients that are now speaking out were the same ones that praised and came back over and over and referred family and friends to see me."
He also said, "Hell hath no fury like a woman scorned. The media is sensationalizing this." Going one step further in denying any wrongdoing, Nassar said, "I was so manipulated by the [attorney general] and now Aquilina, and all I wanted was to minimize stress to everyone. The FBI investigated [my Olympic medical treatment] in 2015 because nothing was wrong. Now they're seeking the media attention and financial reward."
Judge Aquilina had none of that. In her statement, she ripped into his letter:
This letter, which comes two months after your plea, tells me that you have not yet owned what you did. That you still think that somehow, that you're right, that you're a doctor and you're entitled. That you don't have to listen and that you did treatment. I wouldn't send my dogs to you, sir. There's no treatment here. You finally told the truth.
Aquilina went on to say, "Inaction is an action, silence is indifference, justice requires action and a voice, and that is what has happened here in this court. 168 buckets of water were placed on your so-called 'match' that got out of control."
"Your decision to assault was precise, calculated, manipulative, devious, despicable," Aquilina told Nassar. "I don't have to add words because your survivors have said all of that and I don't want to repeat it. You can't give them back their innocence, their youth. You can't give a father back his life, or one of your victims her life when she took it. You can't return the daughter to the mother. The father to the daughter."
Aquilina's statement has won significant support online. Many people on social media have praised her and her statements for offering solid and unequivocal emotional solidarity to the survivors of Nassar's abuse. One Twitter user said, "Judge Aquilina is bringing the wrath of generations down. You can feel it building up. She wants Nassar under a supermax."