Travis Scott Finally Addressed A Transgender Model Getting Erased From His Album Cover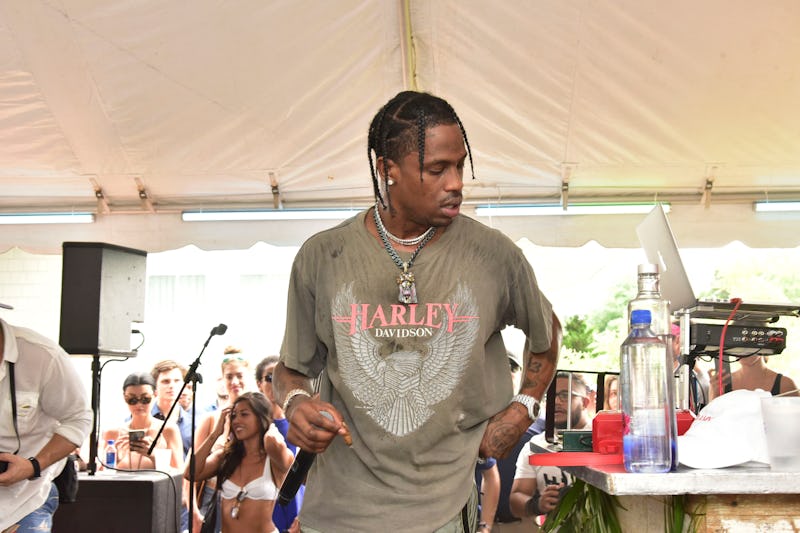 Eugene Gologursky/Getty Images Entertainment/Getty Images
In the wake of some budding controversy over the removal of Amanda Lepore, a transgender model, from his new album cover, Travis Scott has finally addressed the issue. The musician took to social media over the weekend to clear things up. And after reading Travis Scott's response to the Astroworld album cover controversy, it seems like the rapper is handling this particularly public mea culpa with tact, professionalism, and — of course — a touch of his trademark charm.
Scott posted a a lengthy, multi-paragraph message to his Instagram account Sunday, August 5, after it appeared that Lepore was removed from the Astroworld cover. In conjunction with Astroworld's release less than a week ago, on Wednesday, August 1, both Scott and David LaChapelle (who photographed the album art) posted photos of what appeared to be Astroworld's cover to their respective Instagram accounts.
The photos appeared identical at first glance, but a closer look reveals that Lepore, who appears just left of center in LaChapelle's version of the album cover, was removed from the version that appeared on Scott's IG account. (Which also seems to be the cover art's final version.) "It was great being part of @david_lachapelle s incredible photograph of @travisscott s album cover but I'm curious why I'm not on the picture @travissscot posted," wrote Lepore on Wednesday, captioning her own IG post unveiling the album's cover art, which appears to have been reposted from LaChapelle's account. The model made clear she took no offense to being potentially taken off the cover. "Too distracting for the eyes," she wrote, before adding that she probably "upstaged everyone in the photograph" and that's why she was removed from it.
Despite her playful tone, some immediately questioned Scott's intentions for supposedly changing his album art. Questions Scott answered in his Instagram statement. "Thank you David Lachapelle and Amanda Lepore and everyone that came out to make all the covers and the vision come to life!!!" wrote Scott in the opening of a lengthy, multi-paragraph message posted to his Instagram account Sunday, August 5, and Twitter the day before. Continuing, the rapper segued into what seems to be the crux of his entire weekend statement: "ASTROWORLD IS ABOUT LOVE AND EXPRESSION NOT HATE!"
"Growing up I've been taught to accept everyone, not to cast people away but bring them in your home!" he continued, before seeming to address the recent wave of contention about his album's cover art, and Lepore's removal from it, a little bit more directly. While it might've been easier for the rapper to address the upset over Lepore's removal from a purely artistic standpoint, he instead took the opportunity to pen a few lines advocating for the queer community at large. To that end, his message continued with:
"I have nothing but respect for the LGBTQ community. I want to use my voice to make it clear that everyone on this planet is as equal and f*cking awesome to the next."
Scott finished up his apology message with a final "sorry" for what the rapper calls a "misunderstanding," and a concluding thought (echoing the IG post's caption) that really seems to sum up the gist of what his note, in general, is getting at. "EVERY ONE IS WELOME TO ASTROWORLD!" reads the IG post's last line.
Scott's statement, it is important to note, never flat-out acknowledged the fact that Lepore's likeness was apparently inexplicably removed from Astroworld's cover.Nor does he offer any sort of explanation as to why that might've happened. However, the rapper made sure to mention that he and LaChappelle put together a booklet "that includes all these images." So even though Lepore won't appear on Astroworld's cover, the photo that she does appear in won't be completely lost on fans, according to Scott. And that, at least, is something fans can look forward to seeing.