Tributes To George H.W. Bush After His Death Are A Testament To His Legacy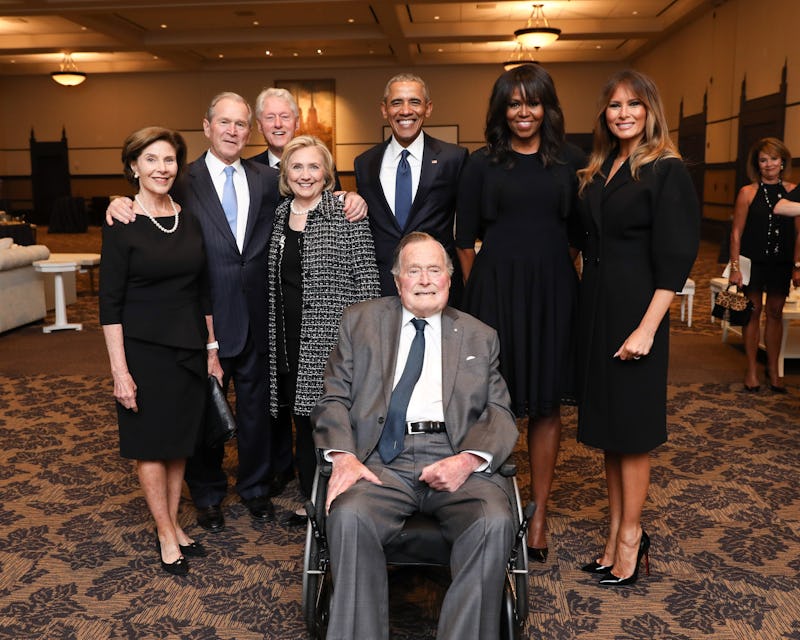 Handout/Getty Images News/Getty Images
On Friday night, the 41st president of the United States died at the age of 94 at his home in Houston, Texas. Shortly thereafter, tributes to former President George H. W. Bush poured in, proving he had a lasting impact on American politics.
Bush's death came roughly eight months after the death of former first lady and his wife of 73 years, Barbara Bush. The pair was the longest married couple in presidential history, according to The New York Times.
Bush was the last World War II veteran to serve as president. In addition to his time in U.S. Navy, Bush served in the Texas legislature, as the ambassador to the United Nations, director of the Central Intelligence Agency, chairman of the Republican National Committee, and two terms as the vice president under Ronald Reagan. The Washington Post reported that Bush was diagnosed with vascular Parkinsonism in 2012, which had limited his mobility.
President Donald Trump told reporters in Argentina (where he is for this year's Group of 20 summit) that next Wednesday, Dec. 5, will be a national day of mourning to honor Bush. White House press secretary Sarah Sanders said Trump and First Lady Melania Trump will attend Bush's funeral, which will take place at Washington National Cathedral.