Baskin-Robbins' Flavor Of The Month Is Trick Oreo Treat & It's FILLED With Your Fave Candies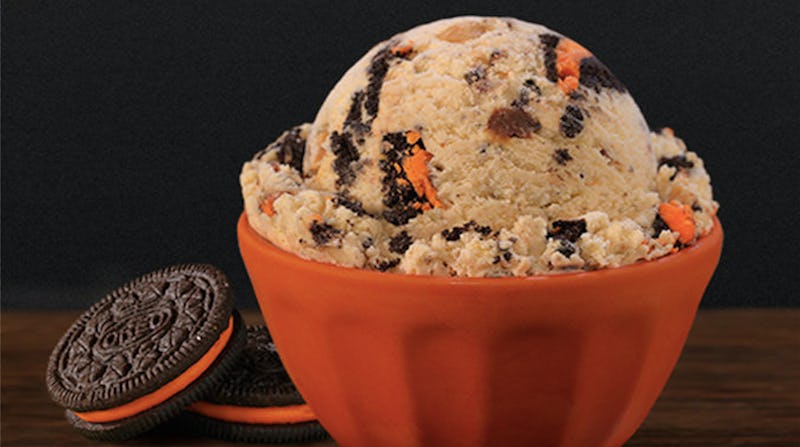 Baskin-Robbins
One of Baskin-Robbins' most noteworthy flavors of ice cream is Oreo Cookies 'N Cream. In fact, the flavor is now considered a standard by many, alongside chocolate, vanilla, and strawberry. But since it's Halloween season, shouldn't the old standards get a spooky upgrade of some sort? Baskin-Robbins sure thinks so, which is why the ice cream chain has announced Trick Oreo Treat ice cream will return to scoop shops during the month of October.
You have certainly seen Halloween Oreos gracing the shelves of grocery stores this time of year. The autumnal treat swaps out its traditional white creme filling for something a tad more pumpkin-like. But don't be mistaken: Baskin-Robbins' Trick Oreo Treat ice cream isn't exclusively filled with orange Oreos (though, admittedly, that in itself would be enough to sell the stuff). of crumbled pieces of orange creme-filled Oreo cookies, and Baby Ruth and Butterfinger candy pieces. Baby Ruth bars are comprised of peanuts, caramel, and chocolate-flavored nougat; Butterfinger bars are filled with a peanut butter crisp. When mixed together with crumbled orange Oreos, and mixed into a vanilla ice cream base, the resulting Trick Oreo Treat ice cream is a menagerie of all your favorite sweet treats.
While Oreos and ice cream have gone hand in hand for decades, it wan't always an ever-present option at the neighborhood scoop shop. But, the flavor's origin is a little messy. In fact, it is nearly impossible to determine exactly who is responsible for this legendary creation.
Serious Eats explains the debate over who first formulated cookies and cream ice cream involves two key players: On one side is John Harrison, the official ice cream taster for Edy's/Dreyer's; on the other is Texas-based Blue Bell Creamery. Harrison claims to have come up with the idea in 1980. On the other hand, Blue Bell Creamery claims to have created the flavor by mixing crushed Oreos with vanilla ice cream in 1978 — two years before Harrison did.
At present, BOTH Edy's/Dreyer's and Blue Bell receive widespread recognition for the creation of cookies and cream. But, can what they continue to produce today even be considered authentic cookies and cream? As it turns out, neither company makes its version of cookies and cream with the Oreos '90s kids know and love. Breyer's, Good Humor, and Klondike have license to use the real deal, as does Dunkin' Brands, Baskin-Robbins' parent company, according to Serious Eats.
If all this talk of ice cream controversy has you craving something a little different, Trick Oreo Treat is hardly Baskin-Robbins' only festive menu offering. The chain is also offering its seasonal Fang-Tastic Monster Cake. The vibrant, scary-cute creature is decorated with (surprisingly realistic) orange frosting fur, three different colored eyes and a happy (but fangy) smile. The cake is available in either chocolate or white, with your choice of almost any accompanying ice cream flavor; though why would you choose anything other than Trick Oreo Treat?
Head to your nearest Baskin-Robbins to grab a scoop of Trick Oreo Treat before it disappears for the year. If you visit on a Wednesday, scoops are $1.50, to celebrate the 31 days of October. You know, since Baskin-Robbins' original tagline was 31 flavors. Yum!