Troian Bellisario Tackled Her Past Eating Disorder For Her New Film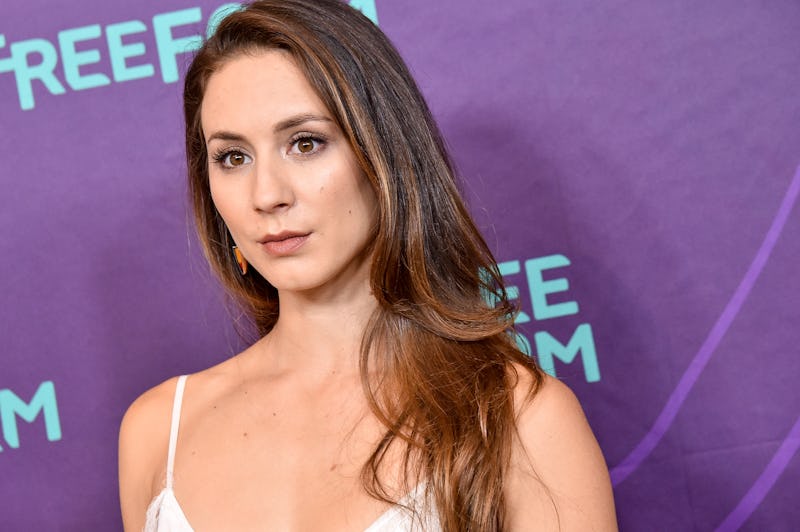 Mike Windle/Getty Images Entertainment/Getty Images
Many great films are based on exploring hard truths. Watching characters deal with dysfunctional families, abusive relationships, mental and physical illnesses, and other challenges provides audiences with a mirror that may reflect their own lives. For Pretty Little Liars star Troian Bellisario, she pushed herself to revisit her past struggles with an eating disorder by writing and directing her new movie, Feed. Although she admitted the process was arduous, she also found screenwriting, directing, and acting to be cathartic and gratifying.
The 31-year-old told filmmaker Lesli Linka Glatter for Interview, "It was not easy; it was like engaging with an addiction. One of the things I really wanted the film to explore was that once you have this relationship, once you have this mental illness or this disease, it never really goes away."
Although she managed to overcome her anorexia, the actor discovered while shooting Feed that her compulsions were still there:
"It was amazing for me to realize, 'Oh god, this is still all just lying under the surface. I've just gotten really good at either ignoring it or choosing to not engage with it.' But it's amazing that you can have this huge, life-threatening thing be a part of you and still live inside of you, and almost tame it in a weird way."
Bellisario's indie film revolves around the relationship between 18-year-old twins Olivia and Matthew Grey. According to Deadline, the Greys experience a tragedy that tears them apart, "leaving the surviving sibling to learn how to live without their other half — or test how far they are willing to go to bring them back."
For the actor, engaging with her past illness allowed her to expose a different perspective of eating disorders to help viewers empathize. Bellisario said, "I found there were so many people who thought that it was about losing weight or being skinny, and I couldn't quite get them to understand that it was about control on a very, very literal level. So I thought, "If I can tell a story that puts the audience in a position to make a similar choice to the one that I made in my young life, maybe I could get them to empathize."
By revisiting her experiences with anorexia, Bellisario not only confronted her past demons, but also worked to reshape the stereotypes that cloud those who suffer from the disease. The actor's honesty in exploring her hard truth lead her to create something new that could effect others in a positive way. For an artist like Bellisario, there's no greater empowerment than that.