'Pretty Little Liars' Actress Troian Bellisario Is Reportedly Expecting Her First Baby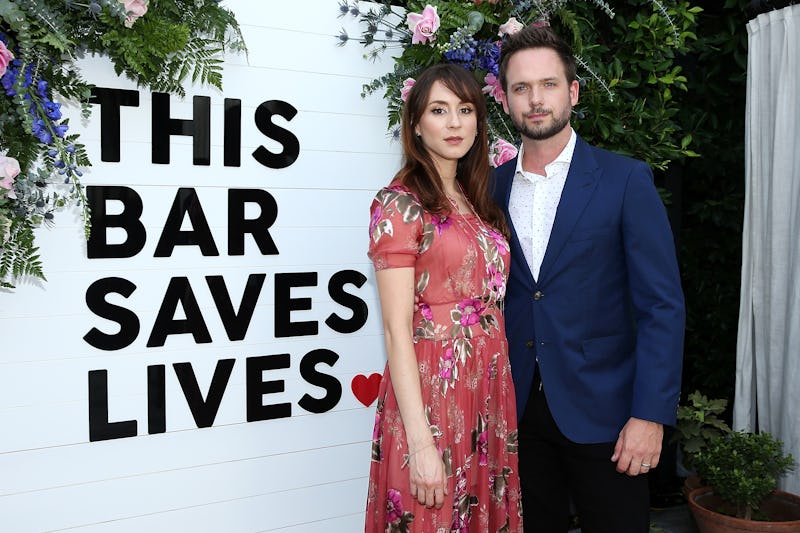 Phillip Faraone/Getty Images Entertainment/Getty Images
One "pretty little liar" will be having a pretty little one soon. Actress Troian Bellisario is pregnant, and expecting her first child with one of the stars of the show, Suits, Patrick J. Adams, according to E! News. The couple has stayed mum across their social media accounts, but now that the cat's out of the bag, an official announcement from the two could come soon.
The two met in 2009 while they were on the set of the play Equivocation, according to Buzzfeed. In 2016, the two got married in a romantic Bohemian-style wedding in southern California, where they invited guests to go glamping, or, camping in glamorous tents that were arranged at the wedding venue, People reported.
Rumors on Bellisario's possible pregnancy started swirling a couple months ago when the 32-year-old actress was spotted on a beach in Greece, E! reported. Photographers had captured Bellisario and Adams, a Canadian actor, along the sand in Mykonos in late May. Pictures of the Pretty Little Liars actress showed a slight bump underneath her brown one-piece bathing suit as she played in the water with Adams, who is 36 years old. Adams, who played attorney Mike Ross on the series for seven years, was Meghan Markle's on-camera husband in Suits.
The two have not announced anything officially yet, and their social media profiles have been silent on the subject, with the latest focus spotlighting a movie that the couple is co-starring in, called Clara, which had its world premiere at the 2018 Toronto International Film Festival. None of the pictures posted recently show Bellisario or Wilson in a full body pose, though the two do occasionally share affectionate videos and photos with each other.
Bellisario and Adams' trip to Greece came right after they attended Meghan Markle's wedding to Prince Harry, but their attendance at the royal wedding wasn't the reason that Adams recently made headlines. While the actor was waiting for his flight at Heathrow airport, he revealed that a woman had insulted his weight while referring to a photograph of Adams taken at the wedding, according to Metro UK. She had apparently said to Adams that the photo of him was "terrible" and that he looked "chunky."
In response, Adams created a social media post — that's since been deleted — sharing a picture of the woman sleeping next to him at the airport lounge. Many criticized his post, saying Adams was fat-shaming the woman.
Soon after that, Adams addressed accusations that he had "bullied" the unnamed woman at the airport. In his post, pictured below, he wrote, in part: "Yesterday I posted a photo of a woman who did some casual body shaming of my wife and I in the airport. My intention was solely to put a face to the people who think that sort of glancing commentary is necessary, helpful or funny. Some of the comments on the post instead said I was being a bully and should have taken the 'high road' (some also doubled down on the body shaming. Thumbs up guys!) I thought it over and agreed and took it down, not because I felt the woman was right or fair or undeserving of being called out but because any sense of being a bully or lashing out felt wrong."
But for all this recent drama over airports and body shaming, the social media mess is likely to be a distant memory now, as the two apparently look forward to much more positive news upon their first child's arrival.