Troll Trump With A Fake Mar-A-Lago Membership Application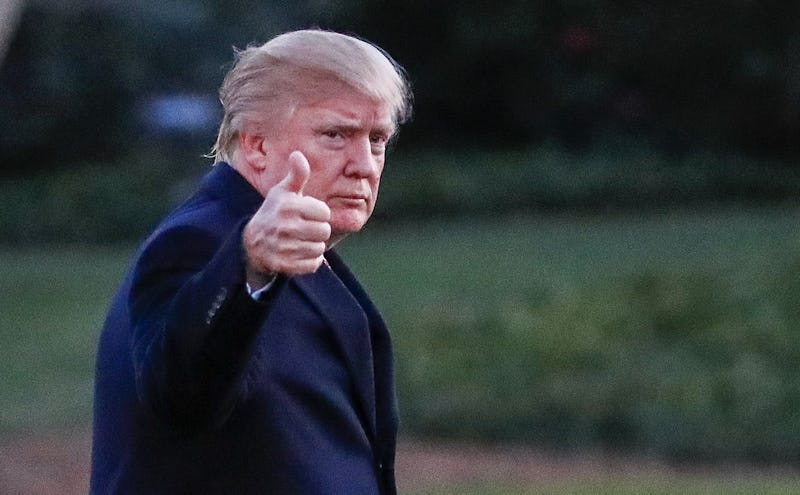 Pool/Getty Images News/Getty Images
Ah, Mar-a-Lago. Donald Trump's "Winter White House" is the subject of plenty of attention and criticism. Trump has spent a quarter of his time as the president of the United States at the Palm Beach resort, which will be closing for the summer season. According to Politico, Trump will be headed to Bedminster, New Jersey to satiate his need for more golfing during the warmer months of the year. But for those interested, a satirical website about Trump's golf promises membership to Mar-a-Lago.
The website's premise for membership is pretty simple. Since Americans are already paying for Trump's Mar-a-Lago trips, why don't they simply join it? The website promises not to discriminate, and tells users that it doesn't matter if they are "foreign dignitaries" or powerful lobbyists or secret agents disguised as everyday people — they deserve to enjoy the opulence of Mar-a-Lago, just as Trump does. It even says members can meet the president "without a background check." Of course it's a tongue-in-cheek joke, but it's cleverly aimed at Trump's rather hefty golf trip expenses.
American taxpayers deserve to know that Trump — who frequently criticized Barack Obama for playing golf — has already, in less than 100 days, played more golf than Obama. After all, one of the grandiose promises Trump made to his fans was that he would be working for the people. "I'm not going to have time to go play golf," he had said.
The website also parodies the actual Mar-a-Lago website's flowery and posh phrases and descriptions. The original website promises that the experience of weddings and galas at Mar-a-Lago "is beyond compare." The photos show exquisite halls and palms trees where members can dine and spend a good amount of money for a luxurious time. It's fairly intense and unintentionally amusing. It's probably why the satirical Mar-a-Lago website chooses to use the same lofty expressions and dramatic imagery.
Speaking of imagery, the satirical website shows a young Trump posing in front of an expensive ride, cream jacket casually hanging on his shoulders. My favorite photo, though, is one of Trump in front of a painting of Trump.
At the very end of the page, applying for membership follows a simple process. You get the application, print it, mail it to the actual Mar-a-Lago club in Florida, and, if you like, share it with your friends under the hashtag #maralagome.
The icing on the cake here is how the website makes sure that readers actually see how questionable the entire ordeal of Trump's Mar-a-Lago visits are. With links leading to actual media websites documenting the lack of ethics and exorbitant expenses behind Trump's resort trips, the satirical website goes beyond a few laughs and offers the damning information every American taxpayer ought to have.